MANZANAR FREE PRESS

Vol. I, No. 26
Manzanar, California
June 20, 1942
ACTIVITY SCHOOL ESTABLISHED
Because of an overcrowded situation, the summer tutoring session schedule has been revised and an Activity School has been added.
Beginning Monday, from 6:30 p.m., junior and senior high school English, science, and foreign language students will sign up at Mess Hall 32. Studemts with textbooks will enroll in classes while those without books will consult with Shizuo Hori, field supervisor, to make arrangements for their books.
Mathematics, history and social studies, and foreign language students will sign up on Tuesday evening. Students without books are invited to join a special interest group.
BANK TO OPEN


Center residents are invited to make use of the banking facilities to be offered by the Bank of America which will open a branch here at 21-8-4 next Tuesday, June 23. The bank will only be open on Tuesdays from 9 a.m. to 4 p.m. until further notice.
BUSINESS SOARS
Since the issuance of merchandise orders June 15, business at the general store and the canteen has taken a decided leap.
Leo Poole in charge of community enterprises released the gross sales as: June 15, $1470 redeeming $191 in script; June 16, $2372, in script $911; June 17, $2332, in script $1795.
HEALTH DEPT. PRONOUNCES NET PROJECT 'SAFE'
Galvanized into accelerated action, the vital camouflage net production jumped ahead with two hundred workers now busily entwining green burlap into the huge nets. One hundred more are expected by Monday.
Pronouncing the project "safe", Public Health Administrator Dr. Yoshiye Togasaki, declared that there were no major occupational hazards involved. In denying the persistent rumors, she announced, "It will not be a source of tuberculosis. Ventilation and lighting conditions are satisfactory."
All departments snapped to attention as the project was given A-1 rating and released men and women to work in the sheds. Among the first to cooperate was the Manzanar Free Press who released 18 of its staff. Following suit were the maintenance, stove, carpenter, recreation and emergency departments.
Ned Campbell, now Assistant Project Director, emphasized the publicity importance of this project as an argument for the necessary WRA appropriations and in the establishment of future money-making ventures.
Morning and afternoon rest periods with music were being planned by Henry Ishizuka, now Supt. of Camouflage Production. Ice water will be provided and salt pills distributed to counteract the effects of the heat.
WORKERS NOTE!
Workers are warned not to shift indiscriminately from work to work without going thorugh the proper procedure of obtaining releases and new work orders.
CENSUS UNDER WAY
With the threefold purpose of establishing indentification, compiling a legal record and gathering occupational and educational data, a complete census of this center is now under way thorugh the WRA.
JUNE ADVANCES PAID
Twelve thousand dollars in script have been disbursed to workers to date as advance allowances on their June salary under the WRA, the finance division announced today. Pay ranged from one to five dollars, depending on working hours.
Workers who have not received their pay as yet should call at 1-9-4 by Friday, June 26.
The amount received by the workers will be deducted from regular wages to be paid hereafter under the WRA administration. Those persons working before June 1 will be paid through the WCCA.
CHRISTIANS TO MEET
Christian young people of all denominations are invited to attend a meeting to organize the Manzanar Young People's Christian Union, a coordinating body, tomorrow, 2 p.m., 21-15.
---
Editorial Comments

PAPER SCRIPT AND COLD CASH
Many have difficulty in redeeming their script in the community sotres and are wondering if it is any good at all. Let us see how the situation stands.
We know that our stores are sponsored and operated by the local administration as a center project for our convenience. It had nothing to do with the issuance of script by the WRA. It is only doing its level best to honor it.
Since a few fine details were overlooked, a bottleneck has occurred. Everyone presented script with every nickel purchase to negotiate it into cold cash, thus draining the limited assets of the stores.
To meet their credit and carry on usual business, the stores were forced to establish a budget for the redemption of script.
The management urges the residents to use merchandise orders only when necessary and asks their cooperation in this "financial crisis".
They promise normalcy within a few days.
---
RESIDENTS TO VOTE FOR HEADS
Nominees selected last night in the primaries for leaders of Block 19, 25, 26, 27 and 30 will be voted upon by the residents in the final election, set for Monday, June 22.
Supervising the election were members of an election board, composed of Ted Akahoshi, Fred Ogura, Harry Nakamura, Tom Yamasaki and Genji Yamasaki.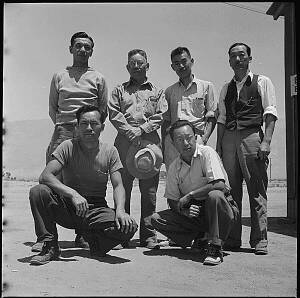 "A group of Block Leaders who are drawing up the Constitution for this War Relocation Authority center. They are: front row, (L to R) Karl Yoneda, H. Inouye: Back row, (L to R) Bill Kito, Ted Akahoshi, Tom Yamazaki, and Harry Nakamura." (Manzanar, 05/29/1942)
Voting will take place between the hours of 9 a.m. to 12 p.m. and 6 to 8 p.m. in building 15 of respective blocks. Special ballots will be printed for the voters. There ballots will be deposited in a sealed box and counted by the election board.
SERVICE OFFERED
Residents troubled by any problems are invited to go to their nearest information Service Office for advice. Becuase of the revision of many regulations following the change from WCCA to WRA administrations the office attendants announced that htey are now able to give the residetns greater service than before.
COLONEL VISITS
Colonel Fulton McGill, provost marshall flew here from San Francisco, Thursday afternoon and made a brief tour of the center.
ARE YOU A FUGITIVE?
POLICE ARE ON THE LOOKOUT FOR YOU
Fugitives from typhoid inoculations will be punished!
That was the warning by the Public Health Administrator's office today to those persons who have purposely refrained from getting inoculations at the clinic.
Ninety-five persons have not had their typhoid shots as yet, while 150 others have failed to show up for their final inoculations.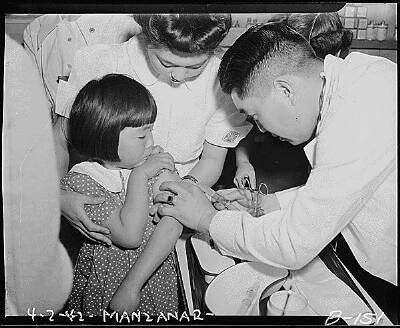 "This little evacuee is being vaccinated by an evacuee
nurse, and doctor, as are other evacuees upon arrival." (04/02/1942)
Those receiving yellow slips to report for their shots at 7-14 must do so otherwise a policeman will be sent after them.
Inoculations will be held every Tuesday, Thursday, and Saturday from 8:30 to 10 a.m.
---
Manzanar
FREE PRESS
Managing Editor..........Joe Blamey
EDITORIAL BOARD
Chiye Mori, Mary Kitano
Sadae Nomura, Dan Tsurutani
Men's Sports Ed..........Roy Hoshizaki
Women's Sports Ed......Chickie Shiba
Art Dept..........Bob Toyama, Yo Hara

---
CHURCH
PROTESTANT
Time
Place
7 a.m. Morn. Dev.

15-15


5-15
7:15 Comm. Epis.

1-12-1
8:45 Sun. School
5-15


15-15


32-15
8:45 Adult Bible
11-15


21-15


30-15
10 Eng. Service
5-15
Jap. Service
15-15
11 Eng. Service
15-15
Jap. Service
5-15
2 p.m. Gen. YP
21-15
7:00 Jap. Evang.
21-15
Big 17
5-15
Y.P.F.
15-15
CATHOLIC
Time: 9 a.m.
Place: 3-15
BUDDHIST
9 a.m. Children
17-15
10 Young People
17-15
2 p.m. Adults
17-15
---
P.O. NOTES
SUBSCRIBERS, NOTE!
Unclaimed magazines will be returned to the senders if sitll unclaimed after ten days.
READ BULLETINS
Unclaimed parcel post memos will be placed at all mess hall and Information Center bulletin boards. Be sure to come down to the office to claim them.
PARCEL POST PACKAGES
No parcel post packages will be left at apartments where the reciever is not present.
---
ACTIVITIES
Saturday
Choir Practice 21-15 7p.m.
Sunday
Concert bk. 10-11 8p.m.
Monday
Japanese Opera 21-15 7p.m.
Shibai Pract. 11-15 7p.m.
Tuesday
Dance Practice 27-15 7p.m.
Bible Study 8-15 ?p.m.
Choir Practice 9-15 7p.m.
HARD TIMES BALL
Tonight the firemen will take off their working clothes and don even older togs to attend their first "Hard Times Dance" to be held at kitchen 21 at 8 p.m. Entertainment and refreshments will be served and music will be furnished by the Manzanar Hotshots.
BOOKS TO BE CIRCULATED
Books and magazines may now be checked out from the libraries, according to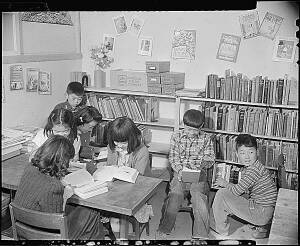 Ayame Ichiyasu, new WRA head librarian.
Reading matter is now being classified and placed in different libraries. Fiction books, located in the branch library at 20-15, may be taken out for three-day periods, with a limit of two to each person. Non-fiction literature, in the main library at 22-15, may not be taken out until further notice. [PHOTO: "A corner of the grade school library in one of the barracks." (Granada, 12/11/1942)]
Three branch libraries are now open: at 8-15, 12-15 and 20-15, with two more to be opened soon.
All residents will be able to borrow books from the State Library in Sacramento by contacting the librarian at 22-15. There will be no charge except for a one-way shipping fee, amounting to about three cents per volume.
---
BEWARE!
DON'T TAKE STICKS
These little chunks of sticks placed along the roads in the center should not be taken, warned the surveying crew today. These sticks are markers.
DRIVE CAREFULLY
Driving cross playfields and firebreaks or between barracks is prohibited, warned the police department, and drivers are asked to cooperate in observing this safety law.
---
'BEET FIELD SAVIOR' WRITES
SAB TELLS OF BEER, STEAKS AND SORE BACKS
Displaying flashes of unconscious humor, this letter from Sab to his friends back in Manzanar reveals the high spirits, sore backs and some of the shenanigans of our "beet field saviours."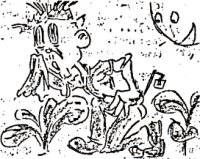 "...When we boarded the buses and saw the crowd we certainly felt like suckers for leaving camp. Well, anyway, it felt good to get on the other side of the fence.
"...The bus had to stop for water at Paradise Camp about 15 miles from Bishop. We all jumped off and ran into the cafe.... and you know what? The chorus was "beer". And boy, was the Luck Lager good! Nothing like it.....
"...At 5:00 p.m. we, the saviours of this valley (the beet crop, anyway) arrived, all anxious to trim the sugar beets down.
T-BONE STEAKS, ACTUALLY
"...Aaah! This is it! We go to eat in the C?lo??nian Hotel tonite (the ritziest dump in town). It accomodates over a 100 at a time. Holy smokes, T-bone steaks as large as the platter itself (large platters!)
"...We're on a patch where the rows are over 700 feet long. By lunchtime I had trimmed 2 rows and today, being the first day out, we quit at 5:00p.m. I finally trimmed 4 rows today and boy, am I tired. I'm aches all over, especailly in the legs and seat. I suppose you'd like to know how many acres 4 row make. Well, I asked the farmer (it doesn't sound right) but he says about 20 rows to an acre. (It's a lie! I hope...)
"...It doesn't seem as though everything is coming out as expected so we're having a meeting tonight.....
"...It may get better later on, who knows. Incidentally, who was it that said 'there's a sucker born every minute". I wonder what he'd say of a sucker who was a sucker twice. Oh well, live and learn, I guess."
Yours sincerely,
Sab
---
FROM OTHER CENTERS...
SNACKS FOR KIDDIES
'Snack hours' for children between the ages of 2 to 12 years are being held at the Tulare Center. The first snack hour attracted close to 900 kiddies.
USO UNDERWAY
Pomona Center residents are conducting a drive for USO funds.
AT SANTA ANITA
Over 1200 Santa Anitans are at work on the camouflage net project.... Forty persons a minute go through the doors of Blue mess hall, which serves 11,000 persons daily.... "Starlight Serenaders", the Center's own dance band made its debut at the weekly dance last Saturday.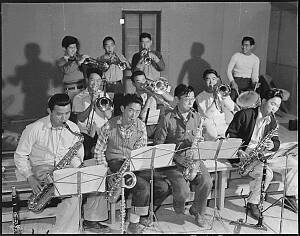 "Swing Band practices - a strictly hep gang directly in the groove. The boys play at mess hall dances which generally end up in a straight jitterbug contest." (Heart Mountain, 09/18/1942)
PINEDALE DOINGS
A daily count of Pinedale Assembly Center residents is being conducted by order of Lieut. Gen. J. L. Dewitt.... The "Pinedale Logger" is now a weekly paper, with eight pages being published every Saturday.... A "can-can" troupe featured the Center's talent show last week.
SUN VALLEY SERENADE
Approximately 2000 North Portland Assembly Center residents flocked to see a showing of "Sun Valley Serenade", featuring Sonja Henie and Glenn Miller's band, the second movie to be shown there.
---
CLASSROOMS SET
Arts, crafts, needlework classes will be held in separate halls specified for the various activities beginning Monday.
Oil and water colors, life and sketching, lettering, poster designing, flower making, and fashion drawing will be under the general supervision of Robert Minami at 8-15, and 14-15. Work in wood, metal, leather and linoleum will be offered at 18-15 and 28-15 with 4-15 to open as woodcraft centers for children. Masaki Ichien, supervisor, will have his headquarters at 18-15.
Needlework, sewing and pattern drafting will be offered at 4-15, 16-15, and 26-15.
SHAKUHACHI LESSONS
Shakuhachi fans are given an opportunity to learn this instrument as Kay Tamada, accomplished player, is now giving lessons. Interested persons may register for this course at 36-15, every evening after 7 p.m.
LOST AND FOUND
Are you still hunting for that key or sweater, hat or other lost articles?
There are 66 different items, many valuables, filed in the lost and found department at the main Information office, 1-11-1. Lost articles should be claimed as soon as possible.
OIL DISTRIBUTION
Oil will be distributed during the summer months only to hospitals and in apartments whre there is sickness. Requests for oil must be reported first to the doctors who will issue requests to the Housing department for the oil.
---
OF PEOPLE
COLLECTS CACTUS
Mrs. Yoshiko Shin, 14-2-3, with her 50 varieties of cactus plants, has probably the largest collection of these plants in camp. She brought them from Los Angeles in a suitcase, along with her clothes.
TO BRING FAMILY
Arthur H. Miller, Chief of Medical and Health Section, left for Los Angeles yesterday (Friday), taking two tubercular patients to the county institution. He will return to the center on Monday, bringing his wife and child from Pasedena to reside with him here.
---
WITH THE WOMEN
HAIL! THE QUEEN!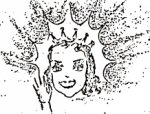 Hail, the queen of Block 4! She is Susie Nishimura, who was chosen by the mothers and girls of the block to represent them in the Fourth of July queen parade.
The voting took place at a meeting last week, presided over by Mrs. Karl Yoneda. Runners up in the contest were Renko and Betty Sasaki, Masaye Oshima and Lora Nishimura.
GIRLS FORM CLUB
First steps in organizing a Block 3 girls' club were taken last Monday night as the girls in the block gathered in the mess hall for a business meeting. The girls approved a constitution identical to that adopted by the boys' club of the block. A council was selected to map out future plans of the club.
APRONS FOR KIDDIES
Six dozen childrens' aprons, to be used by the nursery children, have already been completed by the sewing project workers, who are now working on ten more dozen. These kiddies' aprons were designed by Aiko Miyoshi. Mrs. Taye Jew is the supervisor.
---
SPORTS
ESQUIRES STRIPPED
The San Pedro Pirates came to life to cut down the sleeky Esquires, 13-10, in a wild Owens slugfest held last Thursday evening.
Going into the last of the 6th, the blood curdling Pirates ran up 4 runs before the Esquires stopped the rally. Behind with a score at 9-8, the Esquires rallied in 2 runs in the 7th frame to take the lead. With renewed vigor, the Pirates pounced 4 runs in the final cento to treasure the game away.
Miki and Yamamoto starred for the winners. T. Mineto of the Esquires connected for a circuit poke in the second inning.
Esquires..........010 160 2-11
Pirates.............003 204 4-13
J. Oka, T. Mineto; Yamamoto, Mio and Miki.
TONY'S TOP STAR
STARS DROP 6-7 BATTLE

Playing off the 11-11 tie game, the off and on Tony's Alley broke through in the final frame to earn a 7-6 verdict over the North Stars in a dusty twilight affair.
The Alley boys hopped on Tak Shindo with a 3 run onslaught in the 1st and 4th to command lead. The finale found P. Higashi tallying across the winning run on H. Nakayu's hot grounder.
Star's S. Okada was put out trying to stretch home on S. Hasegawa's bingle to end the rally in the 7th, to annihilate their well-grounded hopes of winning the contest.
North Stars....200 120 1-6 8
Tony's Alley...300 300 1-7 7
Yamauchi and Higashi; Shindo and Imamoto.
---
"A" SCHEDULE
INTERNATIONAL LEAGUE
Sunday
(3) 3 p.m.
S. Padres vs.
Phantoms
Monday
6:30 p.m.
V. Aces vs.
Policemen
MANZANAR LEAGUE
Sunday
(4) 3 p.m.
Has Beens vs.
7-11
Tuesday
6:30 p.m.
Slickers vs.
30-40
OWENS LEAGUE
Sunday
(5) 3 p.m.
Die Hards vs.
Scorpions
Monday
6:30 p.m.
Esquires vs.
E.C. Falcons
Tuesday
6:30 p.m.
Base Runners vs.
R. Flush
PRODUCTION LEAGUE
Sunday
(6) 3 p.m.
Barn Bums vs.
C. Hicks
Monday
6:30 p.m.
City Gyps vs.
Orchard 9
---
PASADENA TRIUMPHS
POLICE COP CELLAR TITLE FOR FIRST ROUND
Thursday evening's International fracas found the ever-slipping Police nine graciously losing their 7th straight game to the potent Uptowners, 20-14.
Blasting out 17 hits, the second-place Uptowners powerhoused over the flatfoots with a 7 run attack in the first and 8 runs in the 4th to loaf to an easy victory.
Kurokawa, Tachibana and Natahara ganged up on chucker Okamuro for 10 hits.
Uptowners...700 832 0-20
Police............400 400 6-14
Natahara and Takatomo; Okamuro and G. Masuda.
TERMITES VICTIM IN VOLLEYBALL TUSSLE
Pasadena rose from the collar and dropped the undefeated Termites to a 2-way tie for first with San Fernando in the "A" volleyball league Wednesday. The game ended in a close 15-12, 3-15, 15-12 decision.
Although the Termites struggled for every point in the last game with only 3 points to tie, they failed to outscore the fast returning Pasadenans.
---
"A" SOFTBALL SCHEDULE
Sunday
(15-15) 1:30 p.m.
Invaders vs. Dusty Chicks
6 p.m.
L. Strikers vs. Termites
Monday
(2-3 fb.) 6 p.m.
Pasadena vs. Jiggerettes
"A" VOLLEYBALL SCHEDULE
Monday
(blk. 3) 6 p.m.
San Fernando vs. Invaders
Tuesday
6 p.m.
L. Strikers vs. Pasadena
"B" SOFTBALL SCHEDULE
Sunday
(2-3 fb.) 6 p.m.
Small Frys vs. Whirlwinds
"B" VOLLEYBALL SCHEDULE
Monday
(blk. 2) 1:30 p.m.
Small Frys vs. Jr. Invaders
Tuesday
1:30 p.m.
FHA vs. Uptown Strutters
KITCHEN LEAGUE
Sunday
3 p.m.
1# 16 vs.
10
2# 13 vs.
17
Monday
6 p.m.
2# 23 vs.
3
Tuesday
6 p.m.
1# 19 vs.
8
2# 18 vs.
6
---
SPORTS
ACES NUDGE AGGIES, 6-1
HIRO HINO BESTS HIRO OSHIMA IN PITCHING DUEL

The potent San Fernando Aces finished in their first round in the National league, successfully with 7 straight triumphs by defeating the Orange Aggies nine, 6-1, before a large turnout last night.
Aces' Hiro Hino and Aggies Hiro Oshima hooked up in one of the finest pitching duels yet performed.
Hino was caught with bases loaded twice, but managed to pitch out of trouble behind tight defensive playing.
Lefty Sugawara broke the ice in the 3rd with their first hit and brought in 2 runs in the 6th with his crushing triple to star for the winners. R.H.
S.F. Aces....000 203 1-6 4
Aggies........000 010 0-1 3
GIANTS TAKE REVENGE
WONDERS BEATEN, 12-6
The "lose for awhile and start winning" Giants poked the slipping Wonders, 12-6, last night in an American leaguer.
It's becoming a habit that every time the Wonders play, so does the dust.
A 5-run rally in the 5th won the spurs for the Giants when Takemoto, Tamaki and Akahoshi singled, Neeno's air mail delivery issued free passes to Matsumoto and Yamane in the same inning. After the Wonders rubbed the dust out of their eyes they were trailing 11-3. R.H.
Giants.......201 350 1-12 11
Wonders...100 221 0-6 8
Taketomo and Kunitani, S. Uyemura, Sam Uyemura; Neeno and I. Hara.
EAGLES IN SECOND SPOT
A 9-8 triumph over the previous undefeated 7-11's moved the L.A. Eagles of the Manzanar league into second place, Thursday. The 7-11 who have been going great guns in the past failed to score in the pinch to lost the pitcher's battle and virtually dropped them to 3rd place.
Nambe and Nakagawa of the Eagles flattened the stitched pellet for 2 bingles each while Kishishita clouted 2 for the losers.
Eagles.....005 001 3-9
7-11's.....111 021 2-8
---
Score sheets are being distributed to league teams at Men's center 2-15. All teams must turn in score sheets after each league game to 2-15. This means both home and visiting teams.
---
SPOTLIGHT
Hit-loss Wonders
- They were doing wonders in the first round, but are somewhat hitless in the second... When the Wonders play so does the dust... the catcher who wears the most equipment on the team might just as well have worn a divers suit, goggles, oxygen mask and his regular attire for it was nearly that bad.....
Giants
- Tommy Terdji, speedy left fielder, collected 5 hits off Neeno, one being a 4-bagger. Many a run have been cut off because of his rifle like wing to the plate.
S.F. Aces
- They barely won their last 3 games... maybe it's becuase S. Mitsui, star first socker, is on the sideline -- doctors order.....
O.C. Aggies
- Hiro Oshima pitched his best game against the Aces although he issued 12 free tickets.....
Weightlifting
- It's a comin'... the muscle bruisers will vie for those flashy medals tomorrow night, 6:30 at 2-15... entries are still being accepted at 2-15... all participants will weigh in for classification.
Sportsmanship
- Softball casualties are piling up... let's play clean... all illegal players and unsportsman-like playing will be suspended from participation in all sport activities.....
---
PADRES BLANK SANTA MONICA
Blitzkrieg attack of the Sierra Padres demolished the hapless Monicans, 22-0 in a lopsided tilt Friday evening.
The International league contenders bombarded the Monicans in every inning, with every player contributing a score in the game.
Harry Tashima again piloted the Padres to their winning course with his flawless chucking, limiting the opponents to 2 hits. Iiyama and Haga collected 2 home run circuits to take slugging honors.
Padres........2 03 001 6-22
S. Monica...0 00 000 0-0
Tashima and Haga, Shimizu and Sakata.
---
'A' LEAGUE SCHEDULES
AMERICAN LEAGUE
+Days & 2nd teams underlined+
Sunday
(1) 3 p.m.
Ramblers vs.
Gophers
Monday
6:30 p.m.
Senors vs.
Wonders
Tuesday
6:30 p.m.
Yankees vs.
Mayors
NATIONAL LEAGUE
Sunday
(2) 3 p.m.
S.F. Aces vs.
Yogores
Monday
6:30 p.m.
O.C. Aggies vs.
Tony's
Tuesday
6:30 p.m.
N. Stars vs.
Royal Y

---
---
Complete collections of all center newspapers are available for viewing at Densho's archives (registration required):