During my recent visit to the Yokohama War Cemetery I was asked to investigate why the ashes of six Australian POWs who died in Fukuoka were not interred in that cemetery, with the ashes of the other 237 Australians who died in Japan.

I put the question to Rod Beattie in Kanchanaburi, who has a complete record of Australian POW deaths in Japanese hands. Rod's answer supplied the details of the whereabouts of the ashes only creates more mystery of how they arrived at their present resting place.

The ashes of Lloyd Chalker, Peter Alexander Sims and William Dwyer, who died in Fukuoka Japan, are now in graves HD 12, 13 & 15 in the Labuan War Cemetery.

The ashes of William Thomas Leonard, James Stewart Nicol and Charles Frederick Ward now lie in St Louis National Cemetery USA in Collective Grave No 1B 1C & 1D.

The question arises how did these remains reach their present resting place, in regard to the Labuan Cemetery did some Australian POWs in Fukuoka smuggle the ashes of the three out of Japan? Did they find out that all the ashes were going to be taken to USA with the American ashes and forestalled this move? On arrival in Manilla to where most POWs from Japan were taken, did they surrender the ashes to the Australian Authorities there?

Mystery Solved

Many Australian POWs objected to their mates remains staying in their captors land so some 33 lots were smuggled out to Manilla in the Philippines, here they were confiscated by the Australian army and interred in the Commonwealth War Cemetery in Labuan Borneo.

The ashes interred in the Section 82 Collective Grave No 1B, 1C, & 1D St Louis National Cemetery, belong to James Stewart Nicol, Frederick Charles Ward & Thomas William Leonard. The explanation put forward is that because of a shortage of urns in one camp the ashes of 10 POWs were stored in one urn. As American POW ashes were in the same urn as these Australians, America claimed all of the remains, on the basis that all American servicemen who died in foreign lands must be repatriated home.

---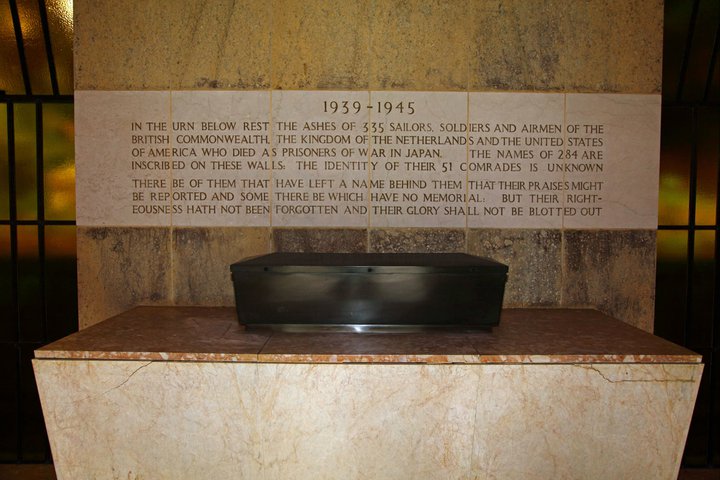 Urn of ashes of 335 Allied POWs at
Yokohama Commonwealth Cemetery, including 51 unknown
(Courtesy of Terry Smyth)