Source: Source: RG 331 Box 940 [Mansell NARA 7]
---
Company register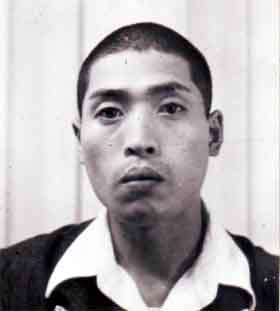 TANAKA, Akiyoshi [Tokuichi]

(2nd Picture- charged with war crime)
Born: 18August 1908
Permanent Domocile:
No. 146, Kawaguchi, Osugi-mura, Nagoaka-gun, Kochi-ken.


1. Finished primary school in 1921.
2. Farmed at his native place until November 1935.
3. Became operative at Nippon Industrial Corp in 1935.
4. Worked as a miner in Kishu mines from May 1938 until July 1939.
5. Left job in July 1939 - reason unknown
6. Resumed job as a miner on July 1,1944 teaching PW's how to drill, until end of war.
7. Resigned at own request March 16, 1946.

While at work he loved Kishu mine dormitory, Mil-ken, Minami- Muro-gun, Iruka-mura.

Mr. Robbins the above information is from the ISHIHARA records. He was not a guard at Iruka.
I will call you Monday.

Note: Above hand carried by Mr. Endo, an investigator from Capt Lynn at Osaka. Received at Legal Section Saturday 8 November 1947. Front and side pictures of Tanaka enclosed.
**********************
Attached letter and picture as follows:
JAPANESE GOVERNMENT
CENTRAL LIAISON OFFICE
TO: GENERAL HEADQUARTERS OF THE SUPREME COMMANDER FOR THE ALLIED POWERS

FROM: Central Liaison Office, Tokyo.

SUBJECT: Information on Register Relative to TANAKA, Akiyoshi.

C.L.O. No. 9709 (PD)
20 December 1947

1. In reference: Legal Section's Check Sheet No. 13877 LS-Z dated 16 December 1947, subject: "Request for Information."

2. The First Demobilization Bureau reports as follows:
a. The name of the register referred to in Paragraph 2 of the reference Check Sheet is "NAGOYA-FURYO-SHUYOJO SHOKUIN OYOBI KANKEI-SHA MEIBO" (The List of member of and persons concerned with NAGOYA POW Camp). This register was compiled by TOKAI Demobilization Control Office after the termination of the war, and sent to the First Demobilization Bureau when the register was completed.

b. This register is presently kept by the Legal Investigation Division of the First Demobilization Bureau and ISHIHARA Industries, Ltd. does not keep it.
FOR THE PRESIDENT:
/S/ ILLEGIBLE

PICTURE ATTACHED