The West Australian
January 16, 2002
Veteran lets go of bitterness
NEIL MACPHERSON had ample reason to hate the Japanese by the time the war ended in 1945.
Captured in 1942, he spent 20 months as a slave labourer on the notorious Burma railroad before being shipped to Japan in mid-1944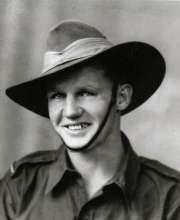 to work in a coalmine with other Allied prisoners.
PHOTO: Mr MacPherson aged 23
But Mr MacPherson, who is 80 in May, made a conscious decision to put the cruelties behind him.
"I decided that I would not harbour bitterness for the rest of my life because, if I did, I would be the only one who would be affected," he said. "No one in Japan was going to lose any sleep over my carrying that bitterness."
He said he would attend the special reconciliation service on Sunday and a reception immediately after for Keiko Holmes. During the church service Mrs Holmes will apologise for the atrocities committed against PoWs.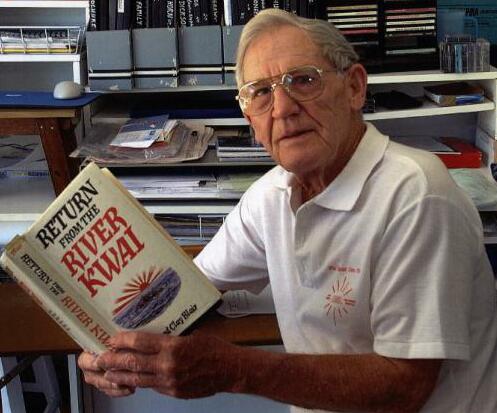 Going back: Former prisoner Neil MacPherson, 79, of Falcon, reflects on his experiences in Japanese captivity. But he intends to attend a reconciliation service on Sunday.
Mr MacPherson said he respected what she was trying to do, especially in reconciling former prisoners with the Japanese people.
"We didn't have much of a problem with the people in Japan when shipped from Burma to the Sumitomo coal mine on Kyushu island," Mr MacPherson said. "The conditions were five-star compared to the Burma railroad and the Japanese miners working alongside us were helpful in teaching us to survive a dangerous environment."
He will visit Japan in May, and said the Japanese should not feel guilt for their grandfathers' actions any more than Australians should for what their grandfathers did to Aborigines.
---
The railway story is already known to the world.
What is not generally known is an equal number of POW lives were lost in transit to Japan for slave labour.
Thirteen ships were sunk while transporting 15,712 POWs from Asia to Japan. Some of the ships sunk had no survivors. All told, 10,720 prisoners lost their lives at sea -- many more while in Japan.
September 1944 -- I was one of 3,000 POWs in Singapore in late 1944 awaiting shipment.
Early September 1944 -- We were loaded onto two transports, the Akuyo-maru and the Achidoki-maru, and on 12th Sept. in the China Sea both were sunk -- 1,514 POWs were drowned.
15th December 1944 -- 545 POWs boarded the Awa-maru in Singapore harbor not knowing the fate of our mates. I was one of these and we were crammed down below decks in searing temperatures for 11 days.
On Boxing Day, 26th Dec., the convoy of 23 ships sailed. Twenty-one days later we arrived unscathed at Moji, in mid-winter with snow on the ground, and poorly clothed. 150 of us were sent to Senryu, a mining village on the outskirts of Emukae, 60 km. north of Nagasaki.
Here we laboured in the Sumitomo coal mine in very hazardous conditions. The coal seam was only 1 metre high so we worked in a crouched position for up to 12 hours a day. For 8 months our daily ration provided only 75% of the energy used in our work -- we were working only on our reserves. Many of us weighed less than 38 kilos.
We worked under Japanese foremen, to whom we owe a debt of gratitude due to their skills which they passed on to us -- not one death occurred in the midst of many cave-ins and rock falls.
On the 16th August 1945, I was working underground. Half-way through the shift we were taken back to our camp and we were told the "night had ended." Five days later, USA bombers dropped huge supplies of food and clothing near the camp.
Imagine the scene. Most of us were near skeletons, so we ate, drank and smoked to excess -- meat, butter, biscuits, milk, candy, chocolates, books and clean warm clothing.
Many of us took the opportunity to hike into the countryside. Here we met the kind farmers and their families and shared our bounty with them. We showed them photos of our families, they also theirs.
Not one of the 250 POWs looked for retribution for the wrongs done to them.
You will understand, therefore, why my mate, Owen Heron, and I are planning to visit this village in April this year to meet again the Senryu villagers and farmers.
---
The Daily Yomiuri
April 18, 2002
By Kenichi Oishi, Staff Writer
Two Australian Ex-POWs Visit Emukae for First Time in 57 years
On forced Labor: "No ill-treatment, the people were kind"
With deep emotion, memories come flooding back
Two former soldiers of the Australian Army who became prisoners of war of the Japanese military during World War II and forced to work at the Senryu Mining Office of the Sumitomo Mining Company in Senryu, Emukae township, visited the town on the 17th to remember the days they spent here 57 years ago.
Neil MacPherson (79) and Owen Heron (80) are both from Perth in Western Australia. They became POWs in 1942 and worked on building a railway connecting Thailand and Burma (present-day Myanmar). In January, 1945, they were sent to Fukuoka Camp #24 at Tanomoto in Emukae and worked in the coal mines until the end of the war.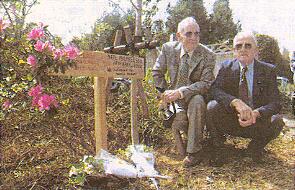 Heron (right) and MacPherson after placing flowers at former gravesite of foreigners
According to MacPherson, there was no ill-treatment at the camp and the Japanese foremen put safety first in teaching them to work in the mines. However, among the 267 POWs interned at this camp, 18 died of sickness and other causes.
Both men initially desired to come to Japan for memorial services. With only the name of "Senryu" in their memories, they were able to find its location through the help of the Joetsu Japan-Australia Society in Naoetsu (Shoichi Ishizuka, President), and Wes Injerd, an American residing in Dazaifu, Fukuoka-ken, who is doing research on POW camps.
The Executive Committee of Emukae organized a welcome party for the visitors. They also invited a number of Japanese who once worked at the mining company and together showed them the former site of the mine, the foreigner's cemetery, and other sites as well.
"It's completely different," remarked the two men, amazed at the change. At the old entrance to the mine, memories of the past came flooding back. "I remember the hills here. And I remember seeing in the Administrative Office a large mural depicting the Battle of the Coral Sea," said one of them, reflecting on the harsh yet memorable past.
At a cemetery, the men planted cherry trees and placed a plaque which read, "We shall remember 1945."
"The mining company's dealings with us was good, and the people were very kind. I think it is important that we tell the facts about this camp to future generations," MacPherson related emotionally. Heron added, "I just had to come back to this place."
Earlier on the 12th, the two visited the head office of the Sumitomo Mining Company in Tokyo where they had a friendly meeting. "It was a rare example of where reconciliation between former POWs and a Japanese company became a reality," commented Ishizuka.
---
See also:
Emukae Town Information newsletter -- Japanese page with photos
Neil MacPherson & Owen Heron's Visit to Joetsu
---
April 2004 visit to Emukae
The Mainichi Shinbun
April 17, 2004
Memorial plate for remembering POWs set up
Moved by the town's hospitality, he returns to Emukae again
Australian ex-POW attends unveiling ceremony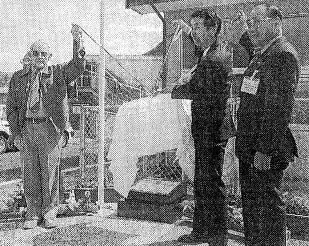 Neil MacPherson (left) is unveiling the monument
A memorial plate was set up at the site of the former POW camp in Emukae, where British and Australian men were forced to work in its coal mine during World War 2. On April 16, Neil MacPherson, 82, an ex-Australian POW, joined the unveiling ceremony for the memorial plate. MacPherson with a serious look on his face, together with his comrades, made an offering of flowers onto the memorial plate.
The plate was established on the compound of Iwashita Public Hall near the former campsite. With MacPherson's previous visit of 2 years ago to Emukae as a start, Shoichi Ishizuka, ex-president of Japan-Australia Association Joetsu, made the memorial plate, and the town did its pedestal.
MacPherson was brought to the Emukae POW camp and labored at the Sumitomo Senryu Coal Mine. In April 2002, he visited the town with his son and other members for the first time after the war. With good impressions of his last visit in mind, he returned to the town again. This time, moved by MacPherson's story about Emukae, Jack Boon, 87, an Australian ex-POW, who was forced to work at Saganoseki in Oita and Omuta in Fukuoka, accompanied him to Emukae.
"Our Japanese workshop leader was kind to us and so I don't have only bad memories. Every time I return to Emukae, I'm happy to receive a warm welcome from the townspeople," said MacPherson.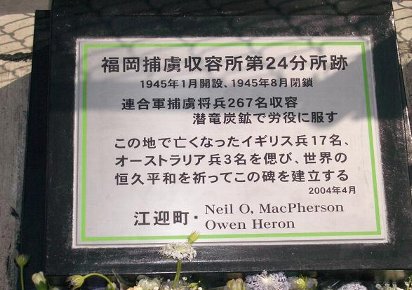 Fukuoka Prison Camp 24th Division
January 1945 -- August 1945
267 Allied Prisoners of War were imprisoned
and labored here at the Senryu Coal Mine
In memory of the 17 British and 3 Australian men who died here,
we dedicate this monument with a prayer for everlasting peace
April 2004
Special thanks to Koshi Kobayashi for this article translation
---
Visit to Saganoseki, Kyushu
The Yomiuri Shinbun
April 16, 2004
Australian ex-POW visits Saganoseki
for the first time in 59 years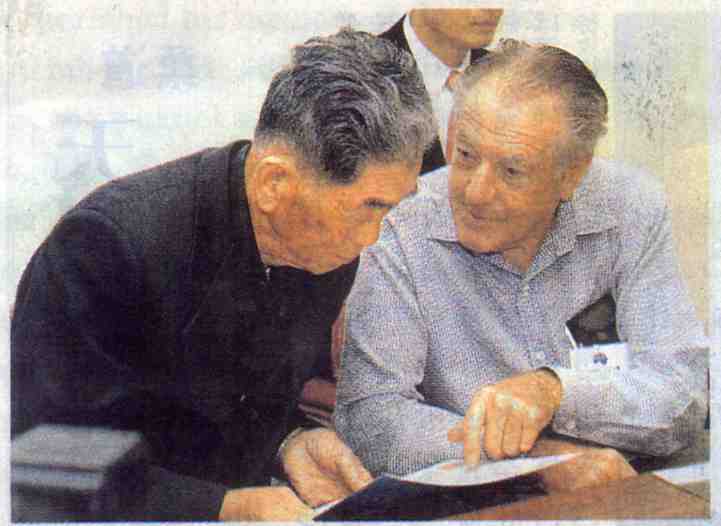 Jack Boon (right) talking with Harumi Mikawa at Saganoseki
An ex-POW met his former Japanese co-worker again with a smile, remembering the old days and full of emotion, took a visit to the smelter, his former workplace.
Jack Boon, 87, an Australian ex-POW, who was detained in the Prison Camp in Saganoseki during World War 2 visited the town on April 15 for the first time in 59 years. He cherished his memory of those days.
On September 1944, 203 Australian men captured by the Japanese military were interned at the Fukuoka 13th Dispatched Camp in the compound of Nippon Mining & Metals Co., Ltd., Saganoseki Smelter & Refinery. After they were forced to work at the smelter for about 9 months, they were moved to the coal mining area in Kyushu. Boon, one of them, labored at a zinc smelter in Omuta City, Fukuoka Prefecture till the end of the war and returned to his own country. His visit to Japan was prepared by some Yokohama members of the POW Research Network Japan who have studied ex- POWs and their camp sites and through the help of the municipality of Oita Prefecture and. Saganoseki.
Boon was accompanied by two other POWs who were interned at other camps and their family members, six in all, to visit the town. He took a plant tour yearningly in and around the smelter, listening to the company's staff explain about the plant and the surrounding view.
He was pleased to meet again with Harumi Mikawa, 81, a former Japanese clerk in the then smelter, and Boon said "I remember he took us to his rest hut and gave us a drink of white liquid" (later found out to be 'raw sake'). "The smelter and the town were small in those days but now they have changed so much. The Japanese people in the camp took good care of us and I felt a little bit reluctant to leave the town," he said yearningly.
The Australian tour group came to Japan on April 9, and already visited the former sites of the Naoetsu Camp in Joetsu City, Niigata Prefecture and the Takefu Camp in Takefu City, Fukui Prefecture. By their departure from Japan on the 18th, they are scheduled to visit the Senryu Camp site in Emukae, Nagasaki Prefecture and the Omuta camp site in Omuta City, Fukuoka Prefecture.
At the end of the war, there were about 130 prison camps throughout the country and about 35,000 POWs were interned, induding Americans, British, Canadians, and Australians. Out of these, about 3,600 men died at their camps.
Special thanks to Koshi Kobayashi for this article translation
Speech by Jack Boon
About June 1944 some months after the completion of the Burma railway, the Japanese Army had a few thousand Prisoners of War available for work elsewhere. From these Prisoners of War a group of about 900 Australians were to be sent to Japan and I was picked as one of the Japan party. I was happy to be on the japan trip, being keen to leave Thailand behind where we had experienced illness, disease, weary and dangerous work and appalling living conditions.

The Japan party was sent to Singapore, and on the 1st July 1944, we boarded the RASHU MARU, a cargo vessel of approximately 3000 tons. It had been badly damaged and in very poor condition so we called it the BYOKI MARU. We sailed on the 4th July 1944 as part of a large convoy destined for Japan.

After an eventful voyage, during which we experienced a submarine attack, a typhoon and 3 weeks in Manila, we arrived at MOJI, KYUSHU about September.

200 Australians, including me, were sent by train to Saganoseki, where we were pleased to find a camp with reasonable accommodation, dining hall, kitchen, large hot baths and electricity. Clothing consisting of a jacket, trousers, rubber boots and heavy overcoats were much appreciated during the very cold winter. Some saw snow for the first time.

The day after our arrival, it was off to work in the Copper Smelter. I was in the team whose job it was to fill the furnace with coke and various ores. Large buckets were filled from coke and ore in hoppers and then pushed on overhead rails and evenly spread into the furnace. When the furnace was full we rested until the molten copper was tapped and then we repeated the process till the furnace was full again.

This was heavy work and most of us were not in good physical shape, particularly after months in Thailand and a long sea voyage in appalling conditions. We worked 8-hour shifts and the night shifts were the worst as it was hard to sleep during the day. If one worked 9 days without a break the 10th day was given as a rest day.

We were escorted to and from work by a camp guard and the workmen in charge of our particular group.

We found these workmen very decent and kind men. The man in charge of my group, I think his name was Mr. Okano, was particularly good to us. One night during our rest period, he took us to his rest hut and gave us something that I would describe as rice cakes and a drink of white liquid, which had some 'bite' to it. Was this some SAKI?

In Thailand we sometimes had news of the progress of the war, available from radios carefully hidden from the Japanese. Radios were also hidden in Singapore. However it was not possible to receive war news in Japan.

Occasionally English language newspapers came into our camp and on rare occasions we got hold of them which had news of the European war. News of Germany's surrender came to us about when it came in May in 1945. One of our men who had a good relationship with his guard, who escorted him to and from camp and as they chatted I think he learnt of progress of the Pacific war.

In June 1945, we had to leave Saganaseki and move to a larger camp of about 2000 men in Omuta. This was a miserable camp and most of the men worked in coalmines and had been in Japan for many years. Fortunately we only spent about 2 months as the war ended on 15th August 1945.

I regard myself as being fortunate for the 10 months that I was in Saganaseki, and that is why I am delighted to have the opportunity of coming back here after almost 60 years.
---
Visit to Yokohama War Cemetery
April 2004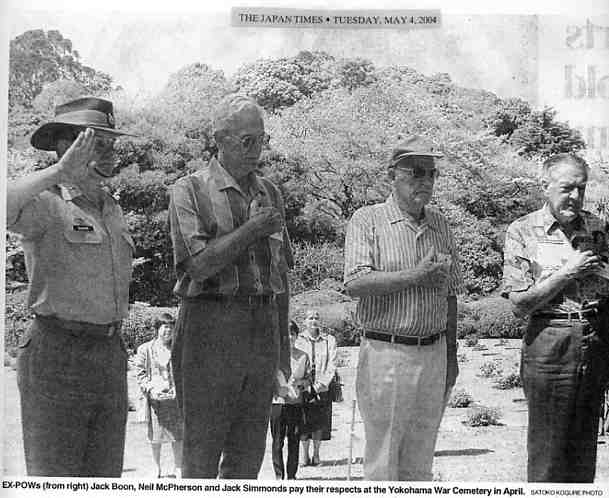 Ex-POWs (from right) Jack Boon, Neil MacPherson and Jack Simmonds pay their respects at the Yokohama War Cemetery in April.
See entire Japan Times article on Jack Simmonds: Past and Present: Ex-POWs' trip to Japan coincides with the release of a valuable new WWII historical resource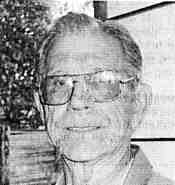 I can forgive but I won't forget...
I don't really want to talk about the
bad stories. Ill feeling doesn't produce
any good feeling. -- Jack Simmonds
---