People Magazine
"Up Front"
December 24, 2001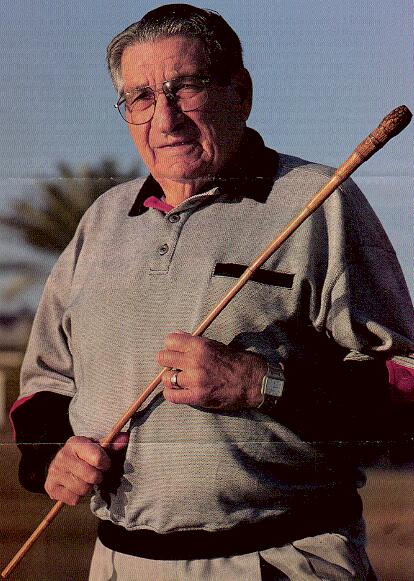 "The Japanese never said they were sorry," Tenney (with a punishing cane) says of his enslavement. "I want an apology."
LESTER TENNEY'S 60-YEAR WAR
Imprisoned by the Japanese, an American POW aims to settle a wartime injustice
by
Alex Tresniowski
Lyndon Stambler (in Phoenix)
He carries the simple bamboo cane with him wherever he travels. Smoothed and rounded at one end, it looks harmless enough, until Lester Tenney snaps it to show the type of blow it can deliver. Nearly 60 years ago Japanese soldiers used similar canes to beat Tenney and other Americans during the hellish Bataan Death March, one of World War II's most infamous atrocities. "The Japanese killed you if you stopped along the road," remembers Tenney, 81, one of about 12,000 American prisoners of war forced to take the march in 1942. "If you couldn't walk anymore, they'd bayonet you or cut your head off."

"It was pretty rough to watch," Tenney says of the brutal torture during the Bataan Death March (in a Japanese photo)
Tenney was one of the lucky survivors of the 12-day, 86-mile ordeal, which claimed the lives of as many as 1,000 Americans. But while he still has nightmares about the march, it is what happened afterward that most deeply haunts Tenney. Along with thousands of fellow POWs, he was enslaved for 2½ years and forced to work 12-hour days in a Japanese coal mine owned by Mitsui & Co., one of Japan's largest conglomerates.
For years now Tenney has led a movement to seek unpaid wages and an apology for the enslavement. "If you're a soldier, you accept certain things," he says. "If you're killed, that's part of war. But it was not part of war to put me in that coal mine and treat me the way they did. I feel I am entitled to wages I was denied."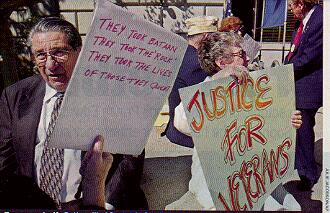 Tenney and wife Betty rallied Sept. 5 in San Francisco
with veterans seeking restitution.
Getting those wages has been an uphill battle. After first petitioning the U.S. government for help in 1946, Tenney got nowhere for decades. (He did receive about $1,800 from the U.S. government in the mid-1950s for lack of food during the war.) Then a 1999 California law extended the statute of limitations for slave labor claims against Germany and its allies to the year 2010. Tenney, a retired finance professor, promptly sued Mitsui. Lawyers for the company would not comment but argue in a statement that the company was formed after the war and that a different Mitsui ran the mines. Tenney's lawyers dispute that.
Last year a federal judge dismissed his case, citing the 1951 peace treaty between the U.S. and Japan that barred private claims against the Japanese government. Tenney is appealing that decision but inthe meantime has turned to state court, inspiring claims on behalf of 5,000 surviving POWs and thousands of heirs againstMitsui and other Japanese companies. On Oct. 19 California superior court judge William McDonald allowed those suits to go forward. The ruling "was the best news we've ever had," says Tenney. "I can now say our government is honestly trying to solve this in an honorable way."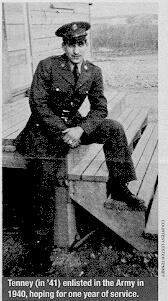 Tenney's patriotism runs deep. The youngest of seven children born in Chicago to Gus Tenenberg, a sales manager for the Liquid Carbonic Company, and Fannie, a homemaker, he enlisted in the National Guard in 1940 and trained as a tank-radio operator at Fort Knox, Ky. He eloped with his sweetheart of four years, Clara Laks, just weeks before he shipped out to the Philippine island of Luzon in October 1941. The day after Japan attacked Pearl Harbor, Japanese bombers strafed U.S. installations in the Philippines. Tenney's battalion, overwhelmed by thousands of Japanese troops, retreated to the Bataan peninsula.
Stranded with little food or supplies, the American troops surrendered four months later. The next day Japanese soldiers broke Tenney's nose and some of his teeth when he failed to respond to a question he did not understand. Soon after, an estimated 12,000 Americans and 68,000 Filipino refugees began the march to prison camps. Suffering from malaria and dysentery, Tenney survived by focusing on his next step. "I had a positive attitude," he says. "I never thought I was going to die."
Some months later Tenney was crammed onto a boat --- one of several since referred to as hell ships ---for a 32-day journey to Japan. In the town of Omuta, he was put to work in a mine shoveling coal for 12 hours a day. Again he was routinely beaten by Japanese coworkers, he says. Coal mining is hazardous, but the Americans did "absolutely the most dangerous work you can do," says fellow POW Frank Bigelow, who lost a leg in a mining accident.
Then in August 1945, the U.S. dropped atomic bombs on Hiroshima and Nagasaki, and Japan surrendered. Tenney, 90 lbs. lighter than his normal weight of 185, was flown to Okinawa, where he was greeted by his brother William. It was then he discovered that Clara, unsure if he was dead or alive, had remarried. "I lived because I constantly thought of a life with her," says Tenney. "I played like it didn't bother me, but it tore me up."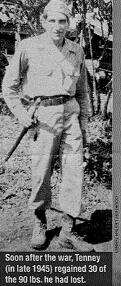 A high school dropout, Tenney returned to school and eventually earned a Ph.D. from USC and taught finance at Arizona State University, retiring in 1983. He has a son, Glenn, with Mildred Wailer, whom he married in 1947 and divorced in the mid-'5Os. He wed current wife Betty Straus in 1960, inheriting her two sons. The couple, who have eight grandchildren and two great grandkids, split time between their La Jolla, Calif., residence and a winter home in Phoenix.
It is an outwardly tranquil existence, but Tenney still wakes up screaming some nights, roiled by nightmares. Yet he harbors no bitterness toward Japan; he has taken several recent trips there to visit an exchange student he and Betty hosted and to lecture school groups on his POW experiences. "Lester's story is so powerful," says David Casey Jr., his San Diego-based attorney, "that unless the companies can defeat us on technicalities, they would never let it be heard by an American jury." His relentless pursuit of lost wages, Tenney makes clear, is simply something he feels is the right thing to do. "Somewhere along the line these companies have to be responsible," he says. "This is not about money. It's about honor and dignity."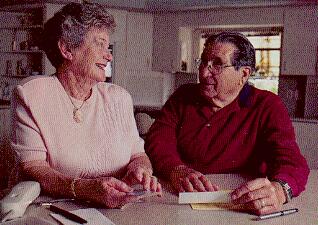 "The lawsuit made him open up more" about his past,
Betty says of Tenney (at home).