Nagoya Division Camps
Narumi #2 -- Yokkaichi #5 -- Fushiki #10 -- Nagoya Prison
---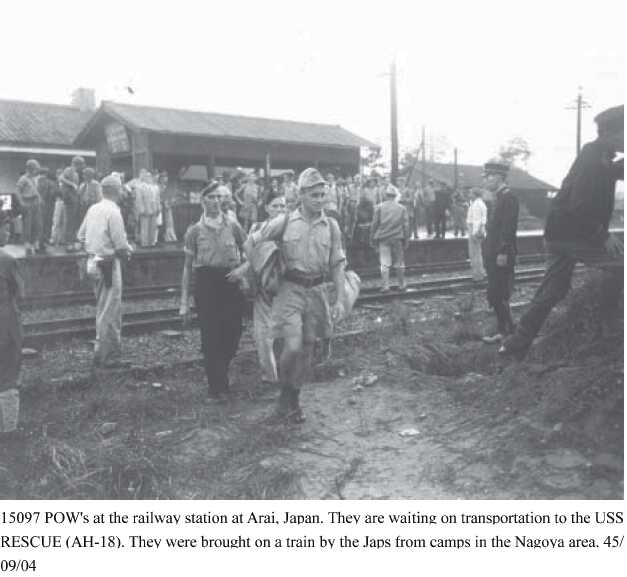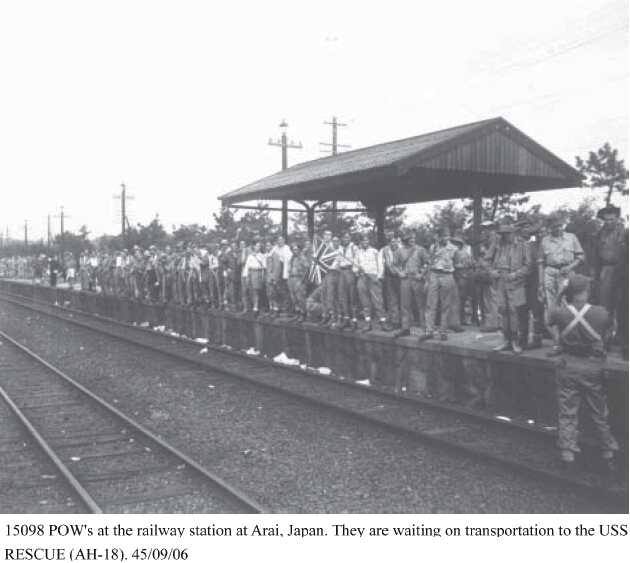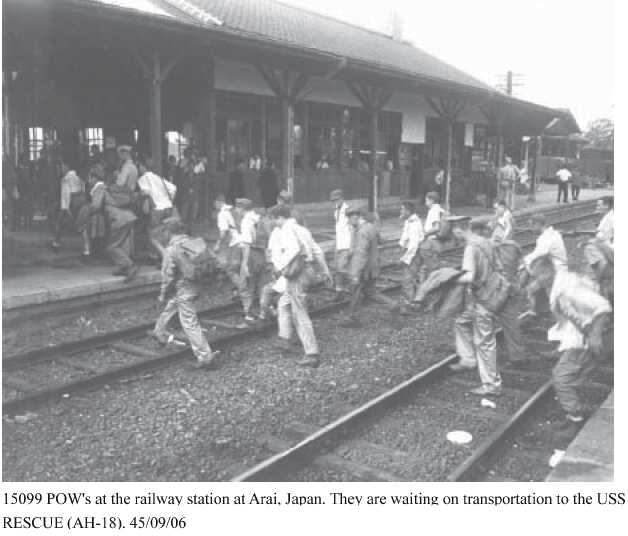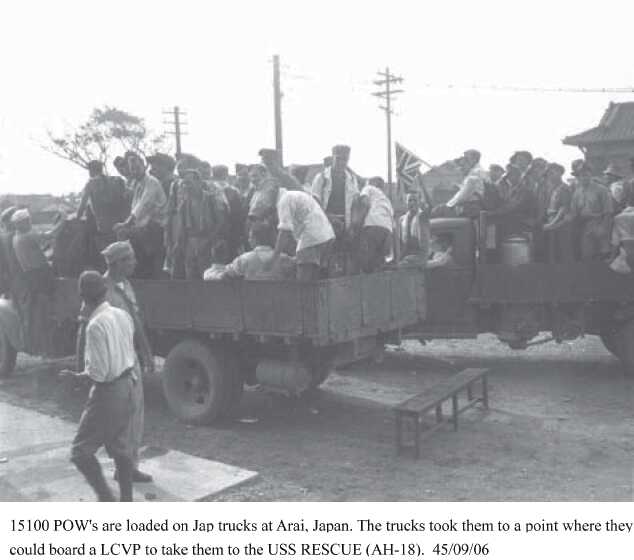 ---
Narumi #2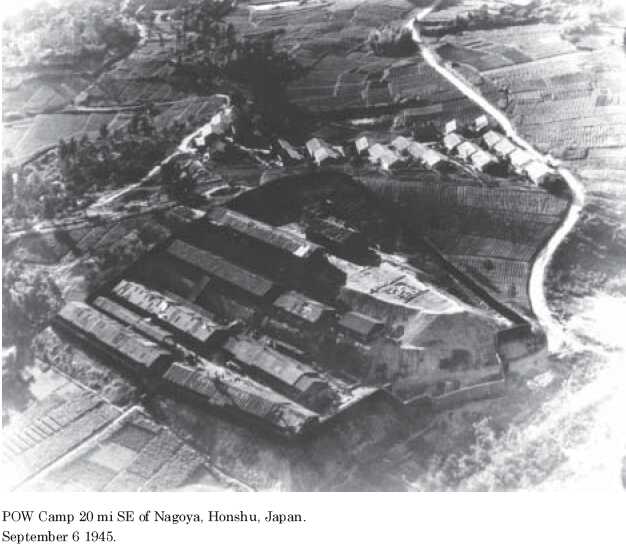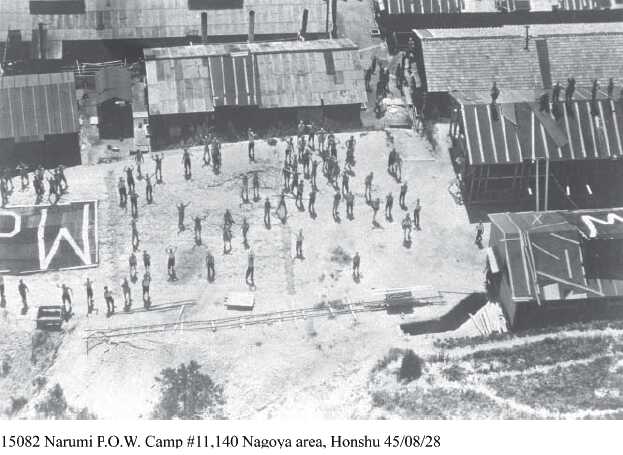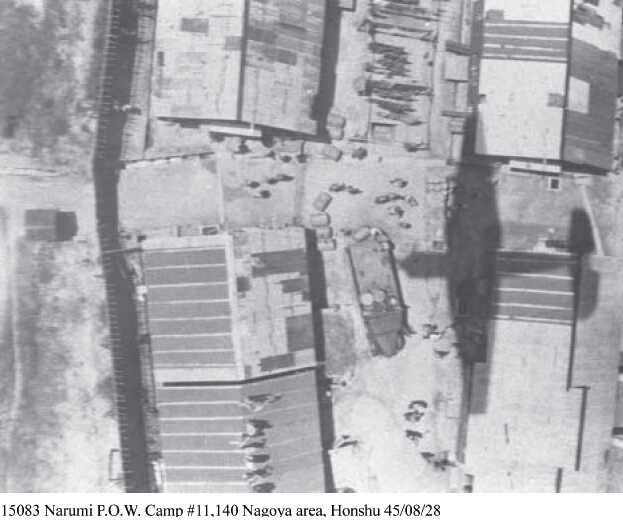 ---
Yokkaichi #5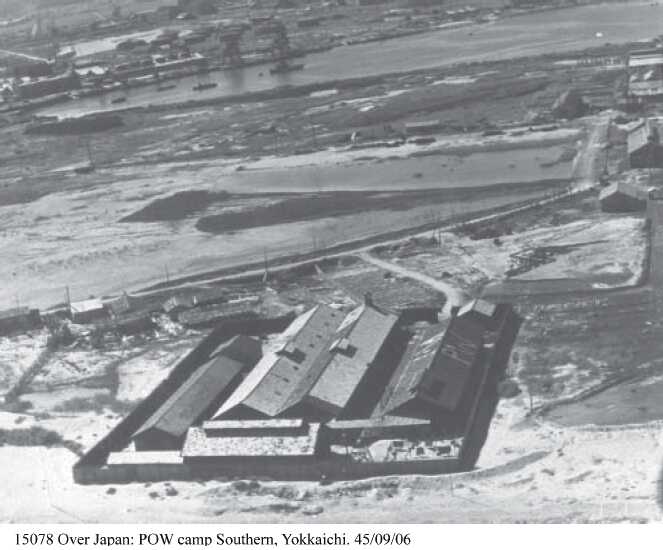 ---
Fushiki #10
Captions -- Tom Kane
These pix were taken at a POW camp. It is called Branch 10, Nagoya Main Camp, and is located near the small town of Fusiki, on the West Coast of Honsu, Japan. Of the 300 prisoners in the camp, 156 were American soldiers, sailors, and marines, all of them captured more than three-and-one-half years ago at Bataan, Corregidor, and Guam. The remaining prisoners were Dutch, British, Aussie, Javanese, Indian, captured at Singapore, Malaya, Java, Hong Kong. All of the prisoners had been in other prison camps prior to coming to Camp 10. The Americans cam there after being bombed out of Osaka.
Pack D
1,2,3,4. POWs eating noon chow in their "barracks". The food problem is the greatest hardship men had to face. Lack of food was responsible for diseases, deaths, loss of eye-sight, loss of toes, and fighting amongst the men. According to the men, the only prisoners who had a chance to survive were those who worked in a place where they could steal food from the Japs. To supplement their rations, men ate snakes, rats, frogs, roots. At the time pix were taken, men were eating 10 in 1 Rations which had been dropped to the camp three days previously by B-29's. The Japs began to give the prisoners liberal amounts of food immediately after the first Japanese announcement of Japan's surrender.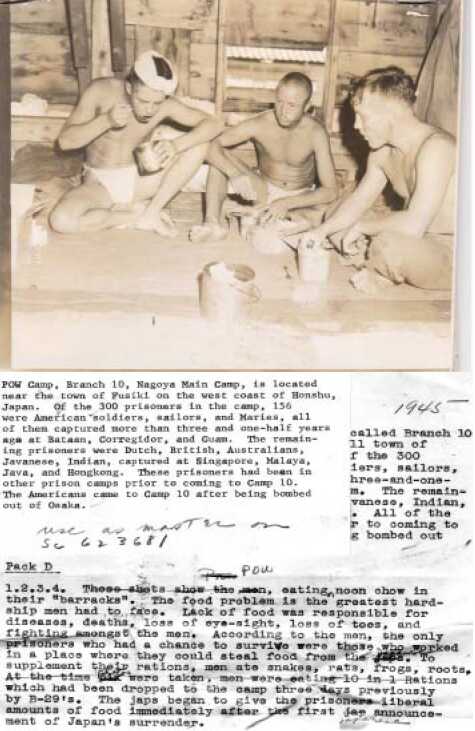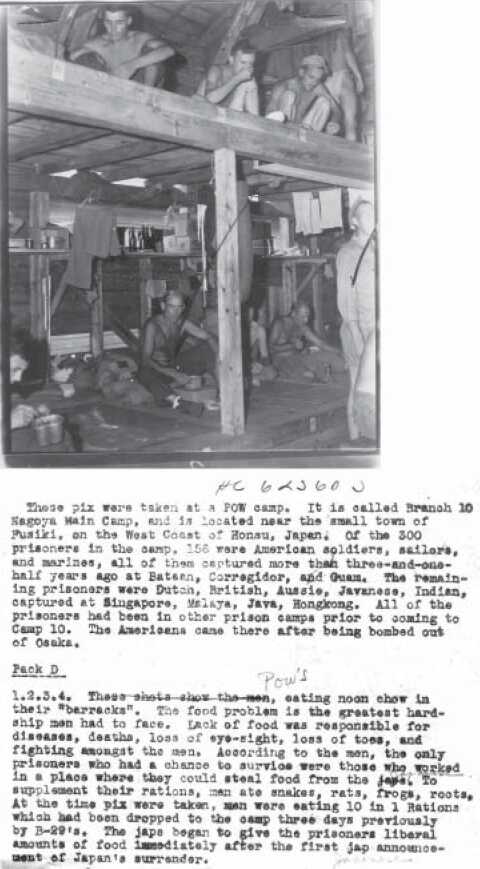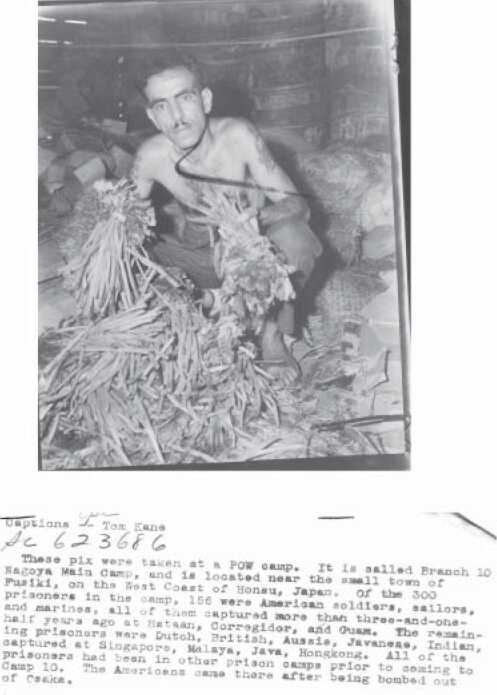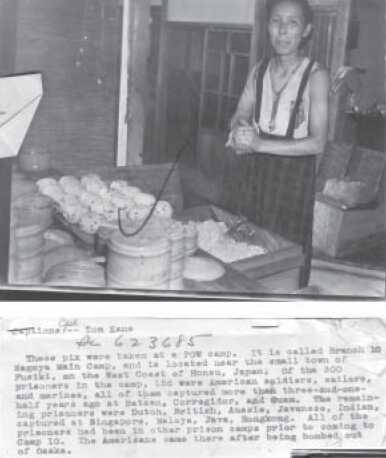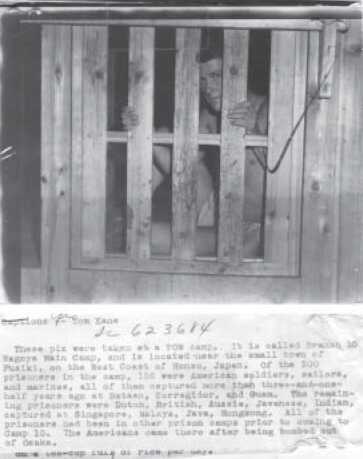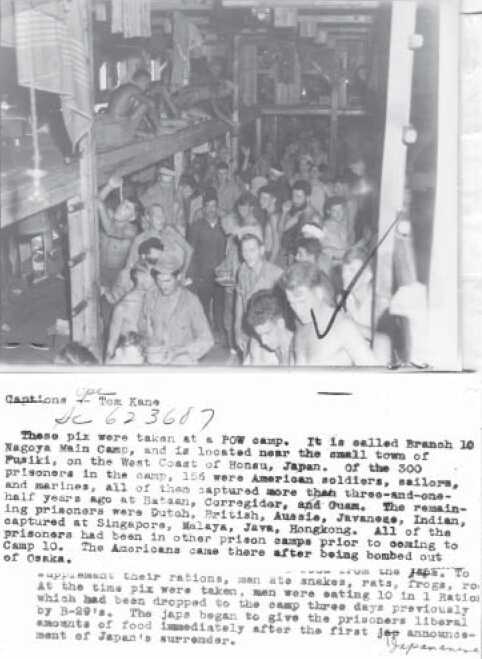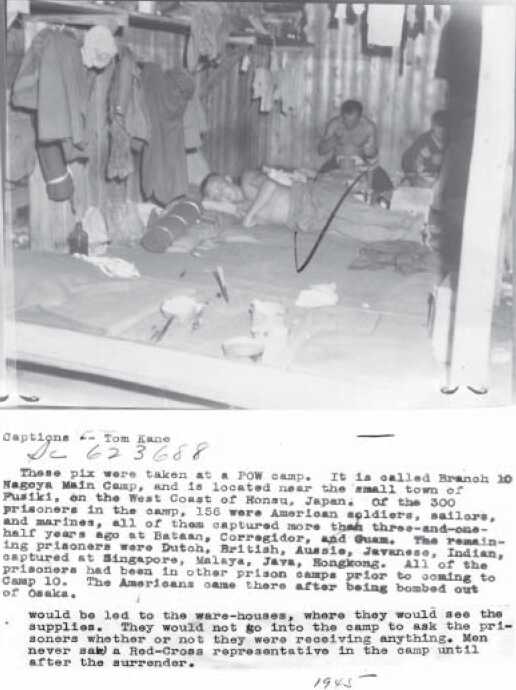 .... would be led to the ware-houses, where they would see the supplies. They would not go into the camp to ask the prisoners whether or not they were receiving anything. Men never saw a Red Cross representative in the camp until after the surrender.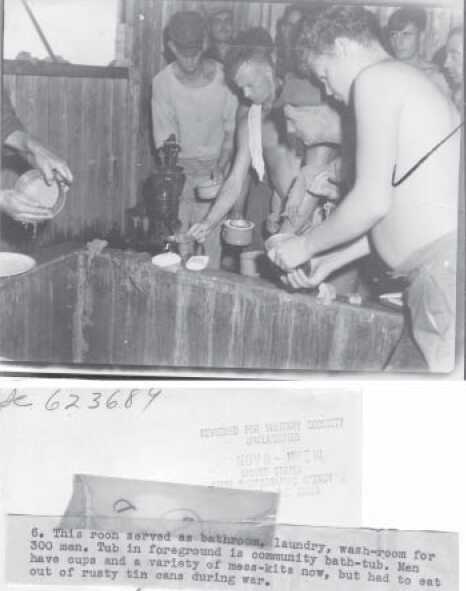 6. This room served as bathroom, laundry, wash-room for 300 men. Tub in foreground is community bath-tub. Men have cups and a variety of mess-kits now, but had to eat out of rusty tin cans during war. Photo by Cpl. Tom Kane, 1945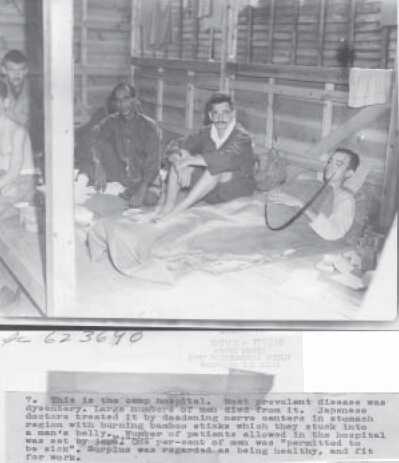 7. This is the camp hospital. Most prevalent disease was dysentery. Large numbers of men died from it. Japanese doctors treated it by deadening nerve centers in stomach region with burning bamboo sticks which they stuck into a man's belly. Number of patients allowed in the hospital was set by Japanese. One per-cent of men was "permitted to be sick". Surplus was regarded as being healthy, and fit for work.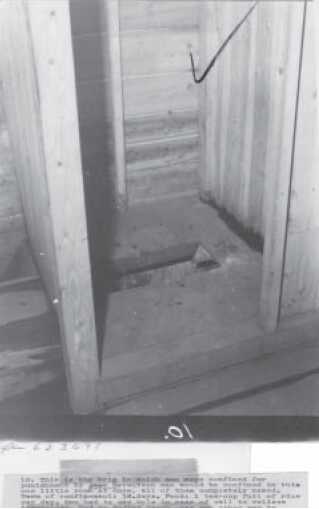 10. This is the brig ...????
5. Articles on this table comprises total amount of medicine for 300 men. This is more than they had at any time during the war. Another camp No. 6?, only one mile from No. 10 once had medical supplies which were needed to save the lives of several men. Japs refused medical officer of No. 10 to get medicine from No. 6?. Man died.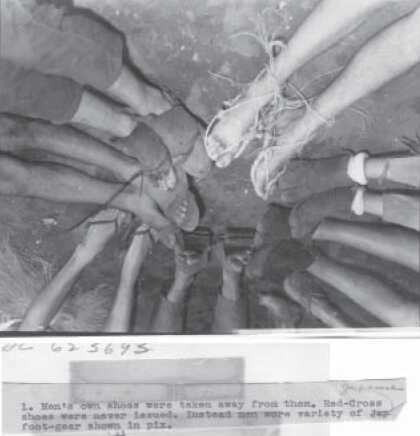 1. Men's own shoes were taken away from them. Red Cross shoes were never issued. Instead men wore variety of Japanese foot-gear shown in pix. Photo by Cpl. Tom Kane, 1945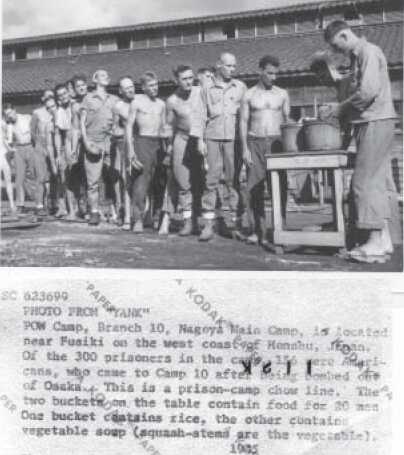 PHOTO FROM "YANK"
POW Camp, Branch 10, Nagoya Main Camp, is located near Fusiki on the west coast of Honshu, Japan. Of the 300 prisoners in the camp, 156 were Americans who came to Camp 10 after being bombed out of Osaka. This is a prison-camp chow line. The two buckets on the table contain food for 20 men. One bucket contains rice, the other contains vegetable soup (squash stems are the vegetable).
Photo by Yank Magazine (Cpl Tom Kane) UNCLASSIFIED by USAPA, 8 Nov 65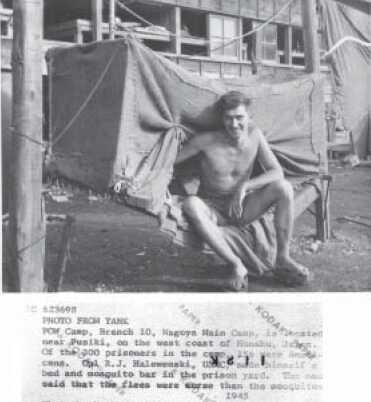 PHOTO FROM "YANK"
POW Camp, Branch 10, Nagoya Main Camp, is located near Fusiki, on the west coast of Honshu, Japan. Of the 300 prisoners in the camp, 156 were Americans. Cpl R. J. Halewenski, USMC, made himself a bed and mosquito bar in the prison yard. The man said that the fleas were worse than the mosquitos. 1945
Photo by Yank Magazine (Cpl Tom Kane) UNCLASSIFIED by USAPA, 8 Nov 65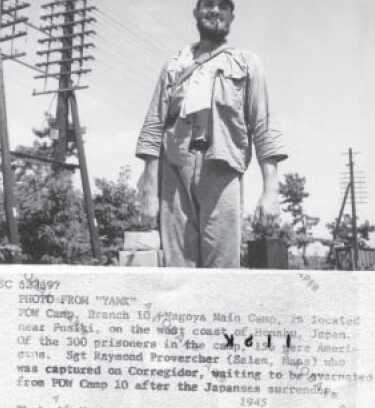 PHOTO FROM "YANK"
POW Camp, Branch 10, Nagoya Main Camp, is located near Fusiki, on the west coast of Honshu, Japan. Of the 300 prisoners in the camp, 156 were Americans. Sgt Raymond Provercher (Salem, Mass) who was captured on Corregidor, waiting to be evacuated from POW Camp 10 after the Japanese surrender. 1945
Photo by Yank Magazine (Cpl Tom Kane) UNCLASSIFIED by USAPA, 8 Nov 65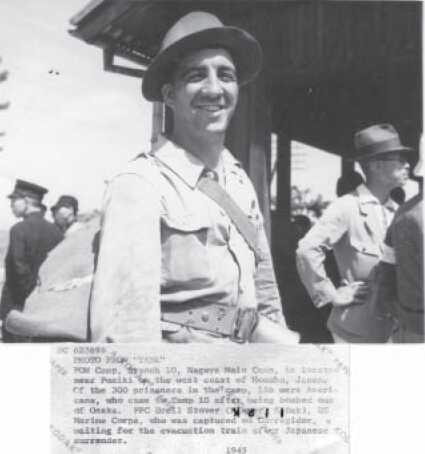 PHOTO FROM "YANK"
POW Camp, Branch 10, Nagoya Main Camp, is located near Fusiki on the west coast of Honshu, Japan. Of the 300 prisoners in the camp, 156 were Americans who came to Camp 10 after being bombed out of Osaka. PFC Urell Stover (??, ??) US Marine Corps, who was captured on Corregidor, is waiting for the evacuation train after Japanese surrender. 1945
Photo by Yank Magazine (Cpl Tom Kane) UNCLASSIFIED by USAPA, 8 Nov 65
---
Nagoya Prison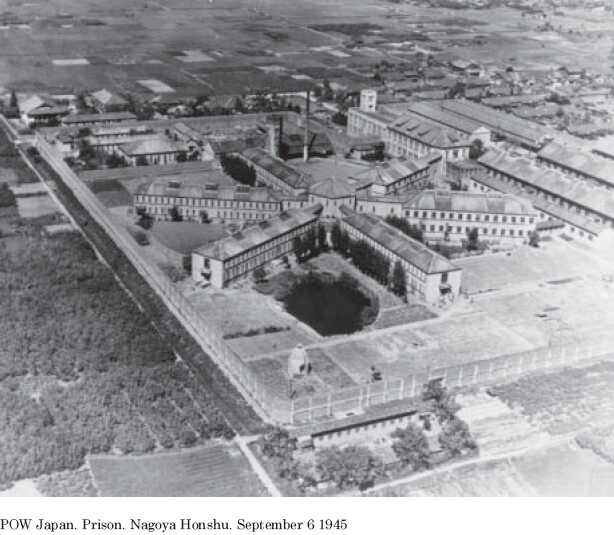 ---