Book Review:
THE COLONEL OF TAMARKAN Philip Toosey and the Bridge on the River Kwai
by Julie Summers [Simon & Schuster 2005, ISBN 0-7432-6350-2. 410 pages]
Reviewed by: Jonathan Moffatt 2 September 2005
---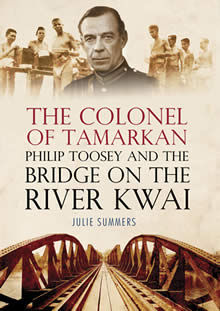 Anyone who has read Julie Summers 'Fearless on Everest,' a biography of Sandy Irvine, will know that Julie is an accomplished family historian and a compelling writer.

In 'The Colonel of Tamarkan' she turns her attention to her grandfather, Lt Colonel [later Brigadier] Philip Toosey, the real man behind 'the Bridge on the River Kwai'.

The book is a tremendous read. It will tell you much about Toosey's background and character; about the complexities of POW leadership; the construction of the Tamarkan bridges; the V-Scheme to obtain drugs and medical supplies for the sick POWs and the role of that brave Thai merchant, Boon Pong, as well as providing a detailed analysis of the epic David Lean movie that angered so many FEPOWs.

A number of recent publications about the Captivity have heavily relied on other publications or over used primary material. There is much that is fresh in this book, in the information, the interviews and the photos. The voice of Toosey himself runs through much of the text with material from his papers and taped interviews.

One is struck by the compassion, honesty and essential decency of Toosey as well as his courage, both in action on the retreat to Dunkirk and at Singapore, and in his greatest trial, the Captivity. His leadership by example, by no means typical in the POW camps, cost him many bashings from his captors, among them the curious figure of Saito who was not quite the 'decent Japanese NCO' that some have portrayed. Saito became a Christian post-war and claimed that Toosey changed the whole direction of his life. I was left feeling that Toosey let this man off lightly.

Toosey frequently acknowledged that he was fortunate not to have faced the horrors of camps up-country where 'nothing held the beast in check.' What is clear is that by assuming responsibility, maintaining discipline and exercising some influence over his captors, he saved numerous lives. In his own words: 'I felt I had a mission not only to save as many lives as possible but also to maintain human dignity in those ghastly circumstances.'

Julie Summers book is an important contribution to the history of the Captivity and highly recommended reading on the subject.
---