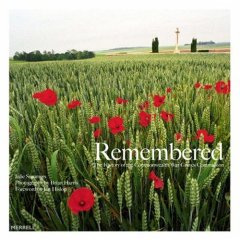 Remembered: The History of the Commonwealth War Graves Commission
Text by Julie Summers, Photography by Brian Harris. Published by Merrell, May 2007
192 pages. ISBN 978-1-8589-4374-9 29.95 Hardback

Biographer and historian Julie Summers and acclaimed newspaper photographer Brian Harris have combined their talents to produce this memorable and visually stunning book thats publication date marks the 90th anniversary of the Commonwealth War Graves Commission, established by Royal Charter in 1917 as the Imperial War Graves Commission with its guiding principle of equal treatment of all war dead, irrespective of rank, race or creed..

The History of this organisation which is responsible for cemeteries and memorials in 23,000 locations in 150
countries around the world began with the work and foresight of one Red Cross volunteer, Fabian Ware in the First World War. Careful record keeping by Ware and his resistance to the selective repatriation of war dead were early features of war graves work.Later Ware called upon a wealth of talents including Sir Edwin Lutyens to design the cemeteries and memorials of the First World War. Rudyard Kipling, his only son missing in the trenches, became the first literary adviser to the I.W.G.C.

The remarkable story unfolds with supporting well-selected archival photos as well as stunning contemporary ones. The role of ordinary men and women is not forgotten: Annie Souls, an Oxfordshire housewife who lost five sons in the First World War and Ben Leech who was allowed by the Germans in World War 2 to continue tending the Somme war cemeteries, also finding time to involve himself in Resistance activities.

Many aspects of the work of the CWGC are covered: grave concentration, horticulture and gravestone production. There was no standard type of gravestone: as at Gallipoli climate dictated the use of pedestal stones in a style similar to that used after the Second World War in war cemeteries in Thailand and Burma.
At Mill Road cemetery on the Somme flat headstones were dictated by old German tunnels below, and in Malta rocky ground and shortage of land necessitated multiple burial plots..

Many of Brian Harris' photos remind us of the beautiful, calm settings of many war cemetries in places like the Somme & Monte Cassino - once ravaged, desolate battlefields There are particularly outstanding photos of Chungkai in Thailand and Ramparts Cemetery, Ypres. Some of the best photos are taken early in the morning: Kranji, Singapore, the gardeners already at work, and Alexandria War Cemetery, Egypt. Some cemeteries are in more busy urban settings or have become so: Sai Wan, Hong Kong in particular.

This book is a fitting tribute to the work of the CWGC. and a reminder to us of the sacrifice of the
1,700,000 men and women of the Commonwealth Forces who died in the two World Wars.
All Royalties from 'Remembered' go to the CWGC to support its work.