Nagoya 10-B FUSHIKI
(FUSHIKI KAIRIKU UNSO)
TOYAMA-ken, TAKAOKA-shi, NO-machi, TATENO-UE

Satellite view
Area map

---

18 Jun 1945: Established as Nagoya 10-B
4 July 1945: Cronin, Wm., American, dies in accident
26 Jul 1945: Shafi, R., Indian, dies
30 July 1945: Andrews, J.H., (Brit) dies
4 Aug 1945: David, W.C., Australian, dies
15 Aug 1945: Keeler, A., Australian, dies
6 Sep 1945: Rescue Effected
---

Japanese Staff:
Photos of Toshio TODA; Keiji NAGAHARA, Chomatsu TAMURA, and Hideo YOSHIDA

---

Affidavits:
Lonnie C. Merritt Affidavit- details of Cronin's death and action of a German citizen, Scharf, on Guam at start of war.
Lonnie C. Merritt Affidavit #2- regarding Captain Nagahara's brutality & beating of the sick.
Arnett Affidavit- regarding failure of Japs to give Red Cross medicine to camp.
Atwood Affidavit- Regarding the brutality & savagery of Captain Nagahara.
Thompson Rescue summary report
Walker Rescue summary report
Otten testimony (courtesy of Russell Otten)

Original affidavits, charges (PDF) - List of affidavits; Hanson, Houser, Sense, Shadoan; charges against Toshio Toda (camp commander)
---

Photographs:
Many photos of camp: Recovery photos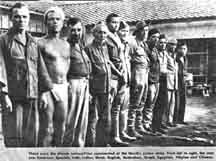 11 nationalities at camp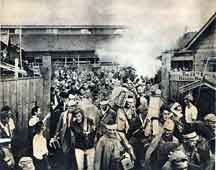 Departing camp on rescue day

Photos of Takaoka barracks 1 - 2 - 3 - 4

Labor:
Used as stevedore slaves and minor farming.
---

The men of this camp came from the Osaka Main (Chikko) Camp which was destroyed in an air raid. During the interim, some of the men were temporarily sent to Omori in Tokyo and Tsumori in Osaka.
CBM (USN) Saunders from Guam was camp commander for the Americans. He was assisted by BM (USN) Maloof, also from Guam. We have many more affidavits, etc., that have not been transcribed.

Original Investigation Report (PDF)

---

Rosters:
Complete British (30)- does not include the two deaths cited below (Andrews & Keeler)
Partial American rosters (62)- Located RG 331 Box 942; Camp Roster not yet located.
Known: 166 American, 32 Brit, 47 Dutch, 27 Aussies, 1 Irish, 11 Indian, 6 Greek, 2 Chinese, 1 Egytian, 1 Argentinan- Total 294
Original rosters (PDF)

Deceased: (5) (yy.mm.dd)
American:
Cronin, William Jr., CRM (USN) 4 Jul 1945 at 2:00 p.m. from crush injuries when cargo of soy bean bags dropped on him. Retired Navy man volunteered at start of war. For details, see the Merritt affidavit.
British:
Andrews, James Henry, Pte, 620480, 45.07.30, acute enteritis, severe malnutrition.
Keeler, Alfred, Pte, 6195957, 45.08.15, acute enteritis severe malnutrition.
Australian:
David, Walter Charles, Pte,NX40190, 45.08.04, acute enteritis severe malnutrition
India:
Shafi, Radjab, Civilian, 45.07.26, Chronic endocarditis, cardiac beri beri, severe malnutrition
---

Books about this camp:
Clem Kathman: "I Was There, Charley" - Very interesting and well written
---

Excellent narrative of this camp and the destruction of Chikko (Osaka Main) by POW Frank Hoeffer of the USS Oahu, Yangtze River Patrol (see page 20).