Civilians taken from the Aleutian Islands, Alaska




Life in Otaru City





In May 1942, the Japanese Navy, with the help of the Army, planned an attack on Attu and 1,134 soldiers led by Leutenant-Commander Hozumi landed on the island on June 8th. At that time, the island was inhabited by 44 Americans: 42 Aleuts, a radio engineer, Foster Jones, and his wife Etta, a primary school teacher. The couple attempted suicide, fearing capture by the Japanese military. The husband died but the wife recovered after receiving treatment from Japanese military doctors. [NOTE:

It does not appear that she and her husband tried to commit suicide. The Japanese apparently shot him in the head and then told her he had committed suicide. She was made to identify his body and witness his decapitation.

]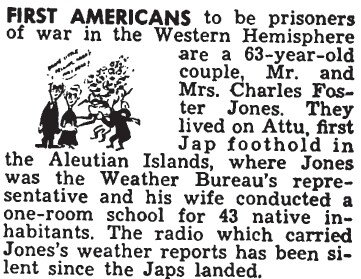 YANK Magazine, July 22, 1942


During the occupation, the Japanese military was air bombed but suffered no serious damage. A military photographer, Kichiyoshi Sugiyama, took pictures of the friendly association between Japanese soldiers and local children. After two months of occupation, the Hozumi regiment was ordered to move from Attu to Kiska Island. As they feared possible information leaks from the Aleuts in Attu after their departure, they decided to relocate all of them to Japan.

The 42 Aleuts (one of them died on the ship) were lodged in small rooms of roughly 14 square meters in a dormitory for single employees of the National Railroad in Wakatake-Cho, Otaru City, in Hokkaido. A local policeman lived with them as custodian. Although not mandatory, they worked for a soap factory one kilometer from the dormitory from 9:30 in the morning to 4:00 in the afternoon and were paid one yen a day.

However, they found Japanese food poor in comparison with the abundant salmon, seal and whale of Attu. After their return, an American newspaper cited them as complaining that they were fed smelly fish and rotten vegetables, but these were in fact dried fish and pickled vegetables. Although some bread and meat was rationed, on the whole they could not adapt to the local diet and often became sick. Since their first contact with Russians in the 18th century, the Aleut population had sharply decreased from originally 20,000 to 2,000 by the 1940s due to the spread of small pox, syphilis and tuberculosis.

Upon their landing on Otaru, about half of them -- twenty -- were already suffering from advanced tuberculosis. Their symptoms had been diminished by the hi-protein and hi-calorie diet of Attu, but quickly resurfaced due to poor hygienic conditions on the ship and inadequate nutrition in the Japanese diet. The same was seen in America: all 881 Aleuts living in the Aleutian Islands excepting Attu were forcibly relocated to southwestern Alaska (the other Americans, Caucasians, were allowed to stay on the Aleutian Islands) and 40% of them, about the same percentage as in Japan, died in the camp of tuberculosis. In Otaru, doctors in Wakatake-cho visited the Aleut dormitory everyday to provide health care, and those in serious conditions were hospitalized. Nevertheless, many Aleuts died from tuberculosis, a terminal illness of that period.

Later they were moved from Wakatake-cho to a former school building in Shimizu-cho, but their life was for most part spent in the sanitorium in Otaru.

Source: http://www.k2.dion.ne.jp/~rur55/E/epage15.htm#157 <-- This link no longer valid; see here for more information:
The lone civilian: One Alaska war hero's unique place in history

See this chart on Hokkaido CIC's for chronology and further information on this camp.

Etta Jones story, Attu - Congressional Record Vol 91 Part 13 1945 (p1333)
Re Foster death - Breu

Last Letters from Attu

(2009)

RELATED BOOKS:


Last Letters from Attu

by Mary Breu;

Attu Boy: A Young Alaskan's WWII Memoir

by Nick Golodoff

---

ADDITIONAL NOTE: Per email received from Marla J. Williams, Producer and Director-Writer of "Aleut Story":



In 1942, Aleuts were, in fact, American citizens. Under the Alaska purchase agreement between Russian and United States, Aleuts were granted U.S. citizenship. Alaska was a territory at the time and so anyone born there would have federal citizenship. The difference between the Attuans and the Jones is that the 42 Attuan villagers had at least 1/8th Aleut blood and so were classified as "Native" – and the Jones were "White." But both Aleut and the Jones were U.S. citizens. The difference between Aleutian and Pribilof islanders sent to the camps and those allowed to stay or go to a place of their choosing, again came down to a "blood-quantum" rule which identified any with 1/8th Aleut blood as Native.

In legal and political actions related to the U.S. government's WWII internment of Aleuts, a special federal commission concluded the Aleuts' rights as U.S. citizens were violated and recommend reparations. Congress concurred. The Aleutian and Pribilof Restitution Act was introduced in 1987 by then Speaker of the House Tom Foley with 166 co-sponsors. The bill passed and an official apology issued. Under that measure, each Aleut survivor received $12,000, and a $5-million trust fund was set up under the Interior Department to help them and their descendants. Another $1.4 million was earmarked for restoring churches in six villages. The Aleut Corp. was given $15 million as compensation for Attu Island, which was occupied by the military after the war and remains closed to its former inhabitants. (No reparations were granted to Attuans as they were seized by enemy troops.) In September 1993, an amendment was proposed to the original 1988 Aleut Restitution Act, increasing authorization for the amount for church restoration from $1.4 million to $4.7 million. That bill was passed October 1994.

In the above 4th paragraph, the catastrophic losses in the Aleut population are attributed to disease – including syphilis – but no mention is made of the outright slaughter of Aleutian natives by early Russian colonizers. Much research has been done in recent years and there are numerous sources which document the brutal and deadly force used against the Aleut. Here is just one online account, provided by the National Institutions of Health Native Voices project:

"1766: The Russian trader, Ivan Solovief, arms his workers to murder Unangan (Aleut) men, women, and children in retaliation for their resistance to the sexual exploitation of Unangan women. Solovief vows to reduce the Unangan population from 25,000 to 2,500. The workers go to Umnak, Unalaska, and Kodiak Islands, where they systematically kill people and enslave young women and men. Russians establish control of the region following this massacre."