Remember prisoners, as if you were in prison with them;
and remember those suffering ill-treatment. --Heb. 13:3
These affidavits are the essence and bulk of my research, and they will require extensive scanning, OCR and proof-reading. I will post these as they are completed. If you are searching for an ex-POW you think may have been at Camp 1, please let me know and I'll scan and post that person's affidavit right away.
Following is a list of all the POW and Japanese affidavits I have in my files:

AMERICAN (55)

Last Name
First Name
Service
Date Arrived
Date Left
Home
Ackerman
James
USN
Nov-44
Sep-45
New Jersey
Alexander
Irvin
Civ.?
30-Jan-45
24-Apr-45
Texas
Anloff
Garry J.
USA
30-Jan-45
25-Apr-45
California
Arambarri
Frank I.
Civ.

---

---

Idaho
Awalt
George T.
USMC
23-Nov-44
2-Sep-44
Texas
Barney
John F.
Civ.
12-Apr-44
Jun-45
California
Beecher
Curtis T.
USMC
27-Jan-45
20-Apr-45
California
Bull
Malcolm T.
USA
3-Dec-44
Sep-45
California
Burns
Edgar F.
Civ.
18-Apr-44
Sep-45
Washington
Carey
James M.
USAAF
5-Dec-44
15-Sep-45
Texas
Cherne
Clem J.
USA
2-Dec-44
Sep-45
New Jersey
Childs
Herbert
USA
27-Apr-05
12-Dec-45
Texas
Chunn
Calvin E.
USA
31-Jan-45
25-Apr-45
Arkansas
Condit
Gomer H.
Civ.
17-Apr-44
4-Dec-44
New York
Conn
Robert E.
USA
30-Jan-45
25-Apr-45
Minnesota
Ditto
Walter A.
USMC
Dec-44
15-Sep-45
Iowa
Edmiston
Ellsworth L.
USA
5-Dec-44
30-Jan-45
Illinois
Ellis
Burton C.
USA
Jan-45
Jun-45
Minnesota
Fitch
Alva R.
USN
29-Jan-45
27-Apr-45
Nebraska
Forsberg
Harry J.
Civ.
Sep-43
Sep-44
Washington
Fossey
William J.
USA
31-Jan-45
25-Apr-45
Oklahoma
Goodpasture
John A.
USAAF
30-Jan-45
25-Apr-45
Virginia
Graham
Lyle
Civ.
Apr-44
18-Oct-45
California
Granstedt
Theodore Jr.
Civ.
17-Apr-44
14-Sep-45
California
Heath
Roy
USA
2-Dec-44
Sep-45
California
Houghton
Karl H.
USA
30-Jan-45
25-Apr-45
California
Houser
Houston P.
USA
30-Jan-45
25-Apr-45
Georgia
Hubbard
Harvey T.
Civ.
Apr-44
Aug-45
Idaho
Johnson
Harold K.
USA
31-Jan-45
25-Apr-45
S. Dakota
Johnson
Joseph Q.
USA
4-Dec-44
1-Jan-45
Tennessee
Kostecki
Walter A.
USA
17-Mar-44
17-Apr-45
Massachusetts
Krysan
Gordon J.
Civ.
Apr-44
15-Sep-45
Iowa
Lapay
John
Civ.
May-44
Sep-45
Oregon
Maupin
Clinton S.
USA
30-Jan-45
25-Apr-45
Oklahoma
Mayo
Dayton G.
USA
Sep-44
Aug-45
Texas
McCluskey
Harry L.
USA
16-Dec-44
20-Jun-45
California
Morris
George E.
USN
Jan-45
26-Apr-45

---

Moss
Edwin B.
USA
Jan-45
Apr-45
Texas
Nevill
Willard W.
USN
5-Dec-44
16-Sep-45
Arkansas
North
William D.
USA
30-Jan-45
25-Apr-45
Georgia
Pitochelli
Edward
Civ.
18-Apr-44
3-Dec-44
California
Rafalovich
Daniel
USN
1-Dec-44
Jan-45
California
Rogge
Warren O.
Civ.
Apr-44
Jun-45
California
Sanders
Cecil M.
USA
30-Jan-45
26-Apr-45

---

Scott
Donald J.
USMC
4-Dec-44
14-Sep-45
Colorado
Schwartz
Jack W.
USA
30-Jan-45
23-Apr-45
Texas
Shreve
Arthur L.
USA
30-Jan-45
26-Apr-45
Maryland
Silar
Joseph D.
USMC
3-Dec-44
7-Sep-45
Missouri
Wardle
Porter R.
Civ.
17-May-44
10-Sep-45
Idaho
Warren
Joseph P.
USA
4-Dec-43
20-Jun-44
California
Wheeler
Kenneth R.
USN
Dec-44
Apr-45
California
White
Edward J.
Civ.
18-Apr-44
5-Aug-45
S. Carolina
Williamson
James O.
Civ.
7-Apr-44
17-Sep-45
California
Wolf
Jack M.
Civ.
17-Jan-44
5-Sep-45
Nebraska
Wright
John M.
USA
30-Jan-45
27-Apr-45
California

BRITISH (27)

Last Name
First Name
Service
Date Arrived
Date Left
Home
Alldred
Henry
RA
Nov-43
3-Dec-44
Lancashire
Astill
James
RA
20-Nov-43
3-Dec-44
Staffordshire
Aylott
Alfred E.
RA
12-Aug-44
Sep-45
Middlesex
Bartholomew
Gaythorne
RN

2-Dec-44

Sep-45

Nottingham
Carston
A. C.
RNR
18-Apr-44
4-Dec-44

---

Castle
Sydney J.
RA
4-Dec-43
7-Sep-45
Oxford
Chalkley
Arthur E.
RA
Nov-42
Dec-44
Sussex
Chilton
Frederick
RA
29-Nov-42
Sep-45
London
Davis
William John
RA

28-Nov-42

18-Jan-45

London
Dawson
Christopher
RA

---

---

Manchester
Eastham
Reuben
RA
28-Nov-42
3-Dec-44
Lancashire
Fridd
Percy W.
RA
12-Jan-43
14-Sep-45
Surrey
Hale
William T.
RA
Nov-42
Dec-44
Sussex
Hull
Albert D.
RA
Nov-44
Sep-45
Devon
Lee
Charles A.
RA
28-Nov-42
14-Sep-45
Leicester
Lucas
Harry
RA
26-Nov-42
14-Sep-45
Northhampton
Metcalf
Robert
RA
28-Nov-42
3-Dec-44
Lancashire
Morton
William H.
RA
27-Nov-42
25-Apr-45
Derby
Newman
Albert H. J.
RA
23-Nov-42
15-Sep-45
Surrey
Regan
Benjamin
RA
Dec-42
1945
Liverpool
Saunders
Martin D. S.
RA
27-Nov-42
25-Apr-45

---

Suddes
Thomas
RA
4-Dec-43
15-Aug-45
Surrey
Thyer
William F.

---

Oct-42
Sep-45
Somerset
Vesey
Eric
RA
27-Nov-42
Nov-44
Manchester
Wallace
William P.
RA
27-Nov-42
13-Sep-45
Roxb., Scotland
Warwick
George
RA
Nov-42
Dec-43
Immingham
Weeden
John
RA
26-Nov-42
3-Dec-44
Kent
Whitehouse
John
RA
4-Dec-44
Aug-45
Nottingham

DUTCH (3)

Last Name
First Name
Service
Date Arrived
Date Left
Home
Ensing
Harm

---

4-Jun-44
14-Sep-45
Malang, Java
Timmer (Ten Volde)
Jan

---

4-Jun-44
14-Sep-45
Amsterdam
de Wijn
Jan F.
KNIL
4-Jun-44
14-Sep-45
Zeist

AUSTRALIAN (4)

Last Name
First Name
Service
Date Arrived
Date Left
Home
Dilger
Jack A.
AIF
1944
Sep-45
Tasmania
French
Peter R.
AIF
9-Sep-44
Sep-45
New South Wales
Riley
Maxwell P. C.
AIF
1944
Sep-45
Tasmania
Underwood
Geoffrey T.
AIF
Dec-44
21-Jun-45
Queensland

JAPANESE (13)

Last Name
First Name
Service
Date Arrived
Date Left
Home
Fukumoto
Manjiro
IJA
19-Jul-44
25-Sep-45
Dazaifu, Fukuoka-ken
Hada
Masato
IJA
Dec-43
1-May-45
Hita, Oita-ken
Honda
Hajime
Civ.
27-May-43
7-Feb-45
Haroyasu, Kumamoto-ken
Katsura
Takeo
IJA
Dec-42
4-Sep-45
Oshima, Kagoshima-ken
Tanoue
Kinzo
Civ.
Mar-43
Sep-45
Hanaka, Kumamoto-ken
Kiyohara
Shigemi
IJA
10-Mar-45
24-Aug-45
Shimizu Honmachi, Fukuoka City
Kunimatsu
Daijiro
IJA
27-Jun-45
2-Sep-45
Yokomachi, Fukuoka City
Mino
Masaru
IJA
15-Dec-43
30-Sep-45
Kurume, Fukuoka-ken
Ohno
Masahiko

---

---

---

Kengun, Kumamoto City
Oki
Yasushi

---

---

---

---

Ono
Ryuzo
IJA
10-Apr-45
Sep-45
Hirao, Fukuoka City
Sakamoto
Yuhichi
IJA
26-Nov-42
8-May-45
Moriyama, Nagasaki-ken
Tokashiki
Isho
IJA
Jan-43
Aug-45
Hara, Fukuoka City
A. American
---
Burns, like Hansen, was captured on Wake Island. He tells of life at Camp #18 (Sasebo) where he spent a year and a half and helped build Soto Dam. After moving to Camp #1 he worked on building the airport at Mushiroda, "working in a cut getting the dirt and pushing it out on the airport and leveling it off." Of note is his mention of the practice among prisoners of buying "better jobs for money."
See Moran's webpage for text with images: http://users.ev1.net/~gpmoran/The%20Hansen%20Story.htm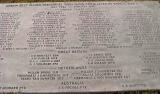 Grave marker at Jefferson Barracks; Hansen listed in far right column (Click on image for 142K enlargement)
Diary of Lt. Col. Arthur Shreve
A fascinating account written by an American officer who was sent from the Philippines to Fukuoka Camp #1. He writes of his experiences on the Oryoku Maru and its being bombed, being placed on another hellship, that too being bombed, and then on a third which finally made it to Moji. He then tells a very moving story about what it was like at the Hakozaki camp during the three months he was interned there before being shipped to a POW camp in Korea.
In his diary, Shreve tells of being interrogated by the Japanese who were especially interested in when "the final attack upon the Japanese mainland" would occur. This final attack was actually at that very time being studied by the Allied Forces under MacArthur and would eventually be named "Operation Olympic," which would commence on Nov. 1, 1945. Take a look at the following image showing the invasion map of Kyushu, and the HTML describing the feasibility of such an invasion. Much could be written about this invasion, the POWs, and the decision to use the A-bomb. See article below. Note also this map of Location of Special Attack Bases... Japan was ready to fight to the last man, woman and child.

"All I could see was disaster! I saw the whole operation laid out on rubber map and there were the cliffs, narrow beaches, and the estimates of the Jap garrisons...the possibility of success would have been practically nil!" -- Col. Robert S. Sumner, Alamo Scouts recon unit

"We had heard that a million men would be killed in the invasion. We were all scared to death. We were lucky we didn't have to go." -- Pfc. Al Miglio, F Co., 386th Reg., 97th Inf. Div.

"When the bombs dropped and news began to circulate that Operation Olympic would not, after all, take place, that we would not be obliged to run up the beaches near Tokyo assault-firing while being mortared and shelled, for all the fake manliness of our facades, we cried with relief and joy. We were going to live. We were going to grow up to adulthood after all." -- 2nd Lt. Paul Fussell, 104th Div.

From: Operation Downfall: The Final Invasion by Lance Zedric, VFW magazine, Sept. 1995
Operation Olympic map (83K)
Intelligence Estimates for Operation Olympic (35K)
Another excellent piece is The Final Months of the War With Japan: Signals Intelligence, U.S. Invasion Planning, and the A-Bomb Decision by Douglas MacEachin, Doc. CSI 98-10001. There is also the Transcript of "OPERATION DOWNFALL [US invasion of Japan]: US PLANS AND JAPANESE COUNTER-MEASURES" by D. M. Giangreco.
POW says Nagasaki bomb saved his life
Elias Veerman believes the atomic bomb saved his life. On the day the bomb was dropped on Nagasaki, the now retired Oregon shoe store owner was a prisoner of war working at a coal mine just outside the city.
He was a Dutch sailor who spent about three years as a prisoner, forced to work in a shipyard on a Nagasaki harbor island. He was transferred to a mining camp outside the city in February 1945.
The prisoners heard stories they would be herded into trenches and buried if the Allies invaded Japan.
And during air raids, the prisoners were herded into a cave.
Finally, it dawned on Veerman the cave would have been blown up with the men inside if an invasion occurred.
"This (atomic) bomb saved a lot of lives. It saved my life. I would not have survived an invasion. .... They would have just wiped us out," said Veerman, 71, from his home outside Creswell, Ore.
Veerman, who was an 18-year-old living in Dutch Indonesia when war broke out in 1941, spent almost the entire war as a prisoner.
Drafted into the Dutch navy, he had little time to train before Japan forced the Allies to abandon the island of Java. Veerman was on a transport ship evacuating people to Australia when it was captured by a Japanese battleship.
He was held several months at a camp in Java, where he was beaten and saw other men tortured.
And he was forced to watch two prisoners - recaptured after escaping - dig their graves before being beheaded.
"I didn't see the execution. I closed my eyes. Some of my friends still have nightmares.
"They were so cruel. They broke ... the rules of decency."
In October 1942, Veerman and other Dutch, British and U.S. prisoners were shipped to Fukuoka Camp No. 2 in Nagasaki harbor, where there was no escape.
They worked in a shipyard, where Veerman - armed with a broom - swept ships.
Veerman said the Japanese built their ships fast - too fast. Their skilled shipbuilders were lost to the army and navy, leaving inexperienced youths and the prisoners.
Some prisoners were riveters, who sometimes left loose rivets. Veerman said one ship sailed out after construction, only to sink because of poor construction.
Prisoners were beaten often. Forgetting to bow to a guard brought blows.
Veerman was hit once on the rear with a baseball bat for losing his cap. And a Japanese marine hit him on the face - cracking his jaw - for warming his hands over a riveter's fire.
"I don't understand how these people loved to do these things."
Veerman endured other beatings. He also had to have foot surgery and a broken molar removed - both times by a prisoner doctor without anesthesia.
Finally, the prison camp got a new commander, and the beatings stopped.
One day, a never-smiling Japanese shipyard worker sent Veerman and another prisoner on an errand to his home in Nagasaki.
The worker's wife greeted them, and fed them rice, fish, soybeans and seaweed soup. The two discovered the errand was a ruse by the unsmiling man to get them a good meal.
By mid-1944, it appeared the Japanese were beginning to worry about the war going against them. Red Cross parcels began to show up at the camp.
In February 1945, Veerman and other prisoners were sent to a coal mine camp at Itah - on the other side of a mountain next to Nagasaki. Today, any musty smell from a basement brings memories of the mine back to Veerman.
Then came that August morning. Veerman was walking across the camp compound when, "the daylight was drowned out by a white light. Then came a boom. There was a light that shivered. It shivered for a few minutes. Then the white clouds came over.
"I saw the flash. But I did not know what it was."
No one at the camp told him what had happened.
The last atrocity took place Aug. 13, when the camp commander spotted an American who ate his lunch too early and kicked the man to death.
The next day, a U.S. plane dropped pamphlets nearby. One side of the pamphlets showed a clock reading 11:55. The other side showed a clock pointing at noon with a city in flames.
The guards became more friendly.
On Aug. 15, another plane dropped pamphlets. They read: "You are free. Japan has surrendered unconditionally."
Veerman and the other prisoners stayed at Itah for a few weeks. Red Cross workers told them about the atomic bomb.
The former prisoners took bicycles to explore the countryside. Once, they used a Tommy gun to hijack a Rolls Royce to go to a local hospital, where the Itah camp commander was being treated for a nervous breakdown.
Veerman watched as some of the others beat the commander.
Eventually, they were taken to Nagasaki by train. "The only thing there was the train station."
But what a scene it was. A U.S. Army band played When The Saints Go Marching In as the train arrived, and nurses danced with the prisoners. For the first time in his life, Veerman had a Coca Cola and a doughnut.
He was shipped to Australia, and later he moved to Holland and got married.
In 1957, he moved to the United States, eventually settling in Creswell and later owning two shoe stores. He is the father of five and grandfather of seven.
His attitudes toward the Japanese today appear split - sometimes focusing on the savagery he witnessed and sometimes recalling acts of kindness.
"I don't hold a grudge today."
Source: http://www.hanfordnews.com/bomb/bomb27.html
---
Mr. Jintaro Ishida, 79, had served in the Japanese Navy during the war. After he retired as a school teacher in 1988, he decided to travel through Asia spreading the word about the horrors of the two atomic bombs. Instead of sympathy, he said, he sometimes found hostility. "I was shocked to discover that the bombs were dropped to stop Japan," he said.
So he began reading wartime accounts, searching through the records of war crimes trials and systematically visiting the sites of massacres. "Wherever I went," he said, "the survivors had only one question: 'How could the Japanese have been so cruel??'"
"These stories were beyond anything I had expected," he said. "How could they have done this? Did they have no conscience?"
His decade long search has resulted an extraordinary book, The Remains of War: Apology and Forgiveness, published in 2001 in English by Megabooks Company in the Philippines. Its Japanese title is, "The Killers and the Killed."
---
Excerpt from Pearl Harbor + 60
(Originally published Sunday, December 2, 2001)
Ensign Stan Smith -- a 21-year-old graduate of the U.S. Naval Academy -- sailed into Nagasaki in September 1945, a month after the U.S. Air Force dropped an atomic bomb on the city, and shortly after Japan surrendered.
"The place was just devastated," Smith said.
Smith's ship, the heavy cruiser USS Wichita, had the mission of recovering 10,000 allied prisoners of war from camps on the island of Kyushu. Smith was given 20 sailors -- carpenters, plumbers or welders in civilian life -- to build a reception center for the freed prisoners.
In a few days, the crew transformed a bombed-out railroad station on the Nagasaki waterfront to a center that contained a delousing station, hot showers, a mess hall and a reception area, Smith said.
"They knew their jobs," Smith said.
The center was soon crowded with starved, beaten prisoners of war, Smith said.
"Most of the prisoners weighed less than 100 pounds," Smith said. "Most of them had been so starved they would eat six swallows of ice cream and throw it all up.
"Well, we quit that and got them some broth."
Some of the freed prisoners died on the pier, Smith said.
"It was just terrible to see those guys die, how they looked and what they went through," Smith said.
Smith assigned the released prisoners to the ships that would take them home. The prisoners were from many countries, so Smith quickly gained a working knowledge of Dutch, Javanese, Tagalog, Urdu and other languages.
One prisoner clutched a small wooden box as he waited to enter the showers. Smith told him he couldn't take the box with him.
"The man told me, 'These are my brother's ashes,' " Smith said. " 'I've carried them for three years, and I'm not going to give them up now.' "
A deal was struck. Smith took off his U.S. Naval Academy ring -- his prized possession -- and gave it to the man. The man gave Smith his box. After the man showered, Smith gave him back his box, and the man returned the ring.
"I don't know who cried the most," Smith said.
Source: http://news.theolympian.com/pearl_harbor/146061.shtml
---
Excerpts from Rescue Mission to Kyushu
Just a few days after Japan's surrender, a team of Allies entered Nagasaki Harbor to liberate prisoners of war from the Japanese camps on Kyushu island. Charles Sterling Berry, a young Naval pharmacist and crew member of the U.S.S. Haven, took photographs of the atomic bomb's devestation in Nagasaki, and subsequently wrote a journal chronicling the visit to Kyushu.
The hell through which all of the evacuees have gone was even more evident in the third day's group. Fifty-two stretcher cases, many of them living skeletons, others with one or both legs gone, were the first to be taken from the train which arrived two hours late at 1400. Most of them were British, Dutch, and Javanese with a few Americans. Among the latter were two doctors in the U.S. Army and part of a medical detachment captured in the Phillippines. They had been kept there until late in 1943 when they were brought to Kyushu. Most of the other nationals had been part of a large group sent to Thailand to work on a railroad where some 30,000 died from diseases. After leaving Thailand, they were in a convoy attacked by American planes and several were survivors of the resultant sinkings. These men had worked in coal and zinc mines and had suffered brutally at the hands of their prison commander, whose favorite punishment was to make the men kneel in snow and then have water poured over their naked bodies. This commander is alleged to have beaten at least one man to death in the guard house.

Even though many of the ex-POWs appear in fair shape once they are cleaned up and in new clothes, all of them, on close inspection, show in one way or another the [effects] of their long captivity. Their eyes are sunken, and after a few minutes of talking, many lapse into almost incoherent speech. There are tales that many of them beat up their guards when the war ended, and that others have been on tours of the countryside commandeering cars, and ordering the Japs around. One story has it that several were lavishly entertained by Count Mitsubishi for several days. The general pattern, however, goes something like this -- In one or more ways, they have suffered and suffered horribly, their diets have, of course, been insufficient by American standards, they were not quite sure when they arrived here that they were at last free and need worry no more about food or beatings, and that in the near future they would get back to their families from whom many of them have had no mail at all for three or four years. Those who have already left here, some 1500, and those on the ships who will leave in a day or two, are gradually realizing what has happened.
By Charles Sterling Berry (1919-1964)
http://www.usshaven.com/Rescue%20Mission%20to%20Kyushu%20page%201.htm
---
Japanese pilot Mitsuo Fuchida led Japan's attack on Pearl Harbor. In 1959, Fuchida told Paul Tibbets:
You did the right thing. You know the Japanese attitude at that time, how fanatic they were, they'd die for the Emperor.... Every man, woman, and child would have resisted that invasion with sticks and stones if necessary.... Can you imagine what a slaughter it would be to invade Japan? It would have been terrible. The Japanese people know more about that than the American public will ever know.
But perhaps the greatest lifesaving function served by the atom bombs was that they shortened LeMay's firebombing of Japan. Secretary of State James Byrnes said the atom bombs did not cause "nearly so many deaths as there would have been had our air force continued to drop incendiary bombs on Japan's cities." In March, Curtis had dropped 13,800 tons of liquid fire on Japan. Beginning in September, he was prepared to drop 115,000 tons a month.
Perhaps the most shocking aspect of the atomic bombing at Hiroshima was that it didn't motivate the Spirit Warriors to save the lives of their countrymen. But then again, what did 100,000 deaths matter to them? These were the guys who wrote off 150,000 Japanese boys in New Guinea. They still controlled coastal China and Manchuria. Singapore was secure. There was a little trouble in the Philippines, but the Japanese hadn't surrendered to MacArthur yet. The samurai- imposters still held thousands of teenage sex slaves who were being raped forty to seventy times a day. The Spirit boys were ready to sacrifice 20 million civilians. So what if atom bombs were killing civilians? What was the big deal? Let them eat acorns.
From: Flyboys: A True Story of Courage, James Bradley, 2003
Lt. Col. Jack Schwartz, Medical Officer
Chief Surgeon Schwartz gives us a rather honest and graphic account of what he saw from Bataan to Fukuoka to Korea. He, too, was a survivor of the Oryoku Maru and the two other ships, "which had consumed 7 horrible weeks." For him Camp #1 was "the worst camp in which I was imprisoned."
Schwartz affidavit (including a sketch of Camp #1, Hakozaki)
B. British
---
Capt. William P. Wallace, Royal Army Medical Corps
Capt. Wallace was among the first POWs to arrive at Camp #1, then located in Kumamoto. Of note is his reference to the "Dog Box" punishment, and to hospital patients being forced to do "strenuous physical exercises" which resulted in their deaths.
Reuben Eastham, Bombardier
Eastham gives his account of life at Kumamoto, Kashii and Mushiroda camps, mentioning the increasing severity of the "beatings" from one camp to the next. He talks of the POWs labors on the airfield in Fukuoka: "The work at this camp was very hard and consisted of filling trucks with earth and soil from hillsides and then we had to push the trucks for about three quarters of a mile, and tip them on paddy fields to make runways for an aerodrome."
C. Dutch
Jan F. de Wijn, Medical Officer
Medical Officer de Wijn describes the poor state of nutrition at Camp #1, where the well had very little to eat ("far too little for the hard labour that the P.O.W.'s had to do, namely shovelling earth"), and the sick were on half rations, resulting in 10% dying.
An excerpt from Gerry Nolthenius' book, Home By Christmas, tells how he was captured in the Dutch East Indies in March 1942, then was sent to several POW camps, the last being Fukuoka Camp #1 (Mushiroda and Hakozaki). His assessment of British, Australian and American fellow POWs is quite straight-forward, especially the civilian American allies: "They were civilian convicts captured on Wake Island and every single one of them had a rather colourful past of manslaughter, rape and so on." What really struck him at Camp #1 was "the terrible corruption in the camp," the grim death statistics, and "the oversupply of vermin."
D. Australian
WAR CRIMES
AFFIDAVIT OF TX 8395 PTE. DILGER J.A. 2/40 INF. BN. A.I.F.
On the 3rd day of April 1946, Jack Allan DILGER of 21 Cressy St. NEW TOWN, HOBART, TASMANIA, soldier, whose Regimental Number is TX 8395, being duly sworn makes oath, and says as follows:--
1:-- I am TX 8395 PTE. DILGER J.A. a former Prisoner of War in Japanese hands, held in No. 1 Camp Fukuoka. We did not have an Australian officer in this Camp, being very few in numbers.
2:-- CONDUCT OF THE CAMP.
The discipline in this Camp administered by the Japanese was very brutal in every respect. All P.O.W. Officers in this Camp were treated very little different to Other Ranks. They had to carry out instructions given them by the Japanese in the same way as O.Rs. All P.O.Ws. including Officers, had to salute the lowest ranking Jap., and take "bashings" when at fault. Jap Guards patrolled through the huts at short intervals, and whenever the Guard entered the hut all men had to jump to his feet and shout the word of salute and bow. If any man was slow at doing so or at fault, he was immediately punished. This caused innumerable "bashings".
3:-- PARADES
Parades were held twice a day. We had to double from our huts on to the parade ground, and when "Fallen In" we would have to stand at "attention" in all kinds of weather for an hour at a time without moving. Any one making the slightest movement or speaking whilst on parade would be ill treated in a very cruel way, such as use of butt of rifle, hitting the men with their fists, and bamboo poles. All ranks were treated in this manner whether they were sick or otherwise.
4:-- MESSING
Messing arrangements were very bad. All ranks messed in their sleeping huts. The kitchens were about 100 yds. from the sleeping huts, and the Mess Orderlies had to carry the food in wooden containers which was always stone cold by the time it reached us. These containers were always in a filthy condition because of the very unhygienic arrangements for the cleaning of same. The only facility for washing these containers was a shallow well dug for this purpose. The waste water had to be emptied into a drain along side the well. No brushes, scrubbers or washers were supplied to carry out this very necessary work.
5:-- RECREATION
Recreational periods allowed in accordance with Japanese Army Regs. were one day off in ten. These were arranged to be taken off when it was wet, which prevented us from doing our washing and getting it dry. During the period we were in THAILAND we actually went for 90 days without having one day off. The Japanese Camp Commandant barred all sports and amusements, not even allowing cards to be played in the huts.
6:-- ABLUTIONS AND LATRINES.
Ablutions were filthy. Crude bamboo benches were used and very seldom cleaned. The water was thrown anywhere and not into proper drains which made it very muddy. When any cleaning was done on these ablutions, it was carried out by the sick men left in the huts. They were forced to do it by the Guards.
Latrines used were the trench style. They were about 8' deep and each side was lined off with bamboo poles. No disinfectants were used, and when filled, very thin layers of earth was placed over each latrine, not more than about 6" in thickness.
In Japan at FUKUOKA Camp, latrines were dug about 4' deep and then lined with cement. These were emptied daily by the Sick men of the Camp, using wooden buckets and dippers, and carried to a pit on the side of the road just outside the Camp entrance where it was collected by the Japanese civilians to be used in gardens. No coverings for these pits were provided, they being open all the time.
7:-- MEDICAL TREATMENT
Only a limited number of men were allowed sick in Camp. All men parading sick were classed by the Jap. M.O. Frequently the Jap. M.O. failed to come to the Camp for 3 to 4 days at a time, the result being that very sick men were forced to go on work parties until such times when the Jap. M.O. returned to Camp. This resulted in men collapsing at work, and on several occasions men died shortly after being brought back to Camp. Medical supplies were very short until just before the War ended, when all Medical Establishments were overstocked.
8:-- ILL TREATMENT
Ill treatment in this Camp was very frequent. The main method of torture was bashings with bamboo poles and pick handles, in fact it was a daily occurrence. One incident that I can well remember in FUKUOKA Camp is the terrible bashing metered out to two Dutchmen. In this Camp there were two separate Guards, one from Fighting Troops, the other was a Civilian Guard made up of older soldiers who had served in China. It appears that these Civilian Guards would go to the kitchen and pilfer rations and sell them to favoured P.O.Ws. Two Dutchmen made a complaint to the Jap. Camp Commandant, who in turn had the Civilian Guards paraded before him, they were reprimanded. As a reprisal, the Civilian Guard would get these two Dutchmen nightly and stand them up against the wall and bash them with bamboo poles for anything up to 1/2 hour until they were exhausted.
During Feb. 1944, at FUKUOKA Camp, one dinner time, two Dutch Soldiers and two American Soldiers were taken by the Japanese Guard known as "BASHER" between two huts and made get on the ground on their hands and feet. Whilst in this position they were flogged by "BASHER" across the back and legs until they collapsed. One Dutch Soldier had to be carried home on a stretcher for a distance of 5 miles and placed in Camp Hospital in FUKUOKA Camp, and later admitted to a General Hospital where he died. One of his legs had the muscle torn away from behind the knee that the sinews were exposed. His death was due to the severe treatment he received from "BASHER".
Another incident that happened on the Aerodrome at FUKUOKA, "BASHER" flogged another P.O.W. with a bamboo pole until both his legs were broken also his back. This P.O.W. was not brought back to Camp after the flogging, but taken to a Jap. Hospital where he died shortly afterwards. I did not witness this incident, but other evidence may be obtained to support this statement.
Further evidence could be obtained from the Dutch Medical Officer, Capt. ENSING of the Dutch Army, who had charge of a section of men of the Camp, acting as M.O. under the command of the Jap. Medical Officer.
9:-- PERSONS WHO COMMITTED THE CRIMES.
Name -- Known as "BASHER" and the "BULL"
Height -- about 5'3"
Age -- 24 years approx.
Description -- Thick set, dark and Bull faced.
10:-- CAMP COMMANDANT
I cannot remember his name. He was a maniac, was relieved of his job about 2 months before the war ceased. New Jap. Commandant was very decent, that is as far as Japs. go. His height was about 5'11", weight about 12½ stone, age 32 years approx.
Sworn by the Deponent on the day and year 3rd April 1946, first before mentioned at Hobart.
Before me
(signed) J. R. Kinlo J.P.
(signed) J. Dilger
On this 12th day of June 1946, Peter Russell French, of "Murungha" Carroll Gap, in the State of New South Wales, grazier, makes oath and says as follows:
i) My former military status was:
No. NX. 32834
Rank. Sergeant
Unit. 2/20 Bn.
ii) I was captured on SINGAPORE on 15 Feb. 42.
iii) On the 9th of September 1944 I was transferred to Fukuoka Camp No. 1 in Japan, where the undermentioned events took place. I was at this camp until I was liberated.
iv) HATA MATSATO [Masato] was a medical orderly in Fukuoka Camp No. 1, and was responsible for physical training in the camp.
v) During the winter months, December 1944, January and February 1945, we had to do physical training daily.
vi) S/Sgt. SIMS was suffering from a chill in the stomach. SIMS told HATA MATSATO that he was ill, but was told to go on parade. As he made his way on to the parade ground HATA MATSATO started to bash him with a stick.
S/SGT. SIMS was unable to carry out the physical training and HATA MATSATO bashed him again with a stick.
vii) On numerous subsequent occasions, S/SGT. SIMS was bashed by HATA MATSATO for not being able to do the physical training.
viii) Approximately six weeks after he received the first bashing, S/SGT. SIMS went to hospital suffering with beriberi, from which he did not recover.
ix) After the capitulation of the JAPANESE, I, with a party of other soldiers discovered a large quantity of Red Cross supplies consisting of M & B tablets, quinine, sulphanilimide powder and vitamin tablets.
x) HATA MATSATO was in charge of the Red Cross Supplies at this camp, and had withheld their distribution to us.
xi) On one occasion I heard CAPT. WALLACE of the RMC ask HATA MATSATO for a supply of sulphanilimide powder. HATA MATSATO refused to give CAPT. WALLACE any of the powder.
xii) KATSURO [Katsura] TAKEO was the official interpreter at Fukuoka Camp No. 1.
xiii) I have seen KATSURO TAKEO bash many prisoners, but I can not give the name of any of the victims. I did not see him kill anyone or torture anybody.
xiv) BUCKTOOTH was a civilian guard at Fukuoka Camp No. 1.
xv) Somewhere at the end of December 1944 or the beginning of January 1945 I saw BUCKTOOTH bash a Dutchman.
The Dutchman was trying to warm his rice at a fire when BUCKTOOTH came upon him. The Dutchman was bashed into unconsciousness and BUCKTOOTH would allow no one near him. When the Dutchman recovered, BUCKTOOTH bashed him again, using the butt of his rifle.
We were about ten miles from our camp at the time and BUCKTOOTH forced the Dutchman to march with us the whole distance. There was snow on the ground at the time about one foot thick.
On arrival at camp, the Dutchman was put into hospital but died two days later.
I do not know the name of the Dutchman.
Sworn by the abovenamed deponent
Peter Russell French at TAMWORTH
on the 12th day of June 1946.
Signature of deponent.
BEFORE ME. (signed) J. W. Collins
A Justice of the Peace.
I, Geoffrey Thomas UNDERWOOD of Evandale, HUGHENDEN in the State of QUEENSLAND, and formerly QX11013 Gnr UNDERWOOD, G.T., 2/10 Fld. Regt., now discharged, being duly sworn, make oath and state as follows:
1. From early December one thousand nine hundred and forty four until approximately the Twenty first of June one thousand nine hundred and forty five I was a Prisoner of War at FUKUOKA Camp No. 1 in which camp were approximately one thousand two hundred Officer and other rank Prisoners of War of English, American, Australian and Dutch nationalities.
2. We were employed as labourers building the camp itself and later loading, unloading and stacking timber in a timber yard.
3. General conditions in this camp were bad. The food was particularly poor in quality. A mixture of inferior quality wheat, barley, rice and the Japanese equivalent of milo plus DIAKON (Phonetic) or Horse Radish served in one pint measures three times daily plus half a pint of watery weed and seaweed (Soup) formed the average meal served three times daily. This ration was only supplemented once weekly by a small cooked fish about the size of a small sardine. Although the quantity may appear liberal (One pint per meal) the quality of the mixture was such, that a bucketful would not have satisfied our hunger.
4. Red Cross parcels were issued twice during this period, the first occasion on the twenty fifth day of December, one thousand nine hundred and forty four, the other exactly one month later. All Prisoners of War began to show symptoms of starvation, many became ill and at least three Prisoners of War died as a result of the diet on which we were forced to work hard for long hours.
5. The accommodation was bad with one exception, it was weather proof. It was a barn like wooden shell and apart from the wooden shelves raised from the floor upon which we slept no articles of furniture or amenities were available. Taps were continually frozen, and no hot water was available. Clothing was inadequate for the severe winter climate. We were only allowed wear greatcoats in camp and then only during certain hours.
6. We were plagued by fleas and spent most of the nights miserably and sleepless because of the countless flea bites.
7. The only clothing issued by the Japanese were inferior quality work dress. No footwear was issued during this period.
8. Medical supplies were practically nil. The only medicines I recall having seen was a small quantity of aspirin. Many Prisoners of War were suffering from diarrhoea, dysentery, beri beri and malnutritional diseases but no medicines were available for their treatment. VX36824 Gnr L CHALKER, 4 A/Tank Regt; WX20076 Pte W. DWYER, 2/4 M.G. Bn; and S/Sgt SIMS were all suffering badly from malnutrition and diarrhoea.
9. Despite many pleadings on their behalf to the Camp Commander commonly known to Prisoners as "THE OLD MAN" nothing was done for them.
10. S/Sgt SIMS eventually collapsed and was admitted to the crude camp Hospital where he died a few days after his admittance. Shortly after his death approximately fifty American Officers were brought into the camp in an exhausted condition. They had been wrecked at sea and apparently had gone through a terrific ordeal. They were admitted to hospital and apparently the Japanese considered that the hospital was full. CHALKER and DWYER became very ill and, at times, were unable to move about but were still forced to work. Eventually CHALKER collapsed and was admitted to the hospital where he lay almost unattended for three days before he died. DWYER also collapsed and died within a few days of his admittance.
11. "THE OLD MAN" relied greatly upon his interpreter named KATSURA (Phonetic) who spoke fluent English with an American accent, so much that KATSURA ran the camp. Most of the ill treatment I saw in this camp came from his hands or through his instructions.
12. I remember on one occasion I was pushing a truck; I was weak at the time and stopped pushing to regain my breath. KATSURA came up behind me and knocked me unconscious with a shovel. He struck me several blows across the head with this instrument before I dropped. I have often witnessed KATSURA strike many other Prisoners of War in a similar manner.
13. Most of the guards in this camp were changed at frequent intervals however, a few were more or less permanent; of those a guard known as "BUCK TOOTH" was well known to Prisoners of War. "BUCK TOOTH" was a particularly uncouth and brutal man. He accepted every opportunity given to inflict punishment on the weak and starving Prisoners of War. He frequently assaulted myself for trivialities and was a source of worry and fear among the Prisoner of War population.
14. A description of the Camp Commander commonly known to Prisoners of War as "THE OLD MAN" is as follows:-
Age, approximately Thirty five years; Height approximately five feet five inches; Thick set, medium to heavy build. Dark Complexioned and rather strong handsome features by comparative Japanese standards.
15. A description of the Interpreter known to Prisoners of War as KATSURA is as follows:-
Age approximately forty five to fifty years; height approximately five feet three inches; heavy build, broad shoulders, heavy corporation, thin legs, spoke fluent English with American accent. Was a three star private.
16. A description of the Guard known to Prisoners of War as "BUCK TOOTH" is as follows:-
Age approximately forty years; height approximately five feet eleven inches; Powerful build, prominent buck Teeth, broad forehead tapering down to a pointed chin. From his actions was considered to be slightly insane.
I swear that the contents of this my affidavit are to the best of my knowledge and belief true and correct in every particular.
SIGNED and SWORN by the within-named Deponent at BRISBANE on the ?? day of August 1947.
(signed) G. Underwood
Before me (signed) A. H. Deakin?
A Justice of the Peace.
Allen Godfrey Jones webpage -- "A prisoner of war at Changi, Great World Camp, River Valley Road Camp, Fukuoka #1 and #17"