I am trying to reconstruct the war history of my father. My father is Dutch, was a KNIL-soldier/gunner, Koninklijk Nederlands Indisch Leger (= Royal Netherlands Indies Army), 2nd Bat. Field Artillery. Before the Japs came, he rotated from Tjimahi/Bandung, to many other places at Java and Sumatra before taken POW. Please contact me.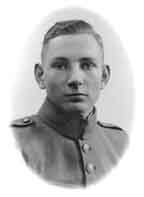 His name: Schuppers, Gerrit Hendrik, born 6th September 1921. He died last 12th December 2004 and took most of the secrets with. His KNIL (army) number that time: 96406.

Thanks to Wes Injerd and Henk Beekhuis for their translations to my fathers camp-card, in short here-after my fathers 'war-history' for sure known now.
---

Below is a picture of my father taken before leaving Holland 1940. The other one, taken at Pangkalansusu/Sumatra, New Years Day 1941. This was the last known photo of him before taken prison March 1942!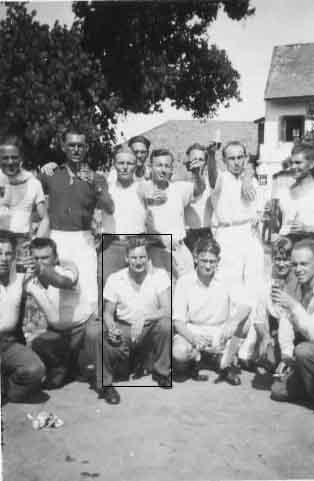 1) 11th March 1942 taken POW at Java (presumably Madura) at Camp C or III (administration no: 8480)
2) Date unknown: to POW Darmo at Surabaya/Java (administration no: ?)
3) April 6th , 1943: transported to POW-camp Djengi (Also spelled as Changi or Chengi) at Singapore (administration no.?)
4) April 14th , 1943: transport by train from Singapore to Thailand
5) April 21st , 1943: Arrived at Thailand Camp 6 Burma Railroad (administration no: 8329)
6) Date unknown: back to Djengi at Singapore again (administration no: ?)
7) June 5th , 1944: embarked MV TEIA MARU (ex Aramis) for Moji / Japan
8) June 18th , 1944 arrival at Fukuoka #12 Miyata; the Dutch group for this camp represented 100 men of which one officer, the 1st Lt. Horstman.
9) August 15th , 1945 renamed to #F-9B), administration no: 31500 and released
10) September 20th , 1945: turned over to Capt. Griffin at Nagasaki-Port and repatriated by USNS ??? (Aircraft Carrier?) to Okinawa (medical checks)
11) September ??, 1945: left for Manila by USNS or HMS ?? to the 5th Replacement Camp
12) November 29th , 1945: 5600 KNIL-troops reunited and ordered by the Dutch Government to leave Manila for Balikpapan / Borneo by HMS ?? (British Aircraft Carrier?) and a battalion of Marines left Manilla for Makassar.

Is there anyone who can tell me more at the notices #1, 2, 6, 10, 11 and 12?
---
Manila Replacement Camp 11 Nov 1945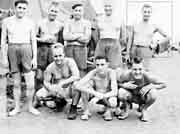 Click for larger picture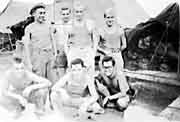 Click for larger picture