Fukuoka #9-B
Kajima Tanko (Mining Company Link)
Also Onoura Tanko

Location:
Fukuoka-ken, Kurate-gun, Miyata-machi
Exact Location
Fukuoka area camps - great overview of where camps were in relation to each other. Miyata is at center of map.
Aerial (Mar. 1943; courtesy of Japan Map Archives)

History Timeline:
4 Dec 1943: Established as 20-B
(POWS ex Singapore per Max Burki on Nichi Maru) 407 Dutch POWs arrive plus some British, 500 total. From Moji by train then marched last 7 miles into camp.
10 Apr 1944: Renamed 12-D
18 Jun 1944: 100 Dutch soldiers arrive ex Thailand (Burma Railway)- on Teia Maru
March 1945: More POWS arrive on Taiko Maru
June 1945: More POWs arrive from Fuk-01-Main ex Sasebo per Rogge affidavit; a number of British officers arrive from Zentsuji

(includes Major Graham).
Aug 1945: Renamed 9-B
Sep 1945: Rescue effected
---

Photographs:
Picture of men taken by USN Ens Dale Rowland, of four POWs on deck of LST 795 which transported the Miyata POW's from Nagasaki to Okinawa between the 20th and 22nd of September 1945. Used with permission Angeline Rowland, widow of late Dale Rowland. Man on far left is Major Ian Graham of the Argyll and Sutherland Highlanders. Man on right is Dutch POW Johann Maul. Other 2 are unidentified. Scan by Bill Maul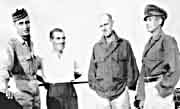 Schuppers Images (Dutch Soldier)

---

Birdseye view of camp - taken from guard tower

Picture looking uphill, 17 September 1945.
Source: Photostats, RG 389 Box 2123.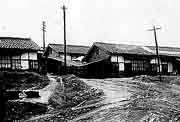 Picture of camp (below) taken from left of above picture courtesy of Edward Burki, Warrant Officer RNLAF (Read more about this photograph.) Scan courtesy of Bill Maul.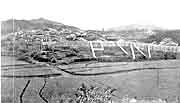 Slave Labor:
Coal Mining
---

Rosters
Yanks ALL (Original roster)
British- ALL (Original roster)
Dutch- XLS spreadsheet (courtesy of Henk Beekhuis) (Original roster)
FUK-09_Rosters_1946-02-16.pdf - ORIGINALS
Dutch Deceased

Known Dutch: per Bill Maul & others
Dr Captain Hilfman [Camp Commandant]
Joha, Chris
Geelhoed (an Engineer)
Groenevelt, Pieter Hendrik (see death roster)
Ortwin Pieter Aurelius Louwerens
Schuppers, Gerrit Hendrik
Wijnants
Johann (Hans) Maul - read his amazingly detailed letter of conditons in this camp. Also an extraordinary description of the hunger and starvation imposed by the Japanese
Jan van Ligten - see below photos
---

Hell Ships (3):
Hawaii Maru or Nishi Maru - (Picture) Original group of Dutch & British loaded on 5th Nov 1943, departed on 7th with 500 POWs, a 29 day voyage, no deaths reported. British (150) later sent to Fukuoka #17 at Omuta.

---

Aramis- renamed the Teia Maru was the French liner that carried the men arriving on 18 June 1944, ex Burma-Thailand Railroad. ARAMIS (MARU). On June 18, 1944 the Aramis arrived in Japan (Moji): 300 POWs went to Fukuoka 6 (ORIO), 100 (all Dutch) to Fukuoka 9 (MYATA), 250 (included 150 Aussies) to Fukuoka 17 (Omuta) and 350 to Fukuoka 21 (Nakama).
---
Taiko Maru - (alias Winchester Maru) brought 700 POWs from Keelung Formosa (Taiwan) to Moji in early March 1945. The POWs were distributed mainly between the camps at Miyata 9B, Hakodate #2, Omine 5B and Fukuoka # 24 at Senryu.
---

Affidavits:
Summary of Rogge Report
Dutch experienceMax Burki travel after liberation per Max Burki
Nieuweboer affidavit
de Vente affidavit
Wijnants affidavit
Statements by British POW's Matthews, Furness, Thomas, Craig, Ractliffe (PDF)

Sakamoto interrogation - good information about this commander of several Fukuoka area camps (PDF, original documents)

---

Books:



The Emperor's Guest

by John Fletcher-Cooke (2013)

---

Photos:
Courtesy of Robin Kalhorn:



"Looking over the POW roster for Fukuoka Camp #9, I noticed the name of Dutch POW Jan van Ligten. He and my grandfather played in the same jazz band on Java in the mid-1930s. Van Ligten played string bass. Here is a photo of him, and of the entire band, at the Centrum dance hall in Surabaya, circa 1936."