Overview of the five Hakodate POW Camps - short description and locations.
History of Hakodate Camps per Wes Injerd
---

Hakodate #3 POW Camp: Also known as Utashunai.
Location: Approximately 6 miles south of Akibara-Cho in Utashinai Mura.
Hokkaido Tamlohisen Kaisha
[Hokkaido Shipping and Mining Company, Ltd.]
HOKKAIDO, SORACHI-gun, UTASHINAI-machi, AZA TOKO

Camp Picture: Japanese Historical Photo
---

Location Map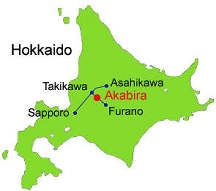 Satellite View: (Google) Area Map (Link)

Description: Situated on the bank of a small stream in a 200 yards wide valley. Camp was enclosed within 10 foot high wooden walls. Southwest of camp was the Korean barracks, due west was a power station. Winter snowfall averaged over six feet in December and January but no POWS arrived before July of 1945.
---

Camp Layout
Compound was 300 feet long, Barracks had three, two level sections. Each section was 15 by 23 feet while the upper decks were 8 by 15 feet. Each section contained 40 men. Toilet building, with 10 stalls, located adjacent to barracks. Two other buildings in one corner of compound served as the Japanese barracks and administrative office. Directly opposite was a long building that was the galley, storeroom and bathhouse.
Primary Labor Use:
Slave labors in the coal mines of the Hokkaido Tamlohisen Kaisha (Hokkaido Shipping and Mining Company, Ltd.) which controlled all mines in the Akibara area. The mines in the area of Camp #3 (Utashinai, were operated by a branch company called Sorachi Kogyosho (Sorachi Mining Company). Koreans worked two mines while POWS operated a third drift mine. The "Mojiri Mines" closed in 1994.
Hell Ship: not known

---

Time Line:
First occupied by Americans on 5 July 1945. POWS arrived from China. First food drops by B-29's was 28 Aug 1945. RAMP team arrived 11 Sept; POWS departed camp 17 Sept.
---

Camp Rosters at Liberation:
Complete Rescue Roster: US & British

Partial roster based upon Wake Rosters and USMC Historical Center

Interviews

Books Describing Life at Hakodate #3:
Biggs, Chester M. Jr, Behind the Barbed Wire, McFarland & Co, Jefferson, NC, 1995.
---
Japanese Camp Staff: [partial]
Camp Commandant: Lt Kinsbuho Niizuma
Mess officer: Kenichi Kikuchi - sadistic, hated white people, stole supplies regularly.
Interpreter: Takeda (a bastard) replaced by-
Interpreter: Hisao Kawasaki - very reasonable
Medical: Cpl Unesaku Nakao - "unsavory" - constant interference with American doctor.
Guard: Sr Pvt Takahashi - sadistic and brutal
Civilian Supply Officer: Sataro Tateda - cooperative and friendly

---
List of deceased at Hakodate #3 - None at this camp
---
Camp Photographs & Sketches
---