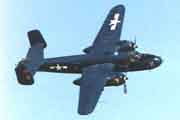 B-25 Mitchell Bomber
---
Rare photograph of Crash Picture provided by Japanese Interpreter/Pilot OHNUKI-San.

Click Picture
for large view
and identities
Departed: Alexie Point on Attu
Date; - May 19,1945
The B-25 of 2nd Lt Milton Zack (Navigator Bomber) crashed after losing a propeller over Shumushu Island, the northernmost island of the Kurile chain which is very close to Kamchatka Penninsula and about midway between Attu and Hokkaido. The crew of six survived the crash. Japanese soldiers captured and beat the men "unmercifully" before taking them to a civilian jail.
[Zack Memoir]- FULL STORY

After interogation at the Japanese Naval base at Paramushiro, Zack was flown to Hokkaido. (Story by Japanese pilot regarding HIS brother who was KIA in Malaya) Three of the crew, Lewis, Burrows (Picture of Lewis and Burrows) and Bradley, died on a Japanese ship (Tenryo Maru) that was torpedoed and sunk while taking them to mainland Japan. Bailey and Trant were transported to Sapporo on a separate ship that got through.

At the end of the war, Zack and some 12 other men were taken from various local jails and brought to Sapporo Camp. There were 12 other men already held in the camp. Here, he was reunited with his two other surviving crewmen.
---
Picture and identity of crew