Special thanks to Gordon SCAGGS for transcribing many of the attached affidavits and reports.
---

Location:
Osaka 11-B NARUMI
AICHI-ken, AICHI-gun, NARUMI-machi, ARIMATSU MURA 114-3
---

Location:
Per Investigation report: 4 km Southeast of the Village of Narumi, on the slope of a hill about 500 feet above sea level. The international coordinates are 35° 05" North 136° 54" east.
Relief Map Satellite (Google) Street Map (slow loading)
Maps: Courtesy of Wes Injerd
---

Timeline:
28 Dec 1943: Camp established as Osaka Branch #11 at Narumi. First POW's were 400 British and Canadians from Hong Kong who arrived 7 January 1944. Arrived on the Toyama Maru.
4 Jan 1944: Canadians and British arrive from Hong Kong
6 Apr 1944: Jurisdictional control transferred to Nagoya POW Command with 581 POWs; renamed NAGOYA POW CAMP 2B-Narumi
4 August 1944: 200 Americans arrived from the Philippines most likely the Nissyo Maru.
2 Sept 1942: first food drops by B-29s of the 315th Bomb Wing
4 Sept 1945: Rescue effected
---

Books about this camp:
Prisoner of the Rising Sun by Stanley Wort (2009)

---

Morita Report: RG 331 Box 949
Narumi POW Camp- Osaka Branch 11
Old Names are used here
Address: 3-114 Arumatsu-mura, Narumi-cho, Aichi-Gun, Aichi Prefecture


---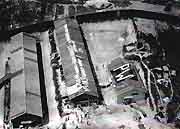 Click pictures for larger views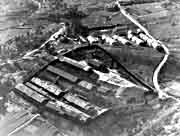 ---
Aerial Picture: see page 345 of Official Chronology of the US Navy in WWII by Robert Cressman.
---
Labor:
Men employed as slaves for Daido Electric Steel Company and made wheels at the Nippon Wheel (Vehicle) Mfg. Company. Address Sambon Matsu, Atsutaku, Nagoya City; also known as Narumi Atsuta Japan Vehicle Company LTD (Nippon Sharyo Company., LTD). Company also repaired locomotives. The work supervision set-up was the same as other camps.

Hell Ships:
Special thanks to Vince Lopata: British and Canadian POWs- arrived in camp 7 Jan 1944. [SS Soong Cheong (15 Dec 43) to Takao, Formosa; Transferred to Toyama Maru (departed 30 Dec 43)- arrived 4 Jan 1944]
Nissyo Maru- believed to have carried all but a few of the Americans
---

SCAP Investigation Report:
Camp Inspection Report written post war by Capt D'Angelo and 2nd Lt Maulsby. Also includes list of men in hospital at time of rescue
Special: Affidavit of Dr W.N. Riley describing condition and conduct of this camp. Departed camp May 1945 with 300 British & Canadian men- sent to Nagoya #8 Tateyama
First Person Report: USS Buchanan crew description of rescue.
A REAL Hero: Keech, Richard Eugene, Post war, when his son-in-law severely abused his daughter, he saved her life. Convicted of murder and served life in prison.
---

Camp Rosters (273 men)
Pending: 189 Yanks (see below), 64 Brits, 11 Canadian, 2 Dutch, 2 Portuguese, 1 Russian, 1 Polish, 1 Jamaican, 1 Czech, 1 Finnish
Deceased rosters- name, date of death & cause
Americans:
Known: Two B-29 Officers and one enlisted man were detained pending medical experimentation- war ended Japanese plans to kill these men.
British: 64 men with unit added
Canadians and Others: Revised with actual roster data NEW

---

Camp Commanders:
8 Dec 1943 - 1 Jan 1944: 1st Lt Shuntaro Habe
1 Jan 1944 - 6 Apr 1945: 1st Lt Kiyoshi Tanaka
Guard Photographs Group picture with identifications - THE FACES OF EVIL
Japanese Staff Picture - courtesy of Kissell
SCAP Request for information about TANAKA the "BULL".
---

AFFIDAVITS:
Interrogation Report: Interviews with MacDonald and Meuli regarding beatings and guard identifications. MacDonald identifies photographs of "Pontiac", "Speedo day", and "Fur Collar Mike". Alleges "Fish Face" involved in beating of Wagner [Waggoner] and Owens.
Woodhead Affidavit: Details the brutal beatings and deliberate starvation of Waggoner. Woodhead calls him "Wagner" in error.
Request for Owens diary: diary not located yet
Weston Affidavit: accuses Osbourne of collaboration with Japanese.
Weston Memorandum: Charles Weston, USN, accuses PFC Osborne of collaboration
Stow Memorandum: Description of Owens' beating for theft.

---

Photographs: Many detailed pictures Pending- ask for scans