Los Baņos Camp:
Civilian Internment Camp located approximately 25 miles southeast of Manila, about one mile from the southern shore of Laguna de Bay.
---

Japanese Camp Staff:
Roster of Camp Commanders and other staff.

---
Camp Layout

---

Camp Photographs & Sketches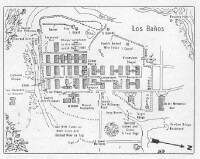 ---

Interviews:

---
Books Describing Life at Los Baņos

---

Camp Roster at Liberation:
Roster (RG 389 Box 2070)
Conditional releases; deaths; nurses, etc. (RG 389 Box 2070)

List of deceased at Los Baņos: Includes date of death.

---
Primary Labor Use:
None- Internees able to raise some food inside campus.

---
Camp History:
---

Order to Move to the new camp>: Issued at Santo Tomas, 8 May 1943.

List of Navy Nurses: 11 Navy nurses sent to administer to the internees.
---

Time Line:

Location Map:

Camp Illustrations: External Link (courtesy of John S. Beaber)

Rescue and Liberation: Three pages of pictures- Courtesy of George Doherty

Rescue Mission: The complete story by the 511th Airborne

Los Banos Rescue video: (710Mb) Footage of interviews and the actual rescue taken from a support plane (note this IS copyrighted), We will be posting some rescue interviews.