Sendai-02-B
(FURUKAWA KYOGYO YOSHIMA TANKO)
Originally established as Tokyo Camp 14-D.
Maps of exact location - Courtesy of Wes Injerd plus Satellite view-Google Maps
---

Time Line:
FUKUSHIMA-ken, IWAKI-gun, YOSHIMA-mura, KAMIYOSHIMA
30 Mar 1944: Camp established as Tok-14D-Yoshima
14 Apr 1944: Jurisdictional control transferred from TOKYO POW CAMP 14-D to Sendai POW Command and established as 2-B.
2 Sep 1945: Food drop kills American [S/Sgt Joseph F.Sarata]
4 Sep 1945: B-29 Food drop plane crashes near camp - crew details
7 September 1945: Rescue effected
---

15 August summary given to MacArthur.
Name: Yuwaki [sic- Iwaki] Coal Mine
Strength: approx 1000 [actual 246 Allied plus unknown number of other Korean and Chinese slaves in adjacent barracks]

Description:
Camp reported to be the former dormitories of a coal mining company located about 30 miles southeast of Koriyama near the coast of Taira.
37.02'N-140.01'E
37.02'N-140.50'E
---

Books:
Geoffrey Monument- "Angel On My Shoulder" - excellent description of this camp
---

Japanese Staff:
Guard: Sgt Ozawa- delighted in beating men on sick-call
Dr. Hironaka - Camp Japanese doctor
Hellships:
Naura Maru known to have sailed 29 Apr 1944 with 47 Canadians plus 173 other men from Hong Kong- sent to Sendai #2.
Dainichi Maru from Taiwan ex Singapore; arrived Japan 25 Nov 1942.

Rosters:
Source- AWM 144/14/46 courtesy of Jonathan Moffett, Historian of the A&SH
The Americans arrived from Yokohama Camp 1D in May 1945 (Most previously on Taiwan). The Commonwealth men were already present at that time. About 100 mixed nationalites arrived around 13 June 1945 from Tokyo #1 Yokohama after the fire bombing of Tokyo.
Rescue roster located and cross checked NARA Record Group 407 Boxes 11 and 12; Deceased noted in Brown.
British
Canadian
Americans, Australians, Portugese & Others

POW Strengths Summary- Courtesy of Wes Injerd
---

Affidavits or Interviews:
Remarks by British Sgt Rakusen
Memoir on a blog for Irish soldier Bernard "Barney" Byrne. Go to Feb 17, 2005 entry. (Byrne is listed under the "other nationalities)
Bernard W. Givens: Hometown newspaper notices.
McGrath Affidavit: describes dangers of mine and conduct of Takao Karino, Japanese in charge of rations..
---
Photographs of Camp:
Note: See Picture (External link) of the Winnipeg Grenadiers at this camp; Royal Rifles (without identification)
Aust War Museum: Scene at de-lousing of the POW during rescue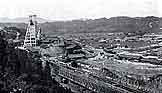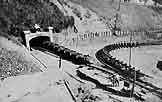 These six photos courtesy of Chris Rocha:
01 - Group photo taken shortly before repatriation was my dad, 3rd row 9th from the left (with the hat). C.E Rocha, on his right, later to be my uncle, F.L Rocha. Front row, 4th from the left, also later to be my uncle, E. S Marques.
02 - Christmas – year ????
03 - Hong Kong Volunteers
04 - Entrance to coal face
05 - Christmas, staged managed scene for the Red Cross, year ????
06 - Improvised dormitory aboard unknown aircraft carrier to Manila for R&R before repatriation to Hong Kong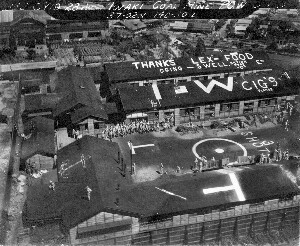 "Iwaki Coal Mine Camp" photo dated August 28, 1945, courtesy of Peter Somerville, whose father was a naval aviator during WWII flying Helldivers off the USS Hancock. "Planes from the Hancock were sent on missions to locate and drop supplies to POW camps before they were liberated on the ground."