Location:
Tokyo 5-D
(NIHON KOKAN, KAWASAKI KOJO)
KAWASAKI-shi, MINAMI WATARIDA-machi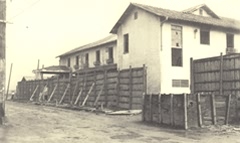 Timeline:
12 May 1943: Established; first known as 7-B
1 Aug 1943: Renamed 5-D
4 Jun 1945: Terminated; POWs transferred to Tokyo 5-B and Tokyo 6-B (see below)
---

Tokyo 5-B
YOKOHAMA-shi, TSURUMI-ku, SUYEHIRO-cho, 1-chome
Originally Tokyo 3-D
(NIHON KOKAN TSURUMI ZOSEN)
YOKOHAMA-shi, TSURUMI-ku, SUYEHIRO-cho, 1-chome
21 Jan 1943: Established; first known as 5-B
1 Aug 1943: Renamed 3-D
13 May 1945: Camp closed
POWs transferred to MAIN CAMP [Omori]

Tokyo 6-B
(NIHON KOKAN) NAGANO-ken, SUWA-gun, KITAYAMA-mura
4 Jun 1945: Established as Tokyo 6-B
Sep 1945: Rescue effected
---

Camp layout (courtesy of Chittenden)

For current information on

Nippon Kokan

, see Corporate History (JFE Engineering Corp.).

Movements:
Group of 525 (estimated) Marines [including 85 civilian men from Wake] departed Woosung, China on 20 Aug 1943. These Marines were from North China and Wake Island. Many sent to this Tokyo Kawasaki POW Camp 5D.
---

Camp Roster: Partial but not verified
---

David Wilson- Survivor of the SS Willesden, sunk by a German raider with survivors transferred to the Japanese. Excellent narrative of camp life

.
---



Diary of Conrad Johnson


Civilian POW from Wake Island has daily entries from 19 Feb 1944 to 22 Sep 1944
Two parts, transcribed from original diary by Center For Research.
Part I: 19 Feb 44 to 28 April 1944
Part II: 1 May 44 to 22 Sep 44

---



Grant Ogden King


(files courtesy of Michael King)
Military History of Grant Ogden King by Michael King
Grant King Shortwave Broadcast, Original Recording