Location:
Tokyo-10D-Yokohama
(OSAKA ZOSEN)
YOKOHAMA-shi, TSURUMI-ku, SUYEHIRO-cho, 1-12

Timeline: Assisted by Verl Stanford
1 Apr 1943: Established; first known as OSAKA ZOSEN Dispatched Camp. Forty American enlisted men and one officer (Lt. Larkin) arrive from Shinagawa. [Shinagawa was renamed Tokyo Main and moved to Omori 20 Jul 1943]
1 Jul 1943: Ten (10) men arrive from baseball statium
Dec 1943: Camp Commander Yamaski replaced by Sgt. Tanaka
25 Dec 1943: Renamed Tokyo 10-D
8 Sep 1944: 100 Americans arrive from Manila ex Noto Maru; one British doctor from Shanghai
Dec 44 or Jan 45: Lt Owamori relieved of command by Lt. Tamoki Nakamura
8 Jan 1945: PFC Jack Holt (USAAC) dies from cardiac arrest as direct result of beri beri and malnutrition- only recorded death in this camp.
4 Jun 1945: Terminated; POWs transferred to Tokyo Main (OMORI) Camp and at Tokyo 9D-Ashio

Japanese Staff:
Upon opening, Lt. Owomori (Gunso) Yamasaki was commander
Head Guard: Riu-san
Sgt Tanaka
---
Labor:
Osaka Shipyard Company of Yokohama- building of warships and other vessels
Hell Ship:
Tottori Maru- departed Manila 8 Oct 1942 (loaded 6 Oct)- 1961 POWs with 30 deaths en route to Pusan then Moji.
Noto Maru - departed Manila 27 Aug 1944 (1135 men), 1 death en route.

Rosters:
Original rescue roster not (yet) located at NARA
Deceased:
see time line for 8 Jan 1945- Jack Holt

Photographs:

Christmas 1944 - courtesy of Verl Stanford, nephew of Lt. Orville Stanford, captured at Tacloban on Leyte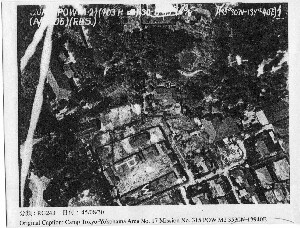 Photo courtesy of Taeko Sasamoto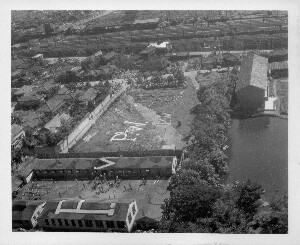 Photo courtesy of Peter Somerville

Incidents forwarded for War Crime Trials:
1. From affidavits of 1st Lt Orville Stanford - mass punishment and beating of Pvt Paul Yates and 9 other men for theft of food from local store (date not specified). Other men beaten were Richards, Davis, Goss, Whitby, Smith, Loftus and Scullion - list incomplete.
2. Mass punishment in Nov 1944 for entire camp plus re-beating of first 10 suspects, noon until 1900 hours when it was learned local Japanese workmen were the thieves. No Japanese apology.
---