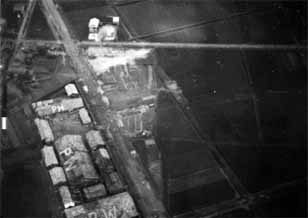 Click for high resolution picture- 153kb
Source: Pictures from B-29 Food drop, #T-28. Courtesy Tail Gunner Geoffrey M. Berman, Corpus Christi, TX. Photos sent to ex-POW James Rand, Christmas 1945.
[SEE 2 more picture below]
80 prisoners left Osaka approx 5 PM on October 19th, 1942 for a third POW camp. These 78 American from Guam and two Australians-- transferred earlier along with 70 other men from Zentsuji to Osaka-- were designated as "trouble makers" by the Japanese. Leaving Osaka via railroad, they traveled 5 hours westward along the northern coast of the Inland Sea to Himeji.

Upon arrival, and were marched west to Hirohata and north to Camp Hirohata #1, a house in the middle of a rice paddy. They were about 3 miles away from the Inland Sea where they began hard labor at a mill.
15 Sep 1943: The men men moved to new camp, Hirohata #2 (Osaka Camp #12), picture on left. [Ercanbrack, Leininger, Reed affidavits]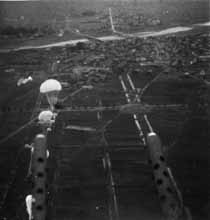 Click for high resolution picture- 136 kb
Camp is below last parachute
First Official notice of camp submitted by International Red Cross [Cablegram No 370, 24 Mar 1943 Intercrioxtouge 5589, NARA RG389, Box 2130]
"camp is 8 K from Himeji (population 200,000); total area- 1530 square meters, building area - 930 square meters. Six barracks [only two] of wooden frame with mud and plaster. Ventilation good, heating still available from five to seven p.m.
"Taps, bath with water pumped from well. Six latrines. Canteen in this camp is well supplied and food for prisoners here is more abundant than in other camps. Kitchen had 6 cauldrons and food is cooked by 1 Navy cook and three assistants.
"---prisoners have hikes in country on Sundays. ....two slight work accidents, ... and no deaths.