June 14 -- Flag Day Special
FLAGS
OF
OUR POW FATHERS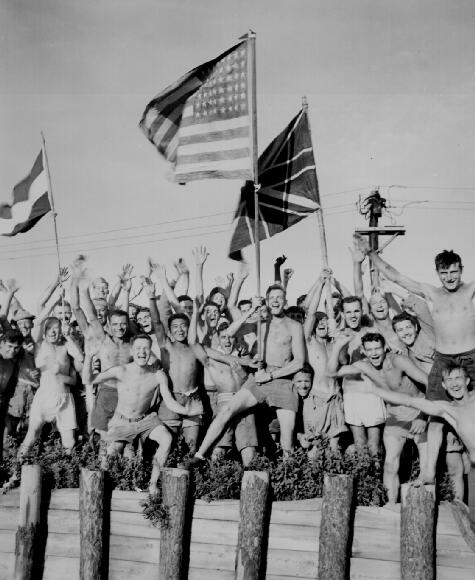 "Gaunt allied prisoners of war at Aomori [Omori] camp near Yokohama
cheer rescuers from U.S. Navy, waving flags of the United States,
Great Britain and Holland." Japan, August 29, 1945
---
The American flag is perhaps the most widely displayed flag in the world, not only on flag poles, but on caps, backpacks, T-shirts, towels, coffee mugs, shopping bags and scores of other items. To many it seems like just another piece of merchandise.
But to thousands of men nearly 60 years ago, it was one of the most beautiful sights they had ever seen. And they cried, unable to contain the joy in their hearts -- their dream had come true.
I'd like to share with you on this Flag Day a few stories of the flags our POW fathers made at the end of their captivity in prison camps in Japan. To them those flags were more than just pieces of colored cloth and silk -- they were symbols of something very dear to their hearts...
...symbols of home, their loved ones, their country they still served, and the liberty and freedom they were now finally able to enjoy after 3½ years of being deprived of that which they so much yearned for.
It is no wonder then what strong emotions these simple pieces of cloth evoked! And no wonder those surviving POWs to this day count it such a great blessing, honor and privilege to have and enjoy the freedoms -- freedoms we take so much for granted -- in a nation God has so uniquely blessed in His providence.
---
Clayton Dahl
Fukuoka #3, Kokura
August 1945. Japan. A liberated camp. Some of the boys got some materials, red, white and blue, and they found a sewing machine and made a huge American flag -- at least 20 feet by 15 feet.
My, how beautiful! They raised the flag on the flagpole and all the camp came to see. Somebody got a bugle and they played taps for our dead buddies.
Oh, if only all Americans would know what it is like not to see our beautiful flag for three and a half years.
Words of War -- Fresno woman grasps late husband's story as a POW through his diary of pain, triumph
---
Rodney Kephart
Fukuoka #6, Mizumaki
On the morning of September 1, 1945, the day before the signing of the Japanese surrender, senior American officers who were also prisoners in the camp came to Kephart and fellow prisoner Ryland Barnett with the parachute silk from the food drop. Knowing their liberation was near, the officers asked the men to sew an American flag.
Since he was the only one who knew how to operate the camp's old Japanese sewing machine, Kephart went straight to work. He and Barnett started the flag at 10:00 a.m. and didn't quit sewing for more than 16 hours. In the early hours of the next morning, with the flag completed, Kephart fell into his bunk and slept. As dawn crept over the eastern sky, he was too worn out to get up. But he heard the reveille bugle and cheering prisoners as his flag was raised over the No. 6 prison camp in Orio, Fukuoka, Japan, at the same time the Japanese signed the surrender.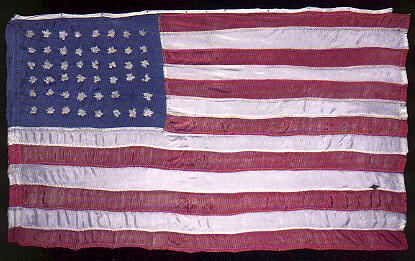 "I just rolled over in my bunk and started sobbing," he said. That moment marked the end of 45 agonizing months as a prisoner of war, making Kephart one of the longest-held prisoners of World War II. His flag flew proudly over the prison camp for 11 days until he and the camp's other 1,700 American and Allied prisoners were rescued.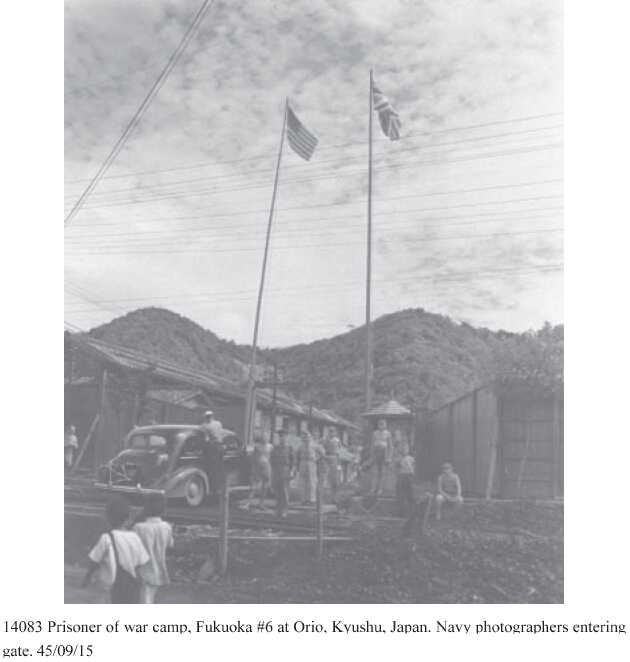 ---
Capt. Jerome McDavitt
Hiroshima #6 (Omine)
About two or three minutes to twelve o'clock everybody was out to watch the drop. Off to the east, in a beautiful blue sky containing two huge white fleecy clouds, someone saw a speck. As it got bigger and we heard the buzz, we saw there were two planes coming directly toward us between the clouds. As they crossed overhead, they waved their wings. Their bomb bays, I noticed, were still closed. They went on over and made a big left-hand turn and came back between those two clouds again; this time the bomb bay doors were wide open. From them they kicked out, each of them, twenty-foru double-deck fifty-five gallon drums, welded and stacked. They floated down to us on sixteen red parachutes, sixteen white parachutes, and sixteen blue parachutes. No reason I can think of, except it was to show which the Air Force unit that made the drop wanted to give us. I stood there amazed, and whatever words you want to use would describe my feelings.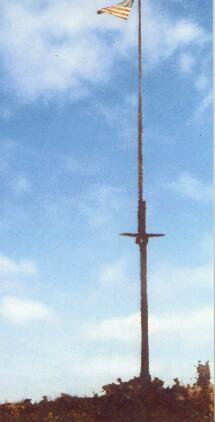 Several of the men ran over to me. "Captain, sir." I didn't fuss at them, but I thought, "You know, that's the first time you've referred to me as 'sir' in three and a half years." I said, "Yes?" "Captain, sir, can we make one?" I didn't want them to think I'd already figured it out, so I paused. Finally, I said, "Yes, but be careful you don't tear the parachutes."
The next morning an American flag was flying over our camp.
-- Death March -- The Survivors of Bataan
by Donald Knox
Note from Linda McDavitt, daughter:
"Enclosed is a picture of the flag made at Omine-machi upon liberation. There is a story from a book and a picture of the men. The color photo was computer enhanced from a black & white that we were told was a picture of the flag flying after it was made. The black & white was at some reunion and I assume that along with my grandmother, Dad, and Ben Guyton, the rest of the men also were in Omine-machi and helped make the flag. The flag is now housed at Texas A&M in College Station in the Alumni Center."
---
Baselio "Joe" Zorzanello
Sendai #6, Hanawa
After the surrender, the Japanese soldiers killed some American soldiers "for no reason," according to Zorzanello. The worst thing he can recall was the desecration of the American Flag.
Seeing the flag ripped apart and defiled made him feel naked, he said. "That flag meant a lot to us, and to see them treat it like dirt really hurt."
The first night as prisoners, Zorzanello and the other men slept directly on the hot sand. There were no blankets.
He said the flag desecration had a terrible effect on him.
"I had a nightmare that I was back in Massachusetts, where I was born," he said. "I'll never forget it."
He described the nightmare as follows: "It was winter and there was a blizzard. I was sleeping in the attic, with wind blowing the snow through. I was terrified, and I went to my mother. I was broken hearted and demoralized. She tried to comfort me.
"[When] I woke up, I didn't want my mother involved [in this war]. I was a grown man, and I'd have to take care of myself. Physically, I was freezing while lying on the hot sand.
"I guess my body had reacted to the dream. My skin was so cold. That's the one thing through the entire war I couldn't cope with. [The nightmare] was very traumatic," he said.
Veteran recalls experiences in WWII
---
Otto Erler
Nagoya #1, Kamioka
"Otto was definitely a very blessed man. I think his would make a good story for a lot of Americans," he said. "We can get through life without giving up."
Otto Erler died quietly in his sleep in 1967 after 46 hard-lived years, but Bud Erler and Bill Strouse have remained committed to his memory, visiting those who served alongside Cpl. Erler and preserving the tale of the flag for future generations.
Bud Erler faithfully wears a flag pendant as a reminder of his uncle.
"It says this is my family. This is where I come from," he said. "(The flag) was a piece of America he held on to and he didn't give up."
For Mr. Strouse, a dream came true when he recently arranged to view Otto Erler's flag at the Dallas Historical Society, where it was donated upon the end of World War II.
"It was just fantastic. It was hard to believe it. I had heard so much about it," he said. "The flag, as a symbol, means a heck of a lot to me, as it does anyone in the military."
Former POW Mr. McDowell couldn't agree more.
"It meant a great deal to us - to our spirit. Spirit was what we lived on," he said. "It was one of a kind -- Otto and his flag."
Long, great story about a WWII POW and his flag
---
"Prisoners of war possessed limited items of clothing, personal effects, and field gear. Going through the packs and pouches, I noticed a thick lining slightly sticking out at the bottom. I pulled it out, paying little attention to the pack it was in. The item concealed a slit, purposely cut in the lining of the pack."
Inside the pack was the POW flag that is now on display in our Americanism Museum. Ill. Delsi surmised, "The flag must have been a source of courage and strength to someone or to some group of Americans." While his assessment is true, the flag continues to be a source of courage to generations of American heroes.
Recently rediscovered WW II POW flag
---
Col. Ralph T. Artman
Hiroshima #4, Mukaishima
Seven years ago a Fort Knox colonel stood in a Japanese prisoner of war camp and watched misty-eyed as the rising sun emblem was struck from the flagstaff and Old Glory went up in its place.
It was a crudely-sewn flag pieced together from parachute cloth, its stars cut out jaggedly by sewing-kit tools and tin cans. But to the jubilant internees who had labored to make it in the first few hours after word came of Japan's surrender, craftsmanship was unimportant.....
He remembers how the men eagerly marked out their area with large letters "POW" so that it could be seen from the sky. American planes began dropping food and medical supplies ... red, white and blue parachutes floated down on Mukaishima.
In those first frantic moments of freedom, the ex-prisoners realized they had no American Flag. Col. Artman suggested making one from the parachutes.
"There was no means of sewing together the stars and stripes even after the patterns were cut. Since the Americans were in command of the situation at that time, I 'commandeered' the three local Japanese tailor shops to do the sewing after Americans cut out the part according to rough specifications.
"We had the three tailor shops working constantly (and reluctantly) throughout all of one night in order to have the flag ready as soon as possible. At approximately 11 a.m. on the morning of Aug. 18, 1945, we lowered the Japanese flag which had been flying over the camp and its place raised our American flag.
"As the American flag was raised, we had a brief ceremony for the remaining time we were there, our improvised American flag flew over the camp. I do believe it is the first American flag raised on Japanese soil after the cessation of hostilities."
"A lot of men lived and died dreaming of the day they'd see these colors flying again."
First To Fly Over Japan; Historic U.S. Flag Going to Museum
Some men will never forget 'Bataan'
---
Carl S. Nordin
Nagoya #5, Yokkaichi
Life in prison camp was difficult, tedious and boring. After a couple of years, the Japanese allowed a few musical instruments in camp. Naturally, in a group of 2,000 men, there is considerable talent, so with these instruments, a Corporal Biggs developed an entertainment troupe. Soon they were developing USO-type programs. But there was barely room enough between the barracks to accommodate an audience. Over a period of time, the Japanese had come to realize this as a good way to keep the prisoners from becoming restive. As the popularity of the troupe, and the confidence of the Japanese increased, they were finally able to convince the Japanese to put on a full-fledged program.
One condition was necessary, however. The Japanese would preview the program before it was put on for the troops. This preview would be in the hospital area. That way the sick could see it along with the Japanese, and with the added benefit of shade for the viewers. The performance for the rest of the camp would be out in the hot sun of the parade ground, where a stage had already been erected for the use of the Japanese camp commander for his annual (Pearl Harbor Day) reading of the Imperial Rescript. And for other occasional diatribes. Programs were varied, but usually consisted of short skits, comedy acts, a unique whistling act, and musical numbers of various kinds.
At the close of each program everyone would join in singing "God Bless America". This went on for several months; the content was no different than before; but at the performance out on the parade ground (where there were no Japanese present), and at the close of the performance with everyone singing "God Bless America", Corporal Biggs and Chief Bo'sun Regan stepped to the front of the group as Chief Regan reached inside his denim jacket and began pulling out the American Flag, and - handing one end to Corporal Biggs - they held up the flag of the "41 Boat" for all to see, bullet holes and all!
Never have I heard "God Bless America" sung with more gusto and feeling as those several hundred hard-bitten men stood out there in the hot sun, and belted it out at the top of their lungs. For there before them was the flag of our country, for which we had fought and sacrificed, and which we had not seen in over two years. In all that group of men, I doubt there was one dry eye as we viewed the symbol of the greatest country on earth.
Although this event occurred almost sixty years ago, and half a world away, even to this day, when I see that flag or hear that song, I am overtaken with a special feeling of awe and gratefulness.
---
Pete George
Tokyo #12, Mitsushima
And the irony of that was that when they organized the new 4th division, they took the flag and the standard which is a Marine Corp flag and kept them covered and encased. They made a vow that they would not uncase those colors until they came to Japan and liberated all of the 4th mariners and throw a big parade for us, and that was what they did. They unfurled those colors and I think that you could hear the uproar back in the States, you know. And they went through that parade for us and everything. Well, you cried really. Just no way that you could hold it back, you know.
http://www.chinamarines.com/docs/men_PG6.htm
---
Otto Erler
Nagoya #1, Kamioka
Not many of us have seen the colors struck. No, not retired. Not simply lowered at the end of the day, but deliberately pulled down. World War II Marine, Otto Erler, did from his foxhole on Corregidor.
Knocked unconscious by a Japanese mortar shell, Erler came too just as Japanese troops swarmed over him. Corregidor had fallen. As Erler looked up past a Japanese bayonet, up the barrel of the weapon, and over the shoulder of his captor . . . he saw a tattered "Old Glory" coming down. In his head were the words of a poem: "A moth-eaten rag on a worm-eaten pole. It doesn't look likely to stir a man's soul . . ." But it did. Oh, how it did stir Erler's soul. In that flag he saw America folding, America coming down. And that 20-year-old Marine from Dallas, Texas cried.
Later, under guard on a dock in Manila, enroute to a prisoner of war camp, Erler snuck away into a small, empty office building on the pier, in search of - of all things - toilet paper. In rummaging through the place, he found none. But in a corner, in a dark closet, he found an American flag. It grabbed him by the throat . . . it was a piece of home. It was something he could have faith in. He didn't stop to think that prisoners were shot for less.
He snuck back into the ranks of prisoners and quickly hid the flag in his duffel bag. Transported on prisoner ships, Erler kept the flag hidden, and for the first time brought it out for a comrade's burial at sea. Done with permission from his captors, Erler's flag draped the lead-filled, canvas body bags of several who died on the trip.
When leaving the transport and heading to a more permanent camp, Erler was able to smuggle the flag off the ship. He carried it with him and kept it in his pillowcase. Eventually it was found and taken from Erler who, with the ranking American officer, bravely told the Japanese as he handed it over, "This is an American flag. We expect it to be treated with proper courtesy and to be returned when we leave."
They reluctantly agreed, but not without penalties: rations would be halved for thirty days, no cigarettes, and lights out at 9:00 p.m. In early 1944 Erler was transferred to a lead mine in Japan. As he prepared to depart, he bravely asked for the return of the Flag. It was given over to him.
At the lead mine he was allowed to keep his flag, but only for burials. For use in any other way, he would be held responsible. It found use ten times in sixteen months. Then in August of 1945, after more than three years as a POW, peace was at hand. The war was over and it was Erler's turn to strike the colors. Down came the rising sun and up went the Stars and Stripes.
Through his years as a prisoner, Erler's flag buried 25 men and raised the spirits and gave hope to thousands. That 42-star flag is still around. It resides at the Dallas Historical society. It is tattered and torn. It's one of those things best described by British General Sir Edward Bruce Hamley:
"A moth-eaten rag on a worm-eaten pole,
It doesn't look likely to stir a man's soul;
'Tis the deeds that were done 'neath the moth-eaten rag
When that pole was a staff and the rag was a Flag."
The Story of Otto Erler, WWII POW
From The American Legion Magazine,1960
---
Abel F. Ortega
Osaka #10, Maibara
You know my dad, Abel F. Ortega. He had 4 flags made from B-29 parachutes at Camp Maibara, Japan. Since he was the camp artist, he was selected to draw the flag designs and then have them made. He took the drawings and the material to a Japanese tailor in Maibara and told him he had 3 days to make the flags. It was the American, British, Austrailian, & Dutch flags. Roger Mansell has a picture of the Camp and the flags flying at the main gate.
Abel Jr.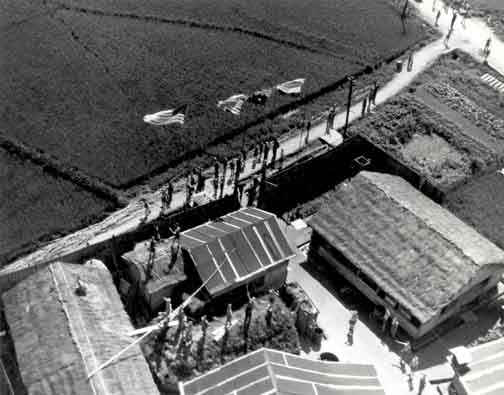 ---
Martin Christie
Tokyo #8, Hitachi
"Page 67, Vol.1, Defenders of Philippines, Guam and Wake Islands (Turner) shows the American group and the US Flag made from parachute material. Two other flags were made, an Indonesian and a British. I have heard that Captain Short, Hitachi Camp Commander, presented the US Flag from Hitachi to the Truman Library and it was on display at one time."
---
Betsy Herold Heimke
Bilibid, Philippines
Though this page deals with the men who made flags, I found this about a young girl named Betsy, not unlike that famous flag-maker back in 1776, Betsy Ross:
We like to give credit to our speakers who are active in their communities and in their schools. Betsy Herold Heimke, a member of the Heart of America AXPOW Chapter in the Greater Kansas City area, is an active speaker with an unusual story to tell.

Betsy's parents, Elmer and Ethel Herold were teaching school in the Philippines when the Japanese bombed Pearl Harbor. Later that day, the Herolds heard bombs exploding in their area of the Philippines. Twenty days later about 40 Japanese soldiers knocked on the Heralds' door in the middle of the night and told them to attend a meeting in the morning to register. They went to the meeting and never returned home. Betsy was 12 years old.

Betsy and her family ended up in the Bilibid Prison in Manila. The prison conditions were unbelievably bad. Little food, no plumbing and the stench was sickening. The U.S Army's 37th Division liberated the camp in February 1945. Of the 500 civilians at Bilibid, 456 survived. Betsy returned to the US, finished her schooling, and earned a nursing degree from Northwestern University in 1952. She later met and married Karl F. Heimke, a B-26 pilot flying in the ETO.

When Betsy tells her "Prison Camp Stories" she is amazed that many Americans did not know that the Japanese incarcerated civilians during WWII. Her listeners are in awe when she tells her experiences (as a teenager) under such deprived conditions.

While incarcerated at Bilibid, Betsy made a small American flag. The flag is now framed and protected by a glass cover. She takes the flag with her when she speaks to schools and civic clubs. At a recent talk to the Daughters of the American Revolution's 106th annual conference, Betsy writes, "When I showed them my framed little American flag their tearful and standing ovation made me cry. I was really overwhelmed."
http://www.axpow.org/education.htm
---
Harvey Boatman
Burma
Three days before the Japanese surrendered, Boatman's appendix ruptured. A Dutch doctor, on his deathbed, instructed Boatman's comrades on how to use a bayonet to remove the appendix. Six men held Boatman down for the amateur surgery. The doctor died the next day.
Once the Japanese surrendered, Boatman sewed a U.S. flag using a small, pedal-operated sewing machine that someone had found near the prison camp. He cut cloth with the same bayonet that had been used to remove his appendix.
That flag flew over the prison compound and now sits in glass at an Army Reserve center museum in Witchita Falls.
Survivor's friends, strength got him through illnesses
---
Conrad G. Russell
Osaka #6, Akenobe
"There was a flag made at Akenobe 6-B. I have a photo of it. My uncle, Conrad G. Russell, USMC, was there." -- Jeff Russell
The sudden actual ending of the war was so surprising that we may have been caught "off guard". The next morning things began to happen. A 'limey' p.o.w. whom we called Harry, stepped into our building. He had an old battered pillow which he'd managed to hang onto from his time, four years ago, in Hong Kong. He told us that many times during the Jap's surprise shakedowns, that old pillow had been pummeled as guards searched for any hard object(s). This day, Harry ripped open a seam and pulled out a beautiful Union Jack, about six feet long. A cheer went up from everyone in the building! He had managed to secret the flag and carry it with him since the fall of Hong Kong. (Our camp was composed of about half British and Aussies and half Americans.)

What a dilemma! We must have an American flag, so the only thing to do was to make one. Scrounging around we came up with enough material for the stars and stripes but no blue for the flag's field. One of the guys told of a 'limey' in the so-called medical ward who wanted to contribute a blue shirt that he had secreted away. He mst have had grand plans for the use of that shirt, but decided it could be better used here. We thanked him profusely but had nothing to give him in return, which we wanted to do. What we did do was assure him, and the other sick, was that upon making contact with rescuers, we would give them a map that would send them directly here for their rescue. (At the end, it did work out, just that way.) A couple of guys worked on it's crude construction but when they were finished, we were proud of it.

We planned to have a flag-raising service the next morning. The morning dawned beautiful and the sunrise was just perfect! The American flag and the Union Jack, from Hong Kong, were raised simultaneously. It's a memory which I and the other survivors, who were there, will cherish for as long as we live! The Limey's and Aussie's sang "God Save the King", then the Americans sang "The Star Spangled Banner". We were located at a high altitude, anyway, but as the flags were raised, I felt at a higher level still -- as though I could look down on all the Japanese cities, even the Imperial Palace.
---
My husband and I attended the Western States Chapter of the ADBC convention in Ventura a few months ago. We brought Mr. Jay Rye, a veteran along with us to the convention. Mr. Rye was on the same hellship (the Noto Maru), and the same last two POW camps as my dad (Sgt. George P. Nord) in Japan. These two camps were Omori and Sendai 10D.
During the trip, Mr. Rye shared several stories with us. He was a pleasure to be with. One of his stories had to do with the men making a flag at Sendai 10D. He said he wasn't sure where they found the sheets and paint, but both an American flag and a British flag were made. There was some discussion between the American and British officers as to whose flag would wave to the right. Mr. Rye said he thought to himself, here the war is ended and we're going to have WWIII over the flag waving. This was an indication of just how proud the men were of their respective countries.
In the end, the American officer won because there were twice as many Americans in the camp as British.
If you can confirm this story, that would be great.
Respectfully,
Greta A. Janz
Daughter of George P. Nord
20th Air Base, 27th Material Squadron
Survivor of Bataan, hellships and several POW camps
---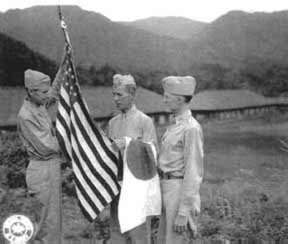 It would be easier to name a camp where NO flag was made. At Rokuroshi, one of the men had hidden a full size American flag for the entire war and pulled it out the minute he learned the war was over. It was flying within minutes.
The Yanks made flags at Hirohata and at Maibara. Take a look at the Hirohata pages. The one from Rokuroshi is in the lobby of the capitol building for New York in Albany.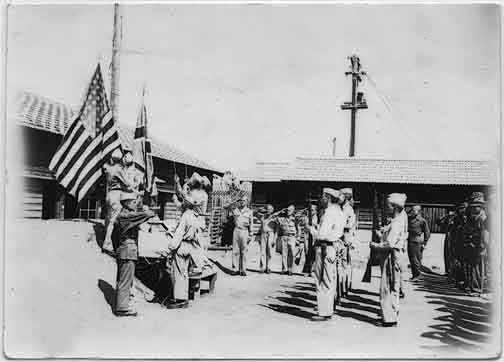 ---
Tokyo #9, Ashio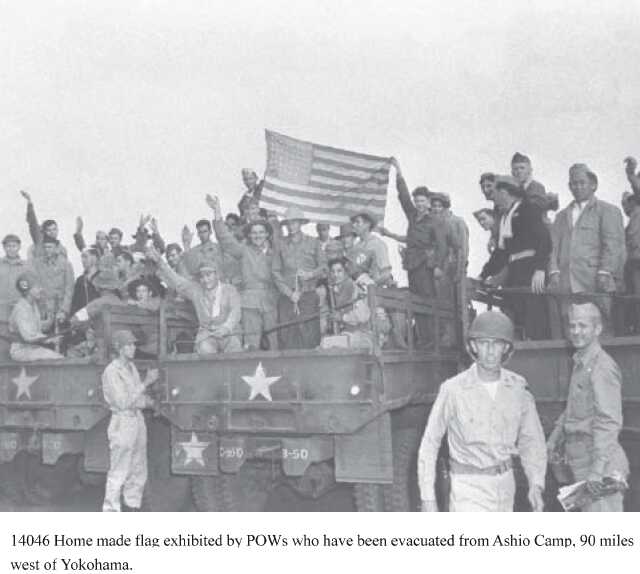 ---
Fukuoka #9, Miyata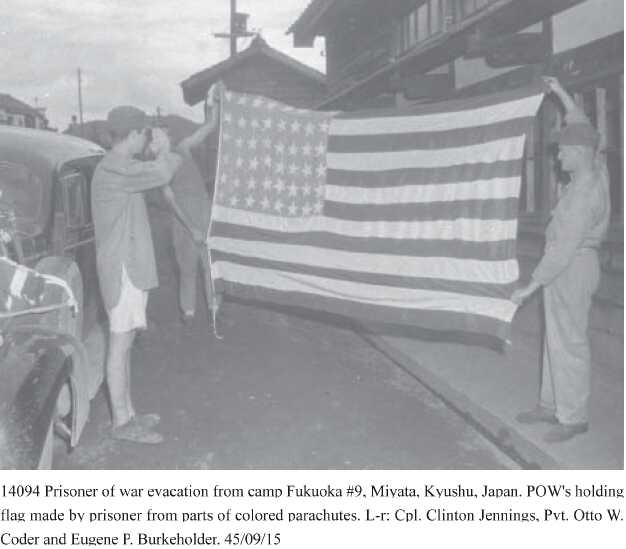 ---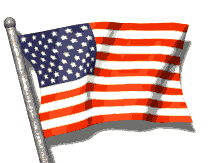 "Oh, if only all Americans would know what it is like not to see our beautiful flag for three and a half years."
---