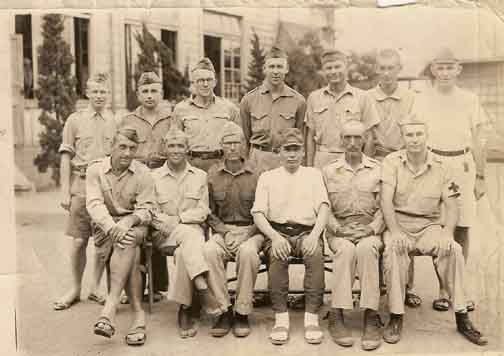 This photograph was owned by Capt James D. Corrigan, 32nd Inf Regt, Philippine Scouts (front row, 3rd from the left). It was taken in the courtyard in Fukuoka Camp #7 and is signed on the back by the POW's who are in the photo. (Photo courtesy of Kurt Stauffer, Lynnwood WA)

Front row (left to right):
(1) Capt. Willem H. Andrau (Senior Dutch Officer)
(2) Major Sidney Vernon, US Corps of Engineers, Bn Surgeon
(3) Capt James D. Corrigan, 32nd Inf Regt (Phil Scouts)
(4) Japanese guard, unknown
(5) Capt Roscoe Price, QMC I Corps, Senior American Officer
(6) Captain Nathan Barshop, US Medical Corps

Back row:
Far left is Jan Kroeseklaas, Dutch (topmost left signature on reverse side)
Third from left is 1st Lt Jan F. "Frits" Wilkens, Dutch

Click on the image above for a high-resolution scan for those who can help identify all the men.