Fukuoka 18-B
(SASEBO KAIGUN SHISETSU-BU)
NAGASAKI-ken, MATSUURA-gun, YUNOKI-mura [exact map location]
Apparently had prior location- see time line
Area Map- location in relation to other camps in Fukuoka POW Command.
---

Timeline: (Rogge Report)

14 Oct 1942: We arrived at Camp No. 18 the 14th of October 1942 and stayed there for eighteen months. Most of our fellows died there. We lost, thirty-five men in March 1943. We were divided in groups of twenty men. In March 1943 we lost six of our group. They all died of pneumonia. The Japanese worked us terrifically long hours. One time they worked us thirty-six hours without sleep. We worked in a rock quarry.
10 Aug 1943: Camp established at Sasebo Airport
17 Apr 1944: Camp closed; 100 surviving prisoners transferred to Fukuoka 1-B then located at the airport [Mushiroda] between Kashii & Fukuoka
---

Camp layout (JPG)

Description by Japanese scholar Toru Fukubayashi, Translated by Yuka Ibuki
(Used with permission)
Soto Branch Camp (Fukuoka 18-B)
A temporary POW Camp was established at Yunoki-mura, Kitamatsuura-gun (current Yunoki-cho, Sasebo City), Nagasaki Prefecture in December 1942 and the POWs taken from Fukuoka POW Camp. [They] were forced to work for the construction of Soto Dam by Sasebo Naval Hdqs.
Established to be Fukuoka No.18 Branch Camp on October 10, 1943.
Closed on April 17, 1944 when the dam was completed, and the POWs were transferred to Fukuoka No.1 Branch Camp.
The POWs were used by the Facility Department of Sasebo Naval Hdqs.
53 POWs died while imprisoned. [many more died shortly after camp was closed as a direct result of conditions at Sasebo]

---

Photos:
Pics of Sasebo #18 taken at end of war: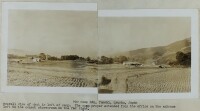 Panorama of camp site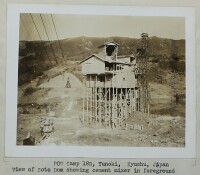 Cement mixing building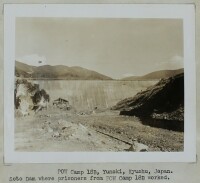 Completed dam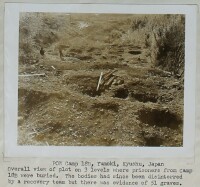 Burial plots



FUK-18_Lookout_area_at_Soto_dam
Battle_of_Wake_Island_memorial - Wake Island flag - courtesy of Barry Kelso

Labor:
Slave labor utilized by Japanese Navy to build facilities. Also a large detail [245 POWS- 132 survived] used for construction and quarry work at the Soto Dam. Very harsh conditions and excessive death rate. Men were mostly civilians from Wake Island who were from the third shipment from Wake Island on the Tachibana Maru (see Rogge Report).
---



Camp Reports

(PDF) - original document containing general and investigative reports, and narrative by Investigating Officer 2nd Lt. Melvin Cohn (Team #10)



Detailed Report on Circumstances Attending Capture of H.M.S. "Mata Hari" - Reports on Prisoner of War Camps

(PDF) by Lt. A. C. Carston, Commanding Officer of HMS

Mata Hari

(courtesy of Jonathan Moffatt) - detailed reports on

Sasebo Ainoura transit camp

(page 3, bottom) and

Camp #18

(pages 5 & 6)

Wilcox Diary.pdf

---

Hell Ship:


Tachibana Maru

- departed Wake with some 200 civilian POWS on 20 Sept 1942. Arrived Moji 30 Sept 1942.

---

Known to have been at this camp (all ex Wake Island civilians):
Harold Leroy Bridgman (Wake civilian)
Edgar Franklin Burns - affidavit of Wake civilian produced for the War Crimes Trials- very extensive description of the camp and work conditions.
Harry J. Forsberg (Wake civilian)
Peter W. Hansen (Wake civilian - died 45.03.21)
Leonard Roy Ward (Wake civilian)
Donald M. Williams (deceased) - a remarkable tribute from his sister. Worth reading.

Deceased Roster:
Roster of deceased from Japanese Records
Men (31 of 113) thought to have perished according to memorial at site of camp. Very Inaccurate.
List_of_dead.pdf
Soto_Dam_new_plaque - photo of memorial plaque to reflect correct death roster
More on Soto Dam



Rosters

(PDF) - original documents, includes Document Inventory List, Roster of Allied POWs (British and US military, civilian), Death List, Detailed Rosters, Temporary Camp Roster

---

Japanese Personnel:
FUK-18 Japanese personnel (PDF)
FUK-18 J-civilian chart and treatment of POW's (PDF) - documents showing organizational chart of Japanese civilians in charge with an explanation of the treatment of POW's (Japanese with English translation)
Nakamura, Kiyoteru - construction engineer

See also roster of all Fukuoka Camp Group commanders.

Sachio Egawa statements (PDF, English and Japanese) - re POW's under jurisdiction of Sasebo Naval Civil Engineering Dept.:


"I believe it is my duty to tell the truth about the conditions of the prisoners of war who received truly pitiful treatment in internment..."
"The prisoners were improperly handled... such completely irresponsible behavior deserves careful investigation."





War Crimes Trial Reviews (original documents):


IMTFE_Case23_IKEGAMI - FUK-18.pdf
IMTFE_Case94_EGAWA, FUKUDA, ORITO, WATANABE - FUK-18.pdf

---



SPECIAL PAGE ON SASEBO HISTORY

- Assorted Data on a Historical City in Southern Japan