Location:
Fukuoka 2-D UBE (became Fuk-7B then Hiroshima 5D then 7B)
Also known as OKINOYAMA
(UBE KYOGYO) [Ube Kosan (Industries)]
YAMAGUCHI-ken, UBE-shi
Aerial View- Map in 2005- Excellent prespective from Phillip West
Topo Map
Satellite Map

---

History:
26 Nov 1942: Established as YAHATA Provisional POW CAMP, UBE Branch Camp
27 Nov 1942: 170 British POWS arrive ex Singapore Maru
1 Jan 1943: Renamed FUKUOKA POW CAMP UBE Branch Camp
1 Mar 1943: Renamed Fukuoka 7-B
29 Jul 1943: Col Scott + 6 other officers were transferred to Zentsuji POW Camp- these officers were later rescued at Mitsushima
25 Aug 1943: Dr. John G. Feder, Lt jg, USN (MC) arrives (ex Moji, ex Zentsuji, ex Guam)
1 Dec 1943: Renamed Fukuoka 2-D
22 Aug 1944: second group of POWS arrive ex Hakusan Maru
14 Apr 1945: Jurisdictional control transferred to HIROSHIMA POW CAMP 5-D
August 1945: Renamed Hiroshima Branch Camp #5B
Sept 1945: Rescue Effected
---

Red Cross Description:
Fukuoka Camp 7 at Ube was reported by the Red Cross delegate in April 1943 delegate [Mr C. A. Kengelbacher, a notorious Japanese sympathizer] as being in a "sunny and healthy location" within the Ube industrial district, close to the inland sea about 50 miles from Shimonoseki. This was the worst of the camps visited, with the men being underfed and overworked, with even the sick being forced to work in the coal pits. The camp was also possibly subject to air raids due to its location.
Source: August 2003 Newsletter-The National Ex-Prisoner of War Association is a member of the Council of British Service and Ex-Service Organisations. Code: 948, Registered Charity No 292804
---

Japanese Staff:
Not located yet. Colonel Sugasawa had overall command of the Fukuoka Camps.
Chenery papers (British Camp leader) indicate following:
Staff (partial):
28 Nov 1942 to 12 Aug 1943: Lt Kaneko - Reported to have been concerned about the sick [forced to] work but follows opinion given by Japanese doctor that marks most men as fit for work.
13 Aug 1943 to 20 Jul 1944: Lt Okada- Weak, liar & thief – This resulted in another Japanese camp soldier (Sgt Inoue) becoming a bully.
21 Jul 1944 to 28 Feb 1945: Lt Normi- Good man of the bunch
1 Mar 1945 to 30 Apr 1945: 2 Lt Tahara -Another good one
1 May 1945 to Sept 1945: (Rescue): Lt Hyashida- Another bad one – ordered Jap mine personnel to beat POW's who transgressed rules. Sgt Inoue becomes a bully again.
---

Arrival Details:
First Group, under Col Scott, arrived at Moji. Group 1 were marched to a large barge and towed across the inland sea to Ube to form the basis of the camp which is the main subject of this document (Camp 7 on the IRC report (2)). They arrived at 00.30 hours (27 Nov 42) with the men groaning in pain from the freezing cold conditions. The camp at Ube appeared to be luxury though, after such a dreadful journey. This group were then organised as a batallion of 2 companies each with 3 platoons.
---



Assorted original documents and photos

(PDF)

Labor:
Coal mining (Ube Mining)- mine was in nearby hills in Okinoyama, a suburb of Ube

Roberts' Report:
Extract of post war investigation to summarize this camp. Brief overview

Summary of camp facts:
Camp facts and observations by Australian researcher Phillip West. Much of the information and British rosters are a direct result of his research [His father's POW Card]
---

Hell Ship:
First POWS came from Java on the Singapore Maru [excellent story of this voyage], arriving 27 Nov 1942. 170 British including 17 Officers under Colonel Scott. (including Col Scott, Col Brigdin, Maj Graham, Maj Robinson, Captain Chenery)

Second group apparently arrived 22 Aug 1944 on the Hakusan Maru ex Thailand. This would have been the "second ship" after the Asaka Maru ran aground and some 738 POWS were transferred to the Hakusan from the Asaka Maru while at Takao harbor. The Asaka Maru had departed Singapore on 4 August 1944 and the men were transferred to the Hakusan on 17 Aug 1944 according to convoy records.
---

Camp Rosters:
British POWS.
278 men; one man (Leslie F. Howard) died after surrender of croup pneumonia
Download Excel spreadsheet: (87Kb) much more information including units and home address
American POWS: Roster (3 Americans )
Feder, John George, LT, USN, 83504, US Naval Hospital, Guam, ex Moji Fuk-04 ex Zentsuji (pic 185.4.e)
Bailey, Elliott E., Pvt, 18057000, Phil Med Depot
Ray, Charles A., Pvt, 18020432, Phil Med Depot
Capt. Virgil Jackson Dorset (MC) - Sent to Hiroshima #8 Motoyama on 5 July 1945.
Original rosters (PDF)
Roster Aug. 15, 1945 (RG 389 Box 2070)

Deceased POWS:
Full List per NARA RG 407 Box 103 (in downloaded XLS) file
Full roster from Japan POW Network [External]
Death lists for Hiroshima camps (PDF)

---

Camp Reports:
Extracts from Captain D.J. Chenery's papers at the Imperial War Museum:
Punishment reports: (Lt. Col.Erik K. Scott & Lt. C.W. West)
Rations Report: Progressive reduction in rations
Letters to B-29 crew thanking them for dropping supplies

Detailed Report on Circumstances Attending Capture of H.M.S. "Mata Hari" - Reports on Prisoner of War Camps by Lt. A. C. Carston, Commanding Officer of HMS

Mata Hari

(courtesy of Jonathan Moffatt)

---

POW Record Card:
Sample of records maintained by Japanese of British Lieutenant Cecil West
Post Cards home from West: Card 1 Card 2

Photographs:
2 small pictures of camp area at end of war- weak on detail. PLUS two pictures of work parties cutting wood in nearby hills.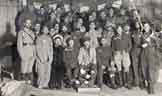 Propaganda Photograph of British Officers and men- some identified (Click for large image)
Misc pictures: possibly taken after surrender- preparation of memorial- courtesy of P. West. Includes Jap guards.

POWS built a monument for deceased fellow POWs, April 1945. Images have been removed from Mine company web site within the last year (2005). It is not known if the Japanese Mining company has removed the memorial but no link has been found again.
Historic Photo of waterfront where camp was located.
---

SPECIAL: Letters written to crewman of B-29 that dropped food on camp. Written to W.C. Atkinson. Fascinating stories of the food drop.


---

Reference List and Acknowledgements:
Developed by Phillip West- citations from Imperial War Museum

---