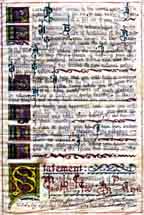 Click for larger image
The speech is on a large Japanese Paper business form, and the "unknown author" used colored pencils on the reverse of the form to make the design.
Image & Text Courtesy of Kurt Stauffer, noted collector of WWII memorabilia, Lynnwood WA
---
Peace: Peace comes to the world again. It is a great pleasure for me, to say nothing of you, to announce it is for all of you now.

The Japanese Empire acknowledges the terms of suspension of hostilities of the American Government, even though the two nations still do not reach the best agreement of a truce. As a true friend from now, I am going to do my best in the future for the convenience of your life. In this camp, because of having been able to get friendly relations between them, and also the Japanese Government has decided its own national policy for your nation.

Therefore I hope that you will keep a comfortable daily life by the orders of your own officers from today while you are here. All of you surely will get much gladness in returning to your own lovely country at the same time one of my best wishes for you is this.

Your health and happiness call upon you and your life henceforth, and they will grow up happier and better than before, by the honor of your country.

In order to guard your life, I have been endeavoring my ability, therefore you will please cooperate with me in any way more than usual, I hope.

I close this statement in letting you know again how the peace, the peace has already come.

STATEMENT:

Made by the Commandant of Prisoner of War Camp, Hanawa, Japan, 9:09 AM, 20th August 1945.

Transcribed for Tech Sgt R.W. Pope, Engrs. USA, by Sgt Maj C.R. Jackson, USMC, 25 Aug 45. Most likely from short-hand notes. The Commandant was taken prisoner by the POWS and later transported to Yokohama where they turned him over to the MPs for war crimes.
---