Hanawa POW Camp
Sendai Command, also known as Sendai #6 Divisional Camp. Formerly Tokyo #8
Slave Labor Camp for the Mitsubishi Company's Osarizawa Copper Mine
---

Camp History:
Five Page Essay by James T. Murphy
---

Location:
AKITA-ken, KATSUNO-gun, OSARUSAWA-mura. [Osarizawa-mura]
Satellite View
Relief Map- show location in relation to other camps
Aerial (May 1948; courtesy of Japan Map Archives)

Definitions: Japanese location terminology
---

Camp Timeline:
8 Sep 1944: Established as Tokyo 8-B (OSARUSAWA KOZAN)- ex hell ship Noto Maru
14 Apr 1945: Jurisdictional control transferred from Tokyo POW Camp 8-B to Sendai POW Camp. Established as Sendai Branch Camp No. 6-B, (MITSUBISHI KOGYO OSARUSAWA [aka HANAWA] KOZAN)
September 1945: Rescue Effected

Timeline: Camp logbook - Source: Adrian Martin
---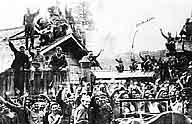 Camp Photograph taken at rescue
Click on picture for larger image; original in below link. Scan courtesy of James Murphy.
Many photographs of Hanawa camp, taken at liberation, Sept. 1945

---
Japanese Camp Staff:
George Cobb - stated that a Japanese guard nicknamed "Happy" (ore crushing detail) covered for men who were unable to work and smuggled in food. POWs gave him a letter asking that he be given assistance by the liberators.

War Crimes Trial:
Tsuchiya, Hichiro, Mine Foreman, Osarizawa Mining Company (copper mine), near Sendai Area PW Camps No. 6 and 7, Hanawa, Honshu, Japan

---

Interviews:
Interview with George E. Cobb, POW # 35

Memoir- Harry Whittinghill describes ordeal of capture on Bataan through rescue at Hanawa. Limited value as no dates specified- NOT a diary

---
Primary Labor Use:
Copper Mining

Hell Ship:
500 men arrived on board the Noto Maru that departed Manila 14 Aug 1944 for Moji, Japan (brief stop in southern Formosa port of Takao). The POWs arrived at this camp on 9 Sep 1944.
Commonwealth- Hellship not known

---

Camp Rosters at Liberation:
Roster at liberation, Sep 1945 - includes deceased
American Army, Navy, USMC
British (includes one Australian, RAAF)

Original documents (PDF)
Roster of assorted nationalities at Tokyo and Sendai camps (PDF) - Hanawa camp specifically listed in this roster

---
List of deceased at Hanawa:
(includes dates, cause & Next of Kin)



James Murphy 1941
Complete rosters - Compiled, edited and verified by former POW James T. Murphy and his wife, Nancy, from records obtained at the National Archives by Roger Mansell. List of all ranks include serial number, place of capture and service. List of deceased includes date, cause and next of kin.

---


Jim's story (5 pages)
---

Books Describing Life at Hanawa:

"..when men must live" by Kenneth B. and James T. Murphy (I West Publications, Livermore, CA, 2009) - Memoir of Army Air Corps Tech Sgt James T. Murphy captured on Bataan and eventually rescued at Sendai #6, Hanawa. Extensive description of initial attacks on Nichols Field, Bataan battles and experiences in various POW camps. Good detail of the hell ship, Noto Maru. The values instilled in him as a youth allowed him to survive. Contact

Brothers From Bataan by Adrian R. Martin - Excellent research by nephew of a POW who perished in this camp. Also includes copy of souvenir roster prepared by a survivor. Has roster of Noto Maru and Las Piņas labor detail. Rosters have numerous errors since the "camp prepared" rosters were typewritten and not proofed against personnel records. Ask for compiled roster by this Center.

"I Am Alive" by Sgt Maj Charles R. Jackson, USMC, edited by Major Bruce Norton. Somewhat disorganized and limited descriptions but fascinating reading.



The Expendable Garrison

by Warren Jorgenson (Tate Pub. 2015) - Good biography covering this Marine's time in the Midwest US, Shanghai, Corregidor and Hanawa.

Webpage on Frank Goldstein and interview (MOV files) by the Proviso School Project

---

Japanese Commandant's announcement that war is over (illustrated)
---

Modern View of Camp:
Link to current Japanese page for this camp, now a "Theme Park" for mining. Known as the "Mine Land Osarizawa." An interesting trip to this location is here.
---