Fukuoka 14-B "Nagasaki"
Location:
NAGASAKI-shi, SAIWAI-machi
Camp was 1850 meters (1.15 miles) from ground zero and was completely destroyed by the A-bomb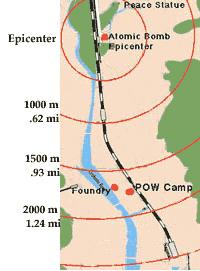 Map Courtesy of US Merchant Marine Assn

Satellite View (small memorial plaque on roadside)
Area Map - relation to other Fukuoka area POW camps
Aerial (Nov. 1947; courtesy of Japan Map Archives)

Employer of slave laborers:
MITSUBISHI JUKOGYO NAGASAKI ZOSEN-JO [Mitsubishi Foundry Co.]
---

History:
22 Apr 1943: Established as Fukuoka 14B
Sept 1945: Rescue effected
---

Time Line:
Source: Henk Beekhuis - Dutch POW
25 April 1943: Group arrived (about 300 Dutch)
15 May 1943: Group arrived (two Dutch nurses) ex Fukuoka #2. Included the Dutch medics, Dr Huisman and nurses Charles Alexander Denkelaar and Schenkhuizen.
28 August 1943: Group arrived (12 men coming from Moekden/Mukden?)
4 Dec 1943: British known to have arrived ex Singapore per Bryer affidavit - Hawaii Maru (Maru Shichi (7) per Michno's book, "Death on the Hellships")
24 March 1944: Group arrived (2 Americans, Lowe and Van Allen, liberated at FUK-05) from the

Kenwa Maru


25 June 1944: Group arrived (about 200 survivors of the Tamahoko Maru)
---

Known facts:
Survivors of Tamahoko Maru, sunk 24 June 1944, taken to this camp; not all survived. Tamahoko Maru carried 772 POWs, 560 perished.
Report of British & Australian survivors ref the sinking of the Tamahoko Maru
British POW Ronald Edwin Bryer: article #1, #2

George Duffy's Camp Description

Labor:
Iron Foundry, Mitsubishi Steel Works
The POWs were used by Mitsubishi Heavy Industry Company. 195 POWs (152 Dutch, 24 Australian and 19 British) were imprisoned at the end of the war. 113 POWs died while imprisonment, 8 of whom were killed by Atomic Bomb. For full PDF report in Japanese, see here under 長崎三菱造船分所. (Special thanks to the POW Research Network of Japan)

Mitsubishi Steel and Arms Works target report (USSBS) - Note that the aerial photo shows the camp buildings but it was unknown to our military at the time (see below for photo, camp site circled in red). Note also this excerpt of the intel we had in late 1944 regarding POW camps in the Nagasaki area via interrogations of Japanese POWs.

---

Hellships:
Dutch arrived from Singapore on the Hawaii Maru, landing in Moji per Ronald Scholte.

---

Rosters:
FUK-14 Rosters 1946-02-16 - ORIGINALS
See also Henk Beekhuis' website (in Dutch) for info on #14 including rosters (

Naamlijsten

, per camp and alphabetical).

Deceased:
POW Research Network

---

Eye Witness Report: Javanese/Dutch POW excellent description of atom blast and camp.

Books:


The Forgotten Highlander

by Allistair Urquhart


A Doctor's Sword

by Bob Jackson



Memorial monument

to be unveiled in May 2021. See Foundation Monument Nagasaki for more information (site is in Dutch).

---
Air Raids and Atomic Bombing of Nagasaki
長崎市の空襲 原爆投下


First A-bomb targets listed, July 24, 1945 - Hiroshima, Nagasaki, Kokura, Niigata
Colonel John Stone message to commanding General of Army Air Forces, Henry H. "Hap" Arnold.

Pres. Truman note about A-bomb use, Potsdam Conference, 1945-07-25


"This weapon is to be used against Japan between now and August 10th. I have told the Sec. of War, Mr. Stimson, to use it so that military objectives and soldiers and sailors are the target and not women and children. Even if the Japs are savages, ruthless, merciless and fanatic, we as the leader of the world for the common welfare cannot drop this terrible bomb on the old Capitol or the new.
He and I are in accord. The target will be a purely military one and we will issue a warning statement asking the Japs to surrender and save lives. I'm sure they will not do that, but we will have given them the chance. It is certainly a good thing for the world that Hitler's crowd or Stalin's did not discover this atomic bomb. It seems to be the most terrible thing ever discovered, but it can be made the most useful."



A-bomb targets and authorization, July 25, 1945
"Letter received from General Thomas T. Handy to General Carl Spaatz authorising the dropping of the first atomic bomb. Japan" - United States Strategic Bombing Survey (USSBS)

Air raids on Nagasaki before the Atomic Bomb raid
Records nearly 20 air raids (over 210 aircraft) by the 20th (B-29's), 7th, 5th Air Forces and Navy planes, from August 1944 until Aug. 9, 1945. Included is a list of some of the American B-29 airmen captured by the Japanese on Aug. 20, 1944, on Iki Island in Nagasaki Pref. (see Japan POW Research Network PDF under "Seibu Kyushu District"; for full report, see MACR 42-24474). Air strikes continued on Japan even after the A-bomb was dropped on Nagasaki.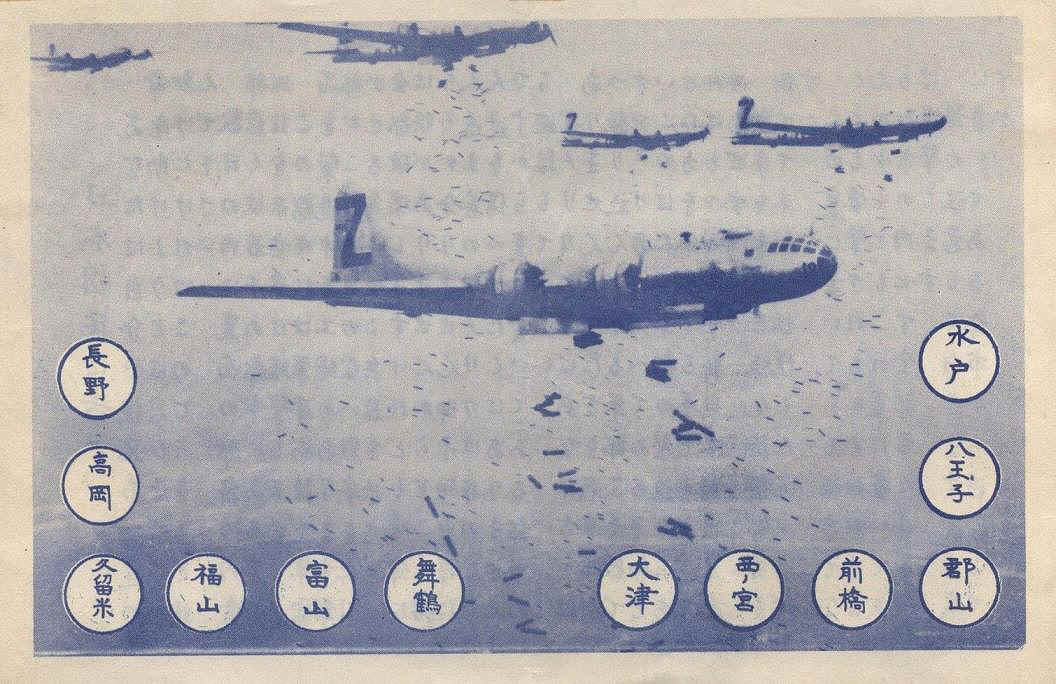 Were the Japanese warned?
On Aug. 1, 1945, some 1 million leaflets were dropped on 30+ cities (including Nagasaki) telling them to flee the cities before bombs rained on them. By Aug. 9, The number of leaflets dropped over major cities in Japan warning them about the A-bomb had reached some 5 million. - Williams

Info War in Pacific


Nagasaki warned to evacuate (leaflet in Japanese with English translation, Aug. 6, 1945)

Ground zero BEFORE atomic bombing of Nagasaki, Japan
Ground zero AFTER atomic bombing of Nagasaki, Japan
"Ground zero is the spot directly below the explosion of the bomb." (USSBS)

Nagasaki Targets Reports, Oct. 26, 1945
Begins with list of targets on Kyushu island; assorted reports pre- and post-attack, with many aerial images (contains duplicate reports)

Nagasaki Urban Industrial Area Damage Assessment, Sept. 4, 1945

Atomic bombings of Hiroshima and Nagasaki (1945) - Report by The Manhattan Engineer District, includes damage, injury and casualty data, selection of target, effects, eyewitness account by Prof. Siemes (Hiroshima)

Miscellaneous Targets: Atomic Bombs, Hiroshima and Nagasaki, Article 1, Medical Effects, Dec. 15, 1945 - Report by U.S. Naval Technical Mission to Japan; general aspects, effects of radiation on humans, etc. (NOTE: Nuclear physics research in Japan section is missing.)

Photographs of the Atomic Bombings of Hiroshima and Nagasaki 1945 (Manhattan Engineer District)

List of names and addresses of Japanese investigators of A-bombings (USSBS)

Effects of A-bomb on Hiroshima and Nagasaki
Captions and narration for a movie on the A-bombings; Nagasaki starts on page 39. Note that the air raid alarm and alert warning continued for several hours prior to the explosion at 11:02AM.

Urakami, Nagasaki
"A panoramic view around ground zero at Nagasaki, Japan. This picture was taken from the platform of the Urakami Railroad Station. The buildings on the right are the remains of the Nagasaki Medical College. 14 October 1945." (USSBS)

The Outline History of Nagasaki City by Kiuchi and Sonoike, Imperial Univ. of Tokyo
"To present a general topographical description of the City of Nagasaki which has become more world famous since it was made the second target of the atomic bomb." Of note: "...the descendants of the Uragami villagers... remained faithful Christians, gave up 30,000 of their lives... for the atonement of crimes by the Japanese militarists."

Nagasaki Trend of People's Morale by Jukichi Okada, Mayor of Nagasaki City (English and Japanese) - Changes in attitudes of the Japanese in their "fighting spirit" during WWII. Of note: "...the workers [including students, women and girls]... did not lose their fighting spirit to the very last, and stuck to their posts." See also Effects of the Atomic Bombs on Morale (USSBS, June 1947).

Nagasaki Special Interviews, Nov. to Dec. 1945
USSBS Morale Division conducted interviews with the following: Jukichi Okada, Mayor of Nagasaki; Eisuke Negishi, Nagasaki College of Industrial Management; Kiyoshi Takese, Nagasaki Medical College; Nagasaki Pref. police; Takejiro Nishioka, president of Nagasaki News; Sadao Urakami, Nagasaki ration officer; Masayoshi Yokoyama, mayor of Tokitsu village; Eiji Nozawa, principal of Tokitsu Youth School; Moto, principal of Nagasaki Methodist Middle School for Girls; Nishioka bio

Foreign Population Statistics for Nagasaki Prefecture, Nov. 19, 1945

There were some who feared the 3rd city to be bombed would be Tokyo on Aug. 12th:


"On the afternoon of the 12th, San Francisco broadcasted that the Japanese reply [re surrender] was very late and intimated that as a result it might be necessary to bomb Tokyo. (Meanwhile we had heard from a prisoner of war, a B-29 pilot, that your government planned to use the atomic bomb on Tokyo on the 12th.)" - Hisatsune Sakomizu, Chief Secretary, Suzuki Cabinet


Indeed a third A-bomb was ready for use, with possible targets having already been listed earlier in April 1945. Perhaps the next target would have been Yokohama or Tokyo Bay. See this interesting phone conversation between War Dept. Gen. Hull and Goves associate Col. Seeman on Aug. 13, 1945, while waiting for Tokyo's reply:


Seeman: "There is one of them that is ready to be shipped right now. The order was given Thursday and it should be ready the 19th... the 19th it would be dropped... Then there will be another one the first part of September... probably three in October..."
Hull: "...making a total possibility of seven. That is the information I want."



See this news article re Truman's warning to Japan (Aug. 10, 1945), and this one on page 2. Note that both articles tell of Japan saying it has its own similar A-bomb and will use it in kamikaze planes to decimate US invading forces. To our intel experts, this was not something to be laughed at, for Japan in fact was preparing a huge number of secret weapons (see OUTLINE OF NAVAL ARMAMENT PREPARATIONS FOR WAR). More alarming, it was conducting research into its own A-bomb (see below for more information on the Japanese quest for that super weapon).

The war started with Mitsuo Fuchida leading the attack on Pearl Harbor, and it ended with the Nagasaki A-bomb. Here's what Fuchida had to say to

Enola Gay

pilot Capt. Tibbets:


"You did the right thing. You know the Japanese attitude at that time, how fanatic they were, they'd die for the Emperor. Every man, woman, and child would have resisted that invasion with sticks and stones if necessary. Can you imagine what a slaughter it would be to invade Japan? It would have been terrible. The Japanese people know more about it than the American public will ever know." -

This Token of Freedom

by Helminiak


Pres. Truman's views on the use of the atomic bomb
A compilation of messages from Aug. 9, 1945, to Aug. 4, 1954, regarding justification for using the A-bombs against Japan.


"Nobody is more disturbed over the use of Atomic bombs than I am but I was greatly disturbed over the unwarranted attack by the Japanese on Pearl Harbor and their murder of our prisoners of war."

---

For more insight into Japan's atomic research, read:


Dwight Rider on the reason why Japan surrendered: "The Japanese government was definitely concerned about the growth of a communist movement inside Japan at that time and the future of the Japanese Emperor system, and that is why they surrendered. Again, it was because of the bomb, not the Soviet invasion, and the potentially growing threat of communism inside Japan in wake of a total collapse, that prompted them to do that. Finally, in the Emperor's own statement, he credits the bomb as being a terrible new weapon which could lead to the destruction of humanity as his reason to surrender, not the USSR. The USSR was only part of the deteriorating events that contributed."