Futatabi Civilian POW Camp
Osaka Command, Section I
Hyogo Ken
Located in the foothills approximately five miles north of Kobe and contained only civilians from Guam, as well as expatriates and business men who lived in the Kobe area.

---



Links of merit:


See chart on Hyogo CIC's for chronology and further information on this camp.

---

B-29 crash of March 17, 1945, near Futatabi - REPORT - MAP

Primary Labor Use:
None- Civilians cut own wood for heat. Had to haul daily food from Kobe on heavy cart over the hills. Extremely exhausting detail as men were severely undernourished. Read interesting story of man who gave them extra food and cigars.

---

Kobe Futatabi Report Part 1 - Part 2 (RG 407 Box 145) - Includes crash report and map, death roster

---

Futatabi Rosters: Guam Residents only taken to Japan at start of war. Included staff of PanAm, Capuchin Fathers, contractors, and retired military.


---

Story of Navy Nurse Marion Olds, Guam - Zentsuji - Kobe - Gripsholm

William Johnstone bio

---



Books about Futatabi:


"Trapped With The Enemy!" by Jim Thomas (July 2002). Worth reading! Well done!


---

Special Collection: Ronald N. Huston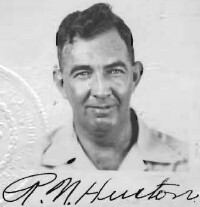 Memorabilia donated by Scott H. Mahoney -- "While going through some old boxes that belonged to my grandfather, I found papers concerning his capture on Guam on 08DEC41. His name was Ronald Earle Huston. He was a civilian working for Standard Oil. There are letters home to his folks, newspaper clippings, and letters he wrote home from a camp in Kobe." Special thanks to Scott for making this material available.

Ronald Huston Collection 1 -- photos, "Shorn Lambs Club" roster (Dec. 10, 1941), news clippings, POW letters home, telegrams, Season's Greetings card

Ronald Huston Collection 2 -- Pan Am Clipper News (Sept. 15 & 18, 1945), photos of Franklin D. Roosevelt on Hawaii (date unknown)