Dapecol - Abbreviation for "Davao Penal Colony," a POW farm labor camp

Davao - Small port city on southeast coast of Mindanao. The POW camp was located some ten miles northwest of the port. Camp was closed 6 June 1944 and the POWS were sent first to Cebu on the Yashu Maru. In Cebu, they were transferred to the Singoto Maru and moved to Manila and into Bilibid.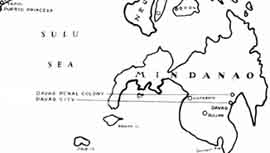 ---
Assortment of images including Davao Penal Colony

(courtesy of Frank Blazich) - see contents file for list of images; email us for hi-resolution images.

Rosters:
Actual Roster: [large file-147 Kb] Found by Roger Mansell in NARA Record Group 407, Box 95 (Philippine files) and thoroughly cross checked against the Center's Primary data base. List was typed as of 15 April 1944 and buried. Container was located after the war. [caution- slow loading- 156kb - 26 Second download on 56Kb modem]

Ask for complete data set with much more info (Excel or Quatro Pro formats)

Recreated Roster: Recreated from various reports and NARA records. Indicates names that "may" have been at Davao at different times

Deceased Roster
Roster of men known to have died in this camp before it closed.

---

Special Links:
Voyage of the Oryoku Maru- survivors sent onward on the Enoura Maru and Brazil Maru
John Lukacs book- details his experiences as a POW, especially at Davao. His name does not appear on the April 1944 roster. It appears he arrived later than April 1944, or departed before this date. Related: Atrocities Against Allied POWs: What we knew and when, and how we reported the facts

Shinyo Maru- excellent overview of this tragedy when sunk by the USS Paddle; numerous interviews- by Eugene Mazza