See CODE LIST (xls file) for explanation of camp designation codes.

MAP GIVING NUMBERS OF MILITARY AND CIVILIAN PRISONERS IN SOUTHERN ASIA

TABLE OF INTERNEES IN PRISONER OF WAR INTERNMENT CAMPS

(

transcriptions courtesy of Scott Proudfit)



POW Camp Conditions on the Asiatic Mainland

- Military Intelligence Division (Military Intelligence Service) analysis of POW camps in China and Southeast Asia based on what we knew in July 1944 (scans courtesy of Barbara Duffield)


CIVILIAN INTERNMENT CAMPS - See Civilian Internment Camps in Japan for table

(see also Prisons and Jails below)

To-101 Kanagawa 1st Cp (Race Course) (Yamakita)
To-102 Bund Hotel Yokohama
To-103 Kanagawa Prefectural Cp
To-104 Sumire (St. Francisco Monastery)
To-xxx Watabe- Added per O'Guinn- Wake contractor *
Metropolitan Police Internee Camp
To-105 Izumi Apts (Totsuka)
To-106 Boat Club (Yokohama) also known as Yokohama Yacht Club or Yokohama Amateur Rowing Club (Also see Totsuka below) (Japanese web site)
Se-101 Fukushima Int. Cp Civilian Camp
Se-102 Miyagi Prefectural Cp
Os-101 Butterfield and Swire Res. #3 (Kobe) [Destroyed in fire bombing]
Os-102 Canadian Academy (Kobe) [Destroyed in fire bombing]
Os-103 Detention Prison (Kobe) Ta-Shibana-Cho
Os-104 Futatabi #4 (Kobe) (Fukiai-Ko Cp)
Os-105 Marks Residence (Kobe) [Destroyed in fire bombing-pictures of house]
Os-106 Seaman's Mission (Kobe) [Destroyed in fire bombing]
Ho-xxx Shimizu-cho- See Otaru
Hi-101 Miyoshi Civ Int Cp
xx-xxx Otaru City - Wakatake Hokkaido [per Jill Holmgren, Fairbanks, Alaska]
Fu-101 Sawai Tyo Apts (Nagasaki)
To-201 Sekiguchi - TOKYO-added by the Center for Research
Na-101 Tempa Ko Civ Int. Cp (Nagoya)
xx-xxx Totsuka [per Jill Holmgren, Fairbanks, Alaska] -Also see Australian Nurses
To-XXX Totsuka- Rabaul Nurses plus pictures!
Se-103 Civ Internees at a Catholic church Aanawa North Honaki


PRISONS AND JAILS

To-151 Kamioka Prison (Gummyoji) Yokohama
To-152

Kempei-Tai Hqs.

(Tokyo)
To-153 Ueno Park Police Station (Tokyo)
To-154 Sugamo Penitentiary (Tokyo)
To-155 3 Cell Jail (Tokyo)
To-156

Kempei-Tai Hqs.

(Yokohama)
To-157 Tokyo Military Prison
To-158 Kotobuki Police Station, Yokohama
To-159 Yokohama Central Prison, Yokohama
Os-151 Kikusui Police (Kobe)
Os-152 Osaka Honmachi (Osaka Jail)
Os-153 Kobe Water Police Jail
Os-154 Sakai Penitentiary (Osaka)
Hi-151 Kure Naval Prison (Hiroshima)
Ha-151 M.P. Prison (Sapporo) [same as North Army Hq]
Ha-152 Sapporo - aka Northern Army Hqs
Fu-151 Miyazaki Kempei Tai Hqs.



NOTE re Kempeitai Military Police

(info courtesy of Mindy Kotler):


The

Kempeitai HQ for Tokyo

where the American "special prisoners" were held and interrogated in 1945 was the

Eastern District Kempei Headquarters

[東部憲兵隊司令部, Tōbu kempeitai shirei-bu], which supervised Tokyo, Yokohama, Yokosuka, Chiba, Kōfu, Utsunomiya, Urawa, Mito, Maebashi, Nīgata, and Nagano. It is the current

Chiyoda Ward Office

, with the address of Tōkyō-to, Chiyoda-ku, Kudanminami, 1 Chome−2−1, 東京都千代田区九段南1-2-1. The

Japanese Empire Kempeitai HQ

was southeast of the Imperial Palace and is currently the

Palace Hotel Tokyo

, 1-1-1 Marunouchi, Chiyoda-ku, Tokyo. For additional details, see this

PDF memo

(courtesy of Kevin Lin).



MILITARY HOSPITALS

To-201 Tokyo #1 Miliatary Hospital
To-202 Sagamihara Hosp. (Tokyo)
To-203 Shinagawa Hosp. [Stadium Camp?] see Ford letter
To-204 Yokosuka Naval Hospital
Os-201 Itchioka (Ichioka) Hospital (Osaka Stadium)
Os-202 Osaka Military Hospital
Os-203 Kobe Hospital
Os-204 Kobe Military Hospital
Fu-201 Kokura Military Hospital
Fu-202 Moji Military Hospital
Hi-201 Shimonoseki Quarantine Station
Hi-202 Besshi Sumitomo Hosp., Niihama

---
---
Asia Camps
See also ASIA POW CAMP GROUP HISTORY, and assorted information here on Southeast Asia POW camps.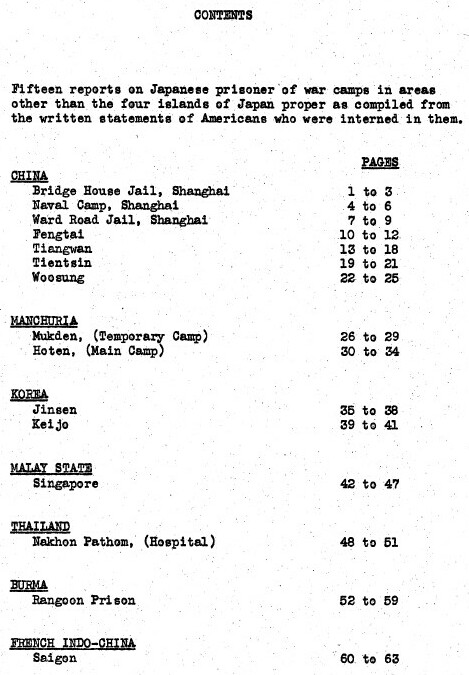 From document:

POW camps in areas other than mainland Japan 1946-07-31


PHILIPPINES

No Philippine camps were listed in submissions by Japanese as the Philippines had been recaptured by the Allies.
List of PI Camps from the Recovered POW List

For history and information on camps, read Cooper Report on Medical Activities in the Philippines & Japan, Prisoners of War in the Philippine Islands, and Office of the Provost Marshal General Report on POWs in the Philippines. Read also this account of POW camps in the Philippines: Death Was Part of Our Life, LIFE magazine, Feb. 7, 1944 issue, and this story of escape from Davao Penal Colony, Philippines: Ten Escape From Tojo; related, see also PDF download of The Dyess Story.

Ghosts of Bataan documentary - Roger Mansell credited in this video



Guerrillas in the Philippines

- excellent research by John Lewis, including section on guerrilla submarine missions to the Philippines

Typical Japanese Atrocities During the Liberation of Philippines 1945-09-12 (DOC file, transcription courtesy of Scott Proudfit)

Disposition of All POWs in Philippines Oct1943 - in process

Military Units in the Philippines - PDF list from

The Quan



Asst_Images_of_Bataan-Cabanatuan-Bilibid-ODonnell-Davao (PDF) - great assortment of images, courtesy of Frank Blazich; contents text file - Email us for hi-res images

RG 496_Box 40_Road_and_Trail_Map_of_Bataan_Peninsula_1942-01-04 (PDF) - huge map, total of 32 tiles; courtesy of Frank Blazich

Many links about civilian camps and military prisons:

POW/INTERNMENT CAMPS IN ASIA DURING WWII



The following camp list is compiled from submissions by former POWS:

Bachrach Garage Detail
Baguio
Bataan
Bilibid- central POW camp in Manila
Dr Kentner's Journal [Report on Bilibid- Tagalog for "prison or jail"]
Cabanatuan #1 Camp Desc & Rescue Roster. Good camp info here.
Cabantuan #3 [see references in above report, Cabanatuan Report #1]
Camp Murphy - Rizal- Departure Levy to the Noto Maru (150 men)
Capas
Casisang External Link- Narrative
Cebu
Clark Field
Corregidor 92nd Garage
Corregidor #7 (22 men- 4 survivors- rescued in airborne assault) roster pending
Corregidor #9- located at old station hospital between "Middleside and Topside for approximately 10 months" per research of Robert Piland (Col Wright's diary- has list of 223 military & civilian prisoners, pg 183-186)
Davao - Camp #502- Davao Penal Colony DEPOCOL
Fort Hughes
Las Pinas
Lipa- Batangas [air strip construction]
Los Baņos
Manila Port Detail - Camp #11
Malabalay - interim camp on Mindanao closed Oct 1942 men moved to Davao
Muntinlupa [New Bilibid]
Nichols Field [Pasay School Camp} Officially Camp #5 (Gruenzner, 1979)
Nielson Field
O'Donnell (Provost Marshall Report with footnotes) Officially Camp #4 (Gruenzner, 1979) Good camp info here.
Palawan (Puerto Princesa) Roster of massacre victims [EXTERNAL LINK]. For more information, see these PDF files: Palawan Atrocity Summary of August 18, 1945 (including Amb. Joseph Grew's protest letter of May 19, 1945, to Japanese Govt.), and Massacre at Palawan, YANK magazine, April 20, 1945 issue.]
San Fernando
Santo Tomas- Extensive EXTERNAL LINKS [Link #1] worth visiting [Link #2] The BEST for individual stories and the complete story plus a great DVD movie about the camp. See also articles in LIFE magazine.
Tarlac (Held high ranking officers before shipment to Taiwan/Formosa)
Zamboanga

---
CHINA - Additonal camps courtesy of Tony Banham, Wes Injerd and Michael Hurst

Overiew of China civilian internment camps
The Hong Kong Defenders - Data base and history- Noted author & historian Tony Banham
Maps, detail and Photos of almost all China, Taiwan and Hainan Camps. This is an amazing compilation by noted researcher Wes Injerd
Overview of the Fall of Hong Kong [Amazing diary that was written in numerical code]
Mukden - See Manchuria List below
SPECIAL: See Dr. Greg Leck's book- The single best book about the China civilian internees
Photos from Jim Mockford's trip to China: Aviation Martyrs Memorial Park - With Wei Yulong at Aviation Martyrs Memorial in Nanjing - At Iris Chang Statue

Ch-1
Ch-2 Bridge House, Shanghai [External Link- Doolittle flyers interned here]
Ch-3 Argyle St. Barracks, Hong Kong [The officers' camp, Used about a year. Men were sent back to SSP]
Ch-4 Shanghai PW Camp (Conditions)
Ch-5 Kiang Wan, Shanghai, China
Ch-6 Woosung, China [Woo Sung]
Hainan Island - Haisho
Ch-7 Hai-Kow, Hainan Island, China [Hainan Island, Haisho now called Basuo]
Ch-8 Shamshuipo, Hong Kong, China [Main Camp] See Lewis Bush Report for section on Shamshuipo.
Ch-xx Sun Wah Hotel [NEW]
Ch-x Mau Tau Chung - [The Indians' camp]
Ch-x Ma Tau-wai - secondary civilian camp (Kowloon side)
Ch-x Rosary Hill - Comments & History
Ch-9 North Point Prison Camp, Hong Kong, China [used for a short time. Mainly Canadian and RN POWs
Ch-10 Peking PW Camp, China
Ch-101 Ash Camp, Shanghai, China
Ch-102 Chapai, Shanghai, China
Ch-103 Lincoln Avenue Civil Assemble Center, Shanghai
Ch-104 Pootung Internment Camp, Shanghai, China
Ch-105 Stanley Internment Camp, Hong Kong, China
Ch-106 Lunghwa Civ. Assembly Center, Shanghai, China
Ch-107 Canton, China Civil Assembly Center
Ch-108 Weihsien Civil assembly Center, Shantung, China External Link plus [Book]
Ch-109 Tsingtao Civilian Internment Camp, China
Ch-151 Ward Road Jail, Shanghai, China
Ch-152 Kempai Jail, Peking, China
Ch-153 MP Jail, Yochow, China
Ch-154 Hankow Jail, Hankow, China
Ch-155 Feng-Tai Prison Camp, Peking, China
Ch-156 Gendarmarie at 67 Jess Field Rd., Shanghai, China
Ch-157 Gendarmarie Hqs., Hong Kong, China
Ch-201 Ward Road Hospital, Shanghai, China
Ch-202 Hankow, Military Hospital, China

[Specific Criminal Charge Files- China]
Ch-251 Torture & Killing of Doolittle Flyers in Shanghai
Ch-252 Civilians forced to live near military targets to prevent allied bombings, Hankow
Ch-253 Bayonet drill on live Chinese PWs.
Ch-254 Improper transport of PW within China
Ch-255 Killing of 80 Chinese Men & Women, 29 Nov 37 at Chang-Chou.
Ch-256 Exposure of PWs to bombing near Kuequang, China 28 Dec 42 (Boat trip from Hankow to Shanghai)

---
Story of transfers- Excellent seminar paper by Frances De Groen: 100 Aussies to Korea- Includes Roster of Australians! OUTSTANDING Reference
Hung Nam
Jinsen [AKA Inchon POW Camp] Story of Cliff Morris (British) eventually sent to Omine- Camp layout map
Keijo Camp [AKA Seoul POW Camp] [Australian POW- external link]
Konan PW Cp. (Hamhung near border with Manchuria) - also called Chosen Branch #1
Mil. Pol. Hqs.
Ryuzan Pl. Sta.
Seidaimon Prison, Fusan Korea
Youngsan Pol Sta.
Japanese Hqs., Ichang
Fusan Hosp. PW Cp.

Camps per Dwight Rider research:

Keijo:
Keijo
Keijo Main Camp
Camp "H" Keijo
Keijo # 81
Keijo No. 2
Keijo Branch Camp #1
Keijo Dispatch Camp #1
Keijo City Prison
Keijo Army Hospital, Keijo
Seidaimon Prison, Keijo

Jinsen:
Jinsen New Divisional Camp (Inchon Camp)
Korea P W Internment Camp, 1st Detachment
KOREA Divisional Camp
Keiki Provincial Hospital, Jinsen

Repho
Koshu
Pusan (Fusan)
Pusan Clearing Hospital, Pusan

Konan:
Konan New Divisional Camp
Konan P.O.W. Camp
Konan Dispatch Camp
Konan PW Internment Camp
Hungnam 1st Detachment Camp Medical Office
Civil Hospital Konan
Konan Hospital
Nippon Chisson Hiryo Co, Konan

Seishin, Ranan Division
Civilian Internment, Korea #223

[Specific Criminal Charge Files- Korea]
Keijo, Beating of Reiner at 1-16-42
Ichang Pol. Sta.
Massacre at Sarabo Isl. (200 Koreans) 16 May 45
Fusai, Parade of PWs thru Streets of

---

FORMOSA

POW Camps in Taiwan (Formosa) - An OUTSTANDING site (Taiwan POW Camps Memorial Society) developed by Michael Hurst (MBE). Photos, rosters, details. Camp links below will direct to this site.
Roster of POWS on Taiwan - Almost complete roster of the 4300+ known to have been there (searchable).
For-01-Kinkaseki
For-02-Taichu
For-03-Heito
For-04-Shirakawa
For-05-Taihoku-Mosak
For-06-Taihoku Main Camp
For-07-Takao
For-08-Karenko
For-09-Tamazato
For-10-Inrin
For-11-Inrin Temp.
For-12-Toroku- see also roster of 294 Americans and description of Hokusen hellship voyage
For-13-Kukutsu
For-14-Oka
For-15-Taihoku-Churon
For-16-Taihoku-Maruyama
Note: The first 14 camps were the "real" POW camps and the last two were just temporary camps set up to hold the men from Kukutsu and Shirakawa Camps who had been brought into Taihoku after the Japanese surrender to await evacuation. The men only occupied these camps for about 2 weeks before being removed from the island by the US and British navies. (per Michael Hurst)
[Specific Criminal Charge Files- Formosa]
Keelung, Formosa (Exposure of PW to Dangers of Bombing in Keelung Harbor)
Beating & Torture of U.S. Flyers 28 Jan 45 (S. Formosa)
Forcing PWs to Be Indecently Exposed to Public Ridicule at Formosa Docks Oct 42
B-24 Crash 18 Feb. 45

MacArthur's List (OLD) - contained too little information. [The list, supplied by the Japanese to MacArthur's staff, was far from accurate. One of the very worst camps was Kinkaseki which was not on list submitted to MacArthur. Original list follows in black - additions by Center made in red]
OLD LIST FOR MacArthur
Hitu or Hetu - HEITO #3 (PingTung)-
KARENKO [Hualien]
Mocksaka; Musak TAIHOKU #5 MOSAK (Taipei)
Shirakawa SHIRAKAWA #4 (Chiayi)
Taihoku or Tyroka Taiwan TAIHOKU #6 (Taipei)
Tamazato TAMAZATO (YuLi)
Taichu Camp (Incl Warehouse) TAICHU #2 (Taichung)
Kato Area Military Police
Kato Army Hosp.
---

MANCHURIA

Unit 731 - Experiments on POW [External Link]
Man-1 Cheng-Chia-Tun
Man-2 Hsian [held the high rank officers- 100 KM North east of Mukden]
Man-4 Mukden- Mukden [Hoten] ..Hoten Cp annex document link (PDF file) which contains roster of British POWS and many photographs.
Sub-camp: Shenyang (see Mukden Prisoner Of War Remembrance Society)
Man-5 Taihoku [location misidentified- see Formosa]
Man-101 Anshan Civ. Int. Cp.
Man-151 Military Police Prison: Mukden.
Man-152 Hsingkiang Jail

[Specific Criminal Charge Files- Manchuria]
Man-251 Exposure to Public Ridicule of T/Sgt. O.L. Hermann at Anshan

---

DEATH RAILWAY

Death Railway NEW The MacPherson Camp Name & Number Convention
POW Movements- Summary of dates and places
Bur-1 Hintock -Short memoir and description of camp
New Site- (and the BEST!) Australian research
British Site about the Death Railway by the FEPOW- Ron Taylor's new site with excellent history- rapidly growing!
Book- Trilogy -Excellent description of slavery on the railway
Dutch Viewpoint of Death Railway
Special: Info regarding the Death Railway Museum with NEW links
Kanchanaburi (Blog)- interesting overview of local heroes who helped the POWS
Map of the Railway Camps
---

NG - NEW GUINEA [Actually part of the NEI]

Rabaul- Excellent overview and story of women POWS [External Link]

NG-1 Rabaul Internment Cp. (2/22 BTN. Cp. site) M.B.
NG-2 Haruku Air Field [error- Is part of NEI-see below]
NG-3 Parom, N.G.
NG-4 Boiken, N.G.
NG-5 Kur?inge, N.G.
NG-6 Wewak, N.G.
NG-7 Kokopo, New Britain (PW Camp) [External Link]
NG-101 Vunapope Civ Internment Camp (Half-caste Boys School)
NG-151 Kempei Hqs. PW Camp, Rabaul, New Britain
NG-152 Tunnel Hill Prison, Rabaul, N.G.
NG-201 Manokwari Hospital, N.G.

---
JAVA MEMORIAL FUND: Worth reading and contributing!
A Child's Story: Excellent site relating travails of child interned on Java. Excellent pictures and time line
Special: The sinking of the Vyner Brooke and the Australian Nurses who survived [External Link]
Special: Dutch View of the Burma Death Railway [External Link]
Tjideng Reunion - Story of South African volunteers captured with families in Bandoeng
Essay by author regarding the South African Volunteers
Timor Gunners from the 79th Battery 21 Light Anti-Aircraft Regiment (roster courtesy of Graham Reader)
Many maps here: East Indies Camp Archives: Camps in the Dutch East Indies


???- Sumatra - The Sumatra Death Railway "Pakan Baroe"
Often called "The Forgotten POW Camp
???- Sandakan (Borneo) - [not on Japanese list- suggested link shown next]
??? Sandakan Death March Memorial
NEI-1-A Haruku Air Field Haroekoe Island, Ambon and Ceram Island
NEI-1 Tan Toie, Ambonia, Ambon Is. [ * sub-camps listed]
NEI-1 Galala (Ten-Toi) Tan-Toi?
NEI-2 Batavia PW Camp [BOOK REVIEW] - "Trilogy" gives good description]
NEI-XX Massacre at Balikpapan LINK (History); List of Dutch massacred at Balikpapan
NEI-3 Tarakan, Borneo (PW Camp)
NEI-XX Kuching BORNEO [External link] Batu Lintang Camp
NEI-XX Ambarara- civilian camp (story of young girl- J.E.H. Rijkee )
NEI-4 Tandjong Priok PW Camp, Java
NEI-5 Tjimahi PW Camp (9 miles from Soerebaja)
NEI-6 Boliglodek PW Camp (no atrocity)
NEI-7 Tjilitjap, Java
MEI-8 Soerebaja, Neth. E. Indies.
NEI-9 Soerabaja, Neth. E. Indies
Jaarmarkt & Darmo PW Camps
NEI-10 Bicycle Camp, Batavia, Java
NEI-11 Bandoeng, PW Camp, Java
NEI-12 Soekaboemi PW Camp, Java
NEI-13 Bamboo PW Camp, Makassar, Celebes
NEI-14 [Makassar] PW Camp, Celebes [Kampong Makassar]
NEI-15 Bedadari, PW Camp,. Borneo
NEI-??? Muna [Moena], Raha POW Camp *; Special "Dutch" site with story of transport to camp
Camp Halmaheira near Samarang [Source- Internee Peter A. Roed]
Camp Tjamahi near Bandung [Source- Internee Peter A. Roed]
NEI-101 Muntok, Bangka Is. off E/ Coast of Sumatra
NEI-102 Kuching Civ. Int. Camp, Sarawak. Borneo [Photo of Charles Mackenzie (RASC) and ???, captured in Singapore - courtesy of Melanie Winning]
NEI-151 Kendari Prison, Celebes, Neth. E. Indies
NEI-152 Heetjans Weg, Bandoeng, West Java
NEI-153 Kempei Tai-Singkang

---

SEA - SOUTHEAST ASIA

Changi Museum - not for research but honors the POWS- worth a visit if in Singapore
Des Bettany's POW Artwork of Changi - very interesting sketches of British POW's life as a POW
Dutch View of the Burma Death Railway
RAAF in Java [See links on this page for an excellent and highly detailed site - worth visiting]
SEA-0 General and Indefinite Information on Southeast Asia Area (Thailand, India, French Indochina, Malaya States, Burma and Adjacent Is.)
SEA-1 Kanchanaburi, Thailand.
SEA-2 Saigon PW Camp, French Indo-China
SEA-3 Penang PW Camp, Malaya Peninsula [west coast- could also be the same as the Convent Light Street School- survivors of the submarine USS Grenadier (SS 210) that was sunk 22 Apr 1943] [External Link]
SEA-XX- Maymyo Civilian Camp
SEA-4 Rangoon PW Camp, Burma [Rangoon Jail- closed 29 Apr 1945] [External Link- go to NEI camps]
SEA-5 Changi PW Camp, Singapore [Research Help file]
SEA-6 Hintoku, Sea-Asia
SEA-7 Tarso, Se-Asia
SEA-8 Singapore, Southeast Asia, Malaya
SEA-9 Burma Camp-108 (Kilo Camps) Southeast Asia Area, Burma
SEA-10 Hanoi, French Indo-China
SEA-11 Tonchin PW Camp, Thailand
SEA-151 Outram Road Prison, Singapore, Malaya
SEA-152 Rangoon City Jail, Burma
SEA-201 80 Kilo Camp, Hospital, Burma

---

MISCELLANEOUS ISLANDS - Carolines, Gilberts, Marianas, Marcus, Marshall, Soloman, Wake & Palau

CA - CAROLINE ISLANDS
CA-x Truk Island
Ca-251 Beating of E.F. Ricketts for consecutive days by Tukhei on Truk CA-252 Imp Questioning of crew of U.S.S. Sculpin at Truk.

GI - GILBERT ISLANDS
Gi-251 Prisoners killed by bayonets on Tarawa

Hainan - POWs from Ambon

Mar - MARIANA ISLANDS
Mar-1 GUAM PW CAMP
Mar-2
Mar-3 PW Camp at Agaņa, Guam
Mar-251 2 U.S. flyers found burned, one beheaded, on Saipan.
Mar-252 Exposure to danger of gunfire of US PW's at Dunkas Beach, Agaņa, Guam, 10 Dec 41.

Magia Is. - MAGIA ISLAND DISTRICT
Magia Is.-1 Magia Is. District PW Camp

Marcus - MARCUS ISLAND
Marcus-251 Beating of U.S. Flyers on Marcus Is., 4 Sept 43

Mars - MARSHALL ISLANDS
Mars-251 Beheading of 5 U.S. fliers & 2 Priests on Mille Atoll
Mars-252 Mistreatment of Zamperini & Phillips at Kwajelein
Mars-253 Beating of Tinker on Jalvit Is.
xx- Jaluit Atoll Case - PDF file about execution of 3 captured fliers (Trial of Rear-Admiral Nisuke Masuda et al)

Ry - RYUKYU ISLANDS
Ry-1 Tocuno-Shima (Between Okinawa & Kyushu Is)
Ry-2 Amamia, Shima Ryukyu Islands

Kuriles - KURILES ISLANDS
Kuriles-251 Beating of 3 U.S. P.W.s at Paramoshiri, Kuriles Island, 19 May 45 (See Saporro POW Camp- Milt Zack's story)
Kuriles-252 Improper marching of PWs on Paramoshiri, Kuriles Island, May 45

SO - SOLOMON ISLANDS
So-1 Teninbaubau PW Camp, Bougainville
So-X Ballale Airstrip - 517 Royal Artillery men from Singapore- built airstrip- all died- 436 known to be massacred on 5 March 1943- external link- well illustrated
Bodies of 24 men never recovered (story of Gunner Alfred W. Burgess)

WA - WAKE ISLAND
Wa-1 Wake Island- The full story as told by the USMC Historical Center
Diary of Wake civilian POW- Emmett Newell
PA - PALAU ISLAND
Pa-1 Gaspan PW Camp, Babelthuap, Palau
PA-2 Babelthuap PW Camp, Palau
Pa-3 Koror PW Camp, Palau
More links here: Wake Island Massacre

---