Fukuoka #3 POW Camp
Prisoner of War Information Bureau states first located in suburban section of city of

Yawata

(Yahata); new camp was then erected in suburb of Tobata (HQ and Military Hospital in Kokura); POWs always worked in Yahata Steel Mills; area now the city of KITAKYUSHU.
Exact location: the latitude and longitude of the camp are: 33 degrees 54 min 0 sec North and 130 degrees 51 min 2 sec East (Courtesy of John DeBriere)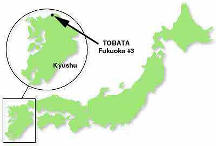 ---
Location:
Fukuoka-03-B KOKURA-shi, OAZA NAKAI, AZA YAKURASHIMO (NIPPON SEITETSU YAHATA SEITETSU-SHO)
Satellite
Area map
Aerials courtesy of Japan Map Archives:

---

Timeline:
23 Sep 1942; Established at YAHATA-shi, NAKA-machi, Known as YAHATA Provisional POW Camp [Also known as "The Citadel"] Satellite View
Nov 1942: 36 US Marines arrive from Woosung.
1 Jan 1943: Renamed FUKUOKA POW CAMP YAHATA Branch Camp
1 Mar 1943: Renamed 3-B
15 Dec 1943: Moved to KOKURA-shi, OAZA NAKAI, AZA YAKURASHIMO
13 Sep 1945: Rescue effected
---

Camp Layout:
Sketch by Sgt Davis
Sketch of camp location: by David Nash
Location map - text (helps explain the various locations of Fukuoka #3)
Recent photo of where camp was, looking east, showing hillside

Bombing Raid: Description of the first B-29 raid over Japan- Target Yawata - excellent narrative of the first major raid over Japan.
---

Books (2) Describing Life at Fukuoka #3

Special Pages for all Fukuoka Camps
---

Special: The Survivors from the submarine, USS Grenadier SS210. [EXTERNAL Link] Rescued at Tobata

---

Camp Photographs
Main Street, B-29 dropping food (shows handmade flags) and overview from nearby hill. Private collection of Pat Hilley and NARA Pictures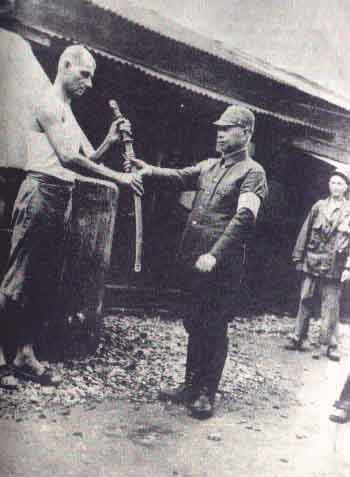 Major William O. Dorris accepting the surrender of Japanese Camp Commander.


80-G-346525: Former Japanese commandant of POW camp, Fukuoka #3,

Major Rikitake

, yielding sword to Major W.O. Dorris, USA, present commandant of POW camp in Tobata, Kyushu, Japan. [Fukuoka #3] 15 Sep 1945. Major Dorris was leader of the rescue team for the Fukuoka camps. Records indicate he was rescued in the Philippines in early 1945.


More Photos - includes picture of first camp, "The Citadel." A couple more photos can be seen here at the Bataan Commemorative Research Project website.
Slave Labor: Slave Laborers at the Yahata Steel Mills (NIPPON SEITETSU YAHATA SEITETSU-SHO)
NOTE: The Yahata Steel Works has been designated as a UNESCO World Heritage site of Japan's Meiji Industrial Revolution. See also here and this Kitakyushu city website.

---

Hell Ships:
Camp had numerous survivors of the Oryoku Maru; Some men from the Clyde Maru; Asama Maru - carried survivors of the USS

Grenadier

from Singapore (Sept 1943); Wake CPNAB men arrived on the Tachibana Maru
---

Gibbs Report:
Tobata #3- Full summary of camp conditions and movements. Commentary by Sgt Kirk to correct the Gibbs mis-statements.
Investigation Report (DOCX file)

Medical logs - Japanese document (DOCX file), Report on Health of POWs, Feb. 1943 to Nov. 1944; chart on Monthly Death Rate, Dec. 1942 to July 1945 (transcription courtesy of Scott Proudfit)

NARA Notes:
About this camp, recorded during our research of Record Group 389 - very useful for personal research

---

Secret Camera! - Rare & startling pictures of POWS being deliberately starved. Taken by T.S. Kirk, USMC. Used with permission. More pictures of camp!

---



Camp Affidavits, Statements and Testimonies

Billie Emerick interview (DOCX) - Special biography produced by Emerick's nephew, Scott Proudfit.
Diary of Paul Polk (DOC) - American civilian on board "Stanvac Calcutta" which was sunk

---

Camp Rosters at Liberation:
Americans
British: Military Civilians
xls file of British (comparison with original documents, transcription courtesy of Proudfit)
Deceased at Fukuoka #3
Rosters do not include men transferred to other camps- these are the rescue rosters.
Roster of all nationalities (Excel file, RG407 Box 102, transcription courtesy of Proudfit)

FUK-03_Rosters_1946-02-16.pdf (ORIGINALS)

---
Japanese Camp Staff:


Complete staff as of liberation
---

Capt. Jack Gordon Collection (courtesy of Pritzker Military Museum & Library and James Brundage)

Corporal Chester E. Petrochilli (photo courtesy of D. Traser)


Please find attached the scanned newspaper picture of Corp. Petrochilli. It is from the Richmond Times-Dispatch, date unknown, with the following text:

Richmonder Jap Prisoner
Corporal Petrochilli's Parents Advised
A telegram from the Adjutant-General reporting their son a prisoner of war of the Japanese government in the Philippine Islands today ended 10 months of uncertainty for Mr. and Mrs. J. M. Petrochilli, of 222 South Laurel Street.
The son, Corporal Chester E. Petrochilli, attached to the Ordnance Department, last wrote to his family in February, 1941. His letter, received in April, said he was "getting along all right" and that "the Japs haven't got me yet."
Corporal Petrochilli enlisted here in May, 1941, and was sent to the Philippine Islands three months later. A brother, Sergeant John F. Petrochilli, is stationed at Fort Benning, Ga.


I wonder if the February, 1941, date might be a typo since it says he didn't enlist until May, 1941. Petrochilli died in 1967 and is buried at Mount Calvary Cemetery in Richmond.




Christmas Service, Dec. 24, 1944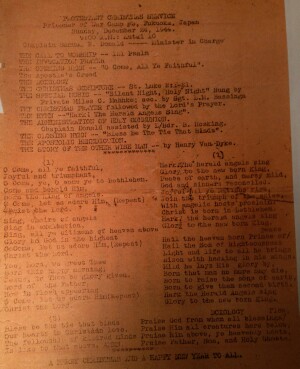 Program (
DOCX file
)
(courtesy of Scott Proudfit)