Tokyo 13 B Branch Camp (Omi)
At the site of Electro-Chemical Industry Company (Denki Kagaku)
Location:
NIIGATA-ken, NISHIKUBIKI-gun, OMI-machi
Satellite View Area Map
---

Timeline:
12 May 1943: Established as Tokyo 9B
23 May 1943: 296 British arrive ex Kyokko Maru
1 Aug 1943: Renamed 7-D
14 April 1944 (Approx) - 106 Yanks arrive
August 1945: Again renamed 13-B
6 September 1945: rescue effected, men sent by train to Yokohama
Source: Wes Injerd, Wilburn Snyder & Taeko Sasamoto
---

Arrival Dates for POWS:
Source- Taeko Sasamoto; Diet Files
22 May 1943: 296 British
8 October 1943: 1 American
29 March 1944: 4 American
29 April 1944: 100 American
16 May 1945: 6 American
16 May 1945: 194 British

---

Book about this camp:
"And all my war is done" by Steven Abbott
"Triumphs and Tragedies Corregidor and Its Aftermath" by Arthur B. Baker; Publisher LINK
"Substances of Hope" by Richard Stephen Sewell (not read)
---
Note: Rosters created from a small memorial booklet created in 1945 and sent to all known survivors by three British men: Abbott (Senior Officer), Burrough & Turner. Original rescue roster and death diaries/roster not located yet at NARA. 542 Men at rescue -432 British, 109 Americans & one New Zealander. Also rosters in NARA RG 407 Box 186.
Camp has a secret radio managed by Lt Abbott, see Liberation & Recovery photos.
---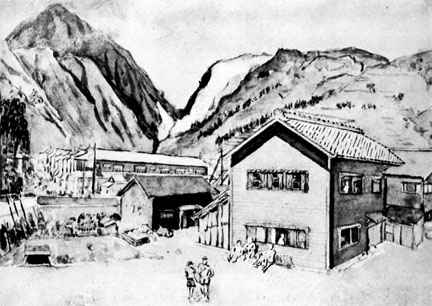 ---

Camp Picture: (below)
"This painting by Basil Were (New Zealand) was made during the fortnight's wait for evacuation following the Japanese surrender. It shows wooden barracks with tile roof on the right and, on the left, an air-raid shelter built by the prisoners."
Basil Were (Photo taken by Japanese) was a Coast Watcher captured in the Makin Atoll (now Kiribati). He was first taken to Yokohama for interrogation then moved to Zentsuji. See roster link for story of his return home.
Picture Source: Prisoners of Japan by D.O.W. Hall, War History Branch, Department of Internal Affairs, Wellington, New Zealand, 1949.

Primary Labor:
Quarry and Cement factory; Open hearth furnaces- chipping out the carbon ingots
Known history:
A number of British, known as Force "F", arrived from Singapore (departed 25/26 Apr 1943 on the Kyokko Maru). Voyage lasted 25 days with 2 deaths (Dutchmen). (Per David Langton)
14 April 1944 (Approx) - 106 Yanks arrived from Tanagawa ex Umeda
---

Rosters:
Americans 109 Americans plus 2 deceased
Commonwealth Senior Officer Abbott
Commonwealth Dead: 60 men



Group photos

(courtesy of Kevin and Linda-Lee Nicholls):






---

Special Interest: The story of New Zealander Coast Watcher, BASIL WERE, captured at Makin Island at start of war.

---

MEMORIAL:
Denki Kagaku Co. has erected a memorial close to where the camp was located, and the unveiling ceremony was held on Sept. 5, 2014. On the memorial are inscribed all of the names of the 58 British and two Americans who died while being held there, remembering their sacrifices as well as those who survived. Also acknowledged is the help given by the POW Research Network Japan.


Per organizers Kevin and Linda-Lee Nicholls, "We are interested in getting various artifacts relating to the camp, to be held in a cabinet, either at the Denki factory office or the local museum. We also hope that a Memorial book containing all of the names of the young men held in slavery be placed there. Those interested and willing to share may contact us with any stories or mementos." For further information, email the Nicholls at:
nicholls57 (at) btinternet.com.

Read

Omi Memorial Unveiling

by Kevin and Linda-Lee Nicholls (DOCX file). Our hats off to them for their tireless efforts.
British Commonwealth War Graves Cemetery
Hodogaya, Yokohama, Japan
Individual graves of British POW's
who died at Omi
"Not just today, But every day,




In silence, We remember..."



(photos courtesy of Kevin and Linda-Lee Nicholls)