Fukuoka #2-B Nagasaki (Kawanami)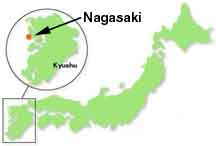 Prisoner of War Information Bureau states the camp was on the island of Koyagi Shima, five miles out in Nagasaki Bay [Nagasaki Ken, Nishisonoki Gun, Koyagi Mura]. The results of the atom bomb were clearly visible to all.
---

Location:
Fukuoka #2-B Nagasaki (Kawanami)
(KAWANAMI ZOSEN) [

Kawanami Shipbuilding

]
NAGASAKI-ken, NISHISONOKI-gun, KOYAGI-mura
Relief Map - shows relative position to other camps
Satellite - Memorial location
Aerial (May 1947; courtesy of Japan Map Archives)

Location Map: Map shows Koyagi camp area in the port of Nagasaki. Island has since been connected to mainland with landfill.
A second camp was also originally called Fukuoka #2 but was later redesignated as Hiroshima #2D at UBE, due to the initial Japanese Fukuoka Group designation.
Former site of the Kawanami Koyagi Shipbuilding Co. was purchased by

Mitsubishi Heavy Industries

in 1967.

---

Camp History:
25 Oct 1942: Established as YAHATA Provisional POW CAMP NAGASAKI Branch Camp
1 Jan 1943: Renamed FUKUOKA POW CAMP NAGASAKI Branch Camp
1 Mar 1943: Renamed Fukuoka #2-B
4 Dec 1944: American civilians arrive ex Sasebo ex Wake Island
10 May 1945: Numerous men (at least 200) moved to Fuk-26-Keisen and Fuk-06-Mizumaki
21 June 1945: Approximately 100 Dutch & British POWS move to Fukuoka #21 (per 31 Oct 2009 email of Henk Postma, son of POW).
Sep 1945: Rescue effected

---
Camp Layout:
Map from Gibbs Report
---

Books Describing Life at Fukuoka #2:
Nagasaki: The Forgotten Prisoners by John Willis - A must-read!


Foo: A Japanese-American Prisoner of the Rising Sun -The Secret Prison Diary of Frank "Foo" Fujita




The Jack Ford Story: Newfoundland's POW in Nagasaki



---

Photographs:
See below images from the National Archives
Links to pictures- amazing photos
Picture of Japanese Camp Interpreter: Sumioka Harutara alias "Beethoven"
Image from B-29 Pictures of Camp ruins ??

Australian War Museum:


1. ID Number:

P00255.008

- Color photo of the

front gate

taken by Lt Geoffrey Blane, HMS Exeter. See also links on side column of that webpage.

2.

Aerial view:

Shows entire island complex. Area of POW barracks not specifically noted. See also links on side column of that webpage.
---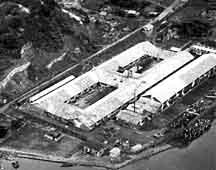 Click for larger view
Note the POWS waving from the beach area
---
Former POW Demonstration
December 7, 2002



---
Amazing color video footage of rescue of Allied POW's

(Sept. 12, 1945)

---
POW Memorial


From Andre Schram, son of Dutch ex-POW:



At the old Fukuoka #2 campsite - today the site of Koyagi Junior High School - a memorial has been established remembering all victims, the ones who lost their lives and the ones who survived. The memorial has been the initiative of Nagasaki citizens and carries a text which tells the story in a few words.

Next to this memorial, a second memorial has been established remembering the crew that, shortly after August 9, lost their lives when their plane crashed at Koyagi near Fukuoka #2 while dropping food and medication. There was only one survivor.


Photos of POW memorial and B-29 crash memorial (courtesy of Taeko Sasamoto)

---
Facebook page on Fukuoka #2
Hell Ships:
First group of British, Dutch & 100 Yanks from Makassar (Celebes) on the Asama Maru departing 10 Oct 1942 Others from the Asama Maru were sent to Fukuoka #26, Yoshikuma (the Aso Mines for slave labor in its coal mines). Small group of Americans arrived on the Tofuku Maru (ex Celebes) and Kamakura Maru ex Changi ex Java (see Straughan affidavit below). 198 Aussies arrived 9 Sept 1944 on the Rashin Maru.
---

Primary Labor Use: Slaves for the Kawanami Shipyard [Kawanami Zosen, Seibu-gun, Keiri-fu]
Gibbs Report: Fukuoka #2
Map included in Gibbs Report: Map
---

Orders to POWs from the Camp Commandant

Article about John Ford

The Road to Nagasaki

:
1 - 2 - 3 - 4
Dutch Translation: De weg naar Nagasaki (in Dutch)



Gast in Nippon

(Guest in Nippon) - memoirs written by Dutch POW Hendrik Anton van Goor (in Dutch only; file courtesy of daughter, Karin van Goor)

---

Japanese Camp Staff: As of liberation- See Gibbs Report above

Camp Rosters at Liberation:
Original rosters (PDF)
FUK-02_Rosters_1946-02-16.pdf
FUK-02 Dutch, American, British, Australian rosters (RG 407 Box 104 Folder 7) - including deceased
Excel Spreadsheet- contains updated and additional data on each man; includes details on deceased
Americans:
Bridgman, Harold Leroy,Civ.,CPNAB Wake
Farley, John Willis,Capt.,200th Med
King, Fred M.,Civ.,BYD Wake
Wuest, Raymond A.,Cpl.,131st FA E
British:
Benjamin I. L. da Cunha - Aircraftsman 1st class with British Air Force at RAF Seletar in Singapore (article - postcard)
Dutch:
Completely revised roster (Roster A) transcribed by Gerrit Breet, nephew of POW Breet; rescue roster located in RG 407 Box 102 at NARA. This augments the list (Roster B) supplied by POW John Franken. Many names missing from the rescue roster.
Dutch medics, Dr Huisman and nurses Charles Alexander Denkelaar and Schenkhuizen were earlier (15 May 1943) transferred to Fukuoka #14. [per grand daughter of Denkelaar]
Australians:
Flynn, Raymond Joseph (Cpl.)
Price, Theo Henry (Gunner-2/10th Field Regt)
Watkins, Robert Victor (Pvt-2/10th Inf Bn)

DECEASED: Source RG 407, Box 187; transcribed and edited by Roger Mansell, Director, Center For Research
FUK-02_Deceased_US_POWs - PDF of original hand-written notes
External Link: List of deceased at Fukuoka #2

---

Interviews & Reports:
John H. Franken- Dutch Prisoner now residing in Canada- excellent site giving an authentic Dutch experience.
Stoker John Daziel Black of the HMS Exeter
Fred Stanley (British) report of conditions- very interesting post Atom bomb descriptions. Part: 2 3 4 5

---

Affidavits - VERSLAG (in Dutch):
Millet A. Straughan- (Verslag) (Affidavit)1st Lt from 131st FA- sent to Mukden
Kersten, Jozef Bernard - Bootsman bij de Koninklijke Marine (not on rescue roster)
Kloe, Adriaan - Police Inspector
Das, Gerardus - Matroos
Rinamen (Vesslag) Transferred to Fuk-21
Shook (Verslag) (Affidavit- 14 pages)
Syred (Verslag)
Tracy, John D. (Verslag)
Williams, O.B. (Verslag) (Affidavit)
Letter to Jap CO - Cover; Text

---



B-29 supply drop ends tragically...



4 September 1945: According to the 873rd unit history, Lt. George W. Alexander and his nine-man crew and five military passengers were lost on September 4, 1945, flying a POW supply mission to Fukuoka #2 camp.
Aircraft: 44-61666
Crew:


A/C: George Alexander
Pilot: Fred Riddle
Navigator: Bertram Turk
Bombardier: Elliot Whitfield
Flight Engineer: Aloysius Geis
Radio Operator: Billy Smith
Left Gunner: Johnnie Loafman
Right Gunner: Marlin Austen
Radar Operator: Glen Holm (only survivor)
Passenger: Melvin Blurton
Passenger: Russell Estrate
Passenger: Lawrence Moydell
Passenger: William Coursey
Passenger: Penny Alderson



See Missing Air Crew Report for this aircraft. Page 6 has been made more legible, giving info re POWs helping with cremation and ashes kept at Oura Catholic Church (Tenshudo) in Nagasaki.